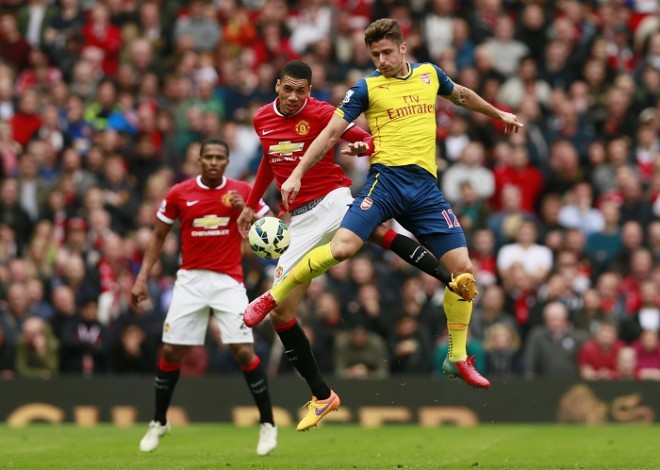 The first half was not a good one for Arsenal, failing to create even one shot on goal. Manchester United, on the other hand, were causing Arsenal problems with their attacks, most of which were focused on getting the ball to Fellaini.
It was on one of these plays that United took the lead. Ashley Young's cross was just too high for Fellaini, but Anders Herrera arrived unmarked and coolly slotted home the cross.
Arsenal's only chance of the half came when a Phil Jones mistake momentarily gifted Giroud a chance, but on the ground he lunged at the ball and his brief contact Giroud couldn't collect the ball.
Arsenal were the better team in the second half, although they were lucky when van Persie punted a great chance over the bar.
Alexis punted a golden chance wide and high at the other end, followed by Cazorla hitting softly at de Gea.
Ramsey lobbed the ball over de Gea, but a United defender prevented the Welshman from tapping it home. Giroud did a fine job of collecting an Ozil cross, but he could only get the gentlest of touches on the ensuing shot, which de Gea saved.
Arsenal finally equalized when Walcott's cross took a surprise deflection off Blackett and fell over a sprawling Valdes (on for de Gea) into the net.
Arsenal appeared more likely to get a second, but poor execution prevented them from creating good chances. Wenger brought on Flamini for the last five minutes, a sign the boss was content with a draw.
Player Ratings:
Ospina 6. There were not too many saves to be made. He had to keep on his toes whenever there was a corner or a cross though. Not really to blame for the United goal.
Bellerin 6. A tough first half. He was having a difficult time handling Ashley Young and it was Young who crossed to set up the opening goal. Bellerin was better in the second half and managed to attack a little more, but it was an afternoon he'd rather forget.
Mertesacker 7. Effectively marshaled the defence and did his part to try and neutralize Fellaini.
Koscielny 8. Made a number of key interventions at the back and he came forward and attacked several times. My man of the match.
Monreal 8. Another good game for Nacho. Valencia was largely quiet throughout the match. He attacked more and more as the game wore on.
Coquelin 7. He had a good match, although he was better the last time we visited Old Trafford. Did give away one poor foul in the first half, which gifted United an opportunity. Finished the game playing right back.
Cazorla 6. He made a number of giveaways, three in the first fifteen minutes. To me he looks a little fatigued. Missed a good opportunity in the second half.
Ramsey 7. Like Alexis, he both frustrates and pleases me. At times his decision making is poor or a little slow and his passes need more precision. Yet he often is in positions to score or to make a difference.
Ozil 7. Was largely AWOL in the first half, but he became more and more influential as the game wore on.
Giroud 7. He had difficulty holding the ball up and playing to teammates, but he still produced some moments of artistry and had several chances to score.
Sanchez 7. Should have been tracking back and picked up Herrera on their opening goal. Sometimes he hangs onto the ball too long and ends up losing it. He had a couple of chances, but wasn't able to convert.
Substitutes:
Wilshere 7. He had a good outing and several times burst forward and created problems for the United players.
Walcott 7. Scored the equalizer with a lucky deflection. Made a difference this time.
Flamini n/a. Came in to shut down the opponent in the last five minutes, but he immediately gave the ball away.