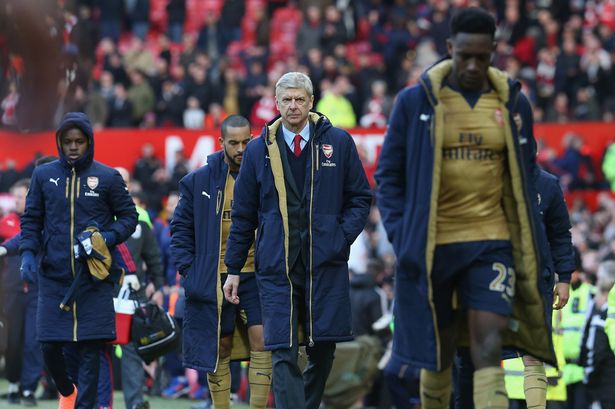 A weakened Manchester United out hustled and outplayed the Gunners, who had trouble moving the ball out of their own half for most of the day.
Arsenal never seemed to get out of first gear, yet they could have still gotten something had they had some composure and energy.
Manchester United youngster Rashford will now enter the history books for his two goals in the first half, goals (along with Herrera's third) could have been prevented with better defence.
Arsenal managed to score twice, but they hardly tested de Gea, who only had a key save to make from Monreal early in the game.
The Gunners desperately need Santi Cazorla and his ability to move the ball upfield, as Ramsey has been a massive disappointment in the middle.
The Gunners cannot slip up now as the title is starting to slip away. Player Ratings:
Cech 6: Was more effective at moving the ball upfield than the Arsenal defence and midfield! He never really had a chance on the three goals and will be unhappy at the defence in front of him.
Bellerin 5: He looked timid, had poor control, made poor decisions and seldom was able to move the ball ahead. He made one semi-decent cross, but was largely absent from our offence.
Gabriel 3: Blew a great chance to take Per's job away. United allowed the ball to move through him and even allowed him the space to wander forward and he wasn't able to make any decent passes with the space they allowed him. Defensively, he was lucky the referee was sharp eyed, as he almost gave away a penalty for tripping Lashford. On both of the first two goals he could have done better.
Koscielny 5: Like Gabriel he could have done better coming forward. He was decent defensively, but was unlucky that the third goal deflected off his chest.
Monreal 6: He had a great chance to score early on, but he used his left foot instead of his right and lost the better angle. Made a number of decent runs into the box, but the delivery was never quite right. I felt he might have done better on the first goal, leaving too much space and the cross came in.
Coquelin 6: He isn't quite as effective as he was before his injury and he was unable to help move the ball upfield. Made a key block on a Schneiderlin shot.
Ramsey 4: Largely ineffective as well in moving the ball. He dwells on it too long sometimes. He had a chance late in the game, but the pass to him was too strong and his control not sharp enough.
Ozil 6: A goal and an assist, but still could've done more. He received little ball to work with and he wasted much time playing with Alexis on the wing (Alexis was constantly losing the ball).
Walcott 4: Did little and was largely a waste of space. The forwards were too stationary at times.
Welbeck 7: Our best player out there who played with some vigor. Nice headed goal and his hard shot, which was saved by de Gea, bounced to Ozil, who scored.
Sanchez 5: Constantly loses the ball and very little comes off. If he was a lesser player, Wenger would bench him. Is too predictable in that he always moves to the right.
Substitutes:
Giroud 5: Not able to impact the game. Had one header, which he headed over the bar.
Elneny 5: Largely was ineffective, not able to solve our midfield woes.
Iwobi 4: Everytime he touched the ball he gave it away. Not a good cameo.