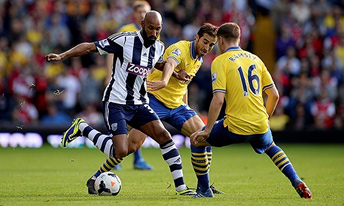 The big stories in football this week were of course the teams that made in to the Champions League Final, Real Madrid and cross-town rivals, Atletico Madrid. Real put the beating on European powerhouse, Bayern Munich, winning 5-0 on aggregate, while Atletico took it to one of our Premier League rivals, Chelsea, for the final spot in Lisbon. I honestly have no preference for this game however I do enjoy not seeing another Premier League team in the final (unless it was us, of course).
Back to the Arsenal and team news. In what looks to be his final game at the Emirates and as an Arsenal player, Bacary Sagna is doubtful for the game against West Brom with a knee problem. If he can't go out on Sunday, at least he'll be healthy to make another start in the FA Cup final at Wembley against Hull. Wilshere and Oxlade-Chamberlain are not in the squad but are preparing to be ready for the World Cup in June, according to England manager, Roy Hodgson. Kieran Gibbs is back in training but still won't be ready for the game on Sunday. It seems like everyone else who is fit has remained fit and will be in the squad.
West Brom hold the 15th position in the table with 36 points and aren't mathematically safe from relegation until results come in for Saturday's games. 2 wins, 2 draws, and a loss against Man City are West Brom's results in the last five games and have some important games left. Relegation could loom over West Brom unless they get the necessary results with 3 games remaining on their schedule.
Arsenal have scored 9 goals and have only allowed 1 goal in their last 3 games and we could see a similar lineup to the one that went out against Newcastle unless Everton slip up against Man City, which would result in a 4th place finish for us. In any case, Arsene Wenger and the team want to finish with the best possible points and will look to win their last couple of games in the Premier League no matter the score line in the Everton game. It would definitely lift a bit of weight off our shoulders in Everton went down, and they haven't been consistent since winning the seven or eight games in a row. I hate to say it but I think Arsenal will be rooting for Man City over the weekend but only in the context that it benefits the Arsenal.