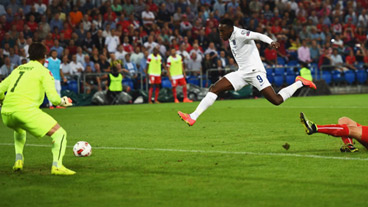 Arsenal host reigning Premier League champions, Manchester City. The international break saw some spotlight on our newest signing, Danny Welbeck, who scored a brace against Switzerland but also saw a few injury scares. Mesut Ozil did not appear for the Germans and Aaron Ramsey appeared to roll his ankle in the closing minutes of his game against Andorra. Ramsey said about the injury, "I'll be alright. The pitch was very hard there's no give in it so I rolled my ankle a bit. Hopefully it will be nothing and I'll be available for Saturday. These are the games you want to play in and I'm looking forward to it." This is great news because we're going to need all the firepower we can against a talented Manchester City squad.
In other team news, Mikel Arteta is back in full training as is Mesut Ozil who will both be available for Saturday. Laurent Koscielny seems to be fully recovered from his head injury and will likely start on Saturday. David Ospina, who will unlikely not be starting on Saturday, is also back in training bringing that competition towards Szczesny.
On the Manchester City side of things, Stevan Jovetic suffered a hamstring injury that kept him out of international play. Unsure at this moment, but Jovetic could miss the game against Arsenal depending on the significance of the injury. Aguero is also working on getting back to full match fitness but will likely start with Jovetic out. He's coming off an Argentina win against the World Champions.
My Projected Starting XI:
Szczesny; Monreal; Koscielny; Mertesacker; Gibbs; Arteta; Ramsey; Cazorla; Alexis; Ozil; Welbeck
Depending if Ramsey will be fit and cleared to play, Wilshere could see the start in the holding midfield role alongside Arteta. I love seeing Ozil in the attacking central midfield role, playing balls out toward the wings. Welbeck with his speed and strength could make runs off of Alexis and Cazorla and open up that attacking third.