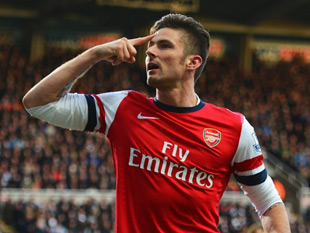 This will be the first game before Arsenal begins what people have been calling the "Nightmare Run.
The "Nightmare Run" will consist of four big games that will really test this Arsenal team. They're away at Tottenham, away at Chelsea, home versus Manchester City and away again at Everton. If Arsenal can get through this tough ring of games while gaining consistent points, they can definitely have a chance at winning a title this season.
But first we head to the Britannia this weekend to face a Europa qualifying Stoke team under manager Tony Pulis. Although Stoke is battling to stay above the relegation zone, they have fought hard against some good teams this season, most currently losing to Manchester City 1-0. In their last 5 games, Stoke have drawn 2, lost 2 and won at home against Manchester United.
Their two ex-Liverpool players, Peter Crouch and Charlie Adam, both have scored 6 goals this season for the club and will be up against one of the best defensive duos in the Premier League. However, Stoke are a lot better at home than away, only winning one game this season on the road compared to the 5 wins at home.
As for Arsenal, Ozil is back in the team after taking some time off to get back into match fitness, physically and mentally. Tomas Rosicky has had a fantastic week, scoring a goal against Sunderland and also extending his contract with the Gunners. Monreal and Gibbs are uncertainties according to manager Arsene Wenger, but Thomas Vermaelen is back will take one of those spots in the back line.
I saw an interesting tweet from the Premier League this morning. Olivier Giroud has scored the opening goal more often than any other player in the Premier League with 7. Let's hope he can continue on that streak at the Britannia on Saturday.
As for what Arsene Wenger said about the Premier League in midweek, I can only agree that it is a tough and challenging league and every team, every weekend wants to win. If Arsenal want to win the title this season, they need to take advantage of gaining points when they can against lower level teams. Stoke will be a challenge for Arsenal, especially since we're playing away but I'm confident Arsenal will gain the necessary points they need before heading into the Nightmare Run.