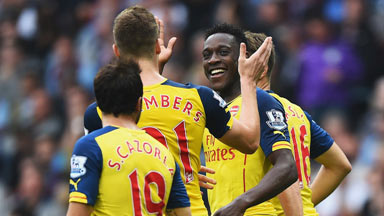 It was first contested in 1909, where Arsenal saw victory 1-0. There have been 175 total meetings between these two clubs with Arsenal winning 76 of those games. The last three meetings between these two sides at the Emirates, Arsenal have won with a combined score of 11-4. As a fan, it is always an exciting fixture to witness.
Arsenal are coming off an upset loss to Southampton in the Capital One Cup, where Alexis scored his 4th goal of the season in all competitions. But the young defensive line couldn't hold back Southampton, even though Nathaniel Clyne's goal will go down as one of the best goals of the year.
The first team seems to be well rested after only Alexis and Santi Cazorla saw action mid-week. Mathieu Flamini is back in the side after recovering from a dead leg. Nacho Monreal and Yaya Sanogo are still out with injuries, along with our two Frenchmen, Olivier Giroud and Mathieu Debuchy, who are both out long term. Theo Walcott, who has still not seen action this season, was rumored to be making a comeback against Tottenham but no official word from Arsene Wenger. It may be a little while longer until we see number 14 back out on the wing.
As for Tottenham, only Kyle Walker remains out of the team due to a pelvic injury and Andros Townsend is back in the team after getting a knock in Tottenham's 3-1 win over Nottingham Forest in the Capital One Cup. Tottenham started off with 2 wins in a row this season but have dipped off since, losing to Liverpool 3-0, drawing at Sunderland 2-2 and losing to West Brom 1-0 at home last weekend. It seems as though we're playing Tottenham at the perfect time. The team is finally starting to click and Tottenham hasn't had a win in the league for 3 weeks.
Projected Starting XI
Szczesny, Gibbs, Mertesacker, Koscielny, Chambers, Arteta, Ramsey, Cazorla, Ozil, Alexis, Welbeck
A very similar starting XI which won 3-0 against Aston Villa last weekend. The only switch I could see is possibly Alexis for Oxlade-Chamberlain since Alexis played mid-week against Southampton. Ozil is coming off a goal and an assist and Danny Welbeck is off the mark as a Gunner and looking for more.
We're ready to go at the Emirates!