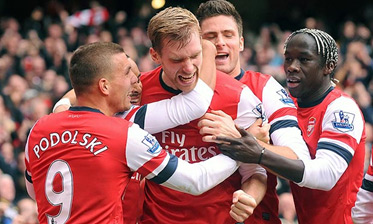 As manager Arsene Wenger stated, it was tough to be knocked out of the Champions League but mentally we were in the game. More or less, Arsenal were playing with 10 men after Mesut Ozil admitted he hurt his hamstring in the 2nd minute but played as best he could for the whole first half and eventually came off at the start of the 2nd half for Tomas Rosicky.
As for the current injury report, Arsenal are missing some key players for this matchup. Ozil will be out a minimum of three weeks, maximum of six but via Facebook, Ozil vowed he will come back stronger than ever. Aaron Ramsey has had some setbacks with his thigh injury and will most likely be back in about 2 weeks. Theo Walcott and Jack Wilshere will miss out on this game as well. However, our January signing, Kim Kallstrom, will be available and in the team for Sunday's matchup (see below).
Arsenal will have to find other ways to score and create goals without some key midfielders against Tottenham. Podolski is coming off scoring a goal against Bayern Munich and will look to continue scoring goals alongside Olivier Giroud, who scored two goals in the FA Cup quarterfinals against Everton. Tomas Rosicky will most likely bring energy to the midfield and hopefully spark some scoring chances.
As for Tottenham, they are coming off a 3-1 loss to Benfica in the first leg of the Europa League Round of 16. There was some backlash from Tottenham manager, Tim Sherwood, and Benfica manager, Jorge Jesus, after the loss at White Hart Lane. Arsenal manager, Arsene Wenger, has backed Tim Sherwood saying they have had a good season so far because they are in a similar position as last year.
Tottenham are also coming off a 4-0 loss to Chelsea at Stamford Bridge in the Premier League. Since Tim Sherwood took over as manager however, ex-Arsenal striker, Emmanuel Adebayor has been on a scoring tear with 8 goals and leading the team. Roberto Soldado has scored 6 goals and leads the team in assists with 4.
Arsenal are ahead of Tottenham by 6 points in the league with a game in hand but a win against Tottenham would be vital for Arsenal to make a run to win the Premier League this season and catch league leaders, Chelsea.
I believe Arsenal can get the job done on Sunday against our North London rivals and I'm excited to see if Kallstrom will play his first game for Arsenal this season. I actually had to find a video for you all so please see below for some great Kallstrom moments.