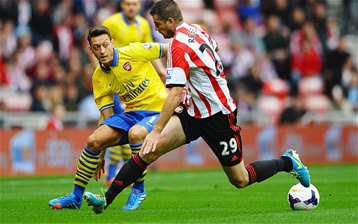 A questionable red card left Arsenal with only 10 men but remained tough defensively and created some good scoring chances offensively. The Gunners will have to find a spark in the 2nd leg to have any chance of advancing past the reigning Champions League winners. "Everything is possible," Flamini said. "We hope we can go over there and play a big game with the same [first] 20 minutes that we did here."
But another weekend and another Premier League game. This time, Sunderland comes to the Emirates to face Arsenal who are trailing Chelsea by only 1 point at the top of the table. Sunderland remain in the relegation zone only by goal differential (West Ham also has 24 points, but -8 goal differential). Sunderland have found a spark in recent weeks from none other than striker Adam Johnson, who leads the team with 7 goals and 3 assists. Sunderland also advanced in the FA Cup with a 1-0 win against Southampton.
Arsenal are coming off a tough Champions League loss to the reigning champions, Bayern Munich but also had a successful weekend against Liverpool, beating the Mersyside club 2-1 in the 5th round of the FA Cup. Arsenal now come back in to Premier League play against a weaker Sunderland side. Olivier Giroud still leads the team with 10 goals but with some off-field problems, Yaya Sanogo has seen some action, both against Liverpool and Bayern Munich. He has had a few good chances but nothing has struck the back of the net just yet.
Ozil is coming off a tough game against Bayern, after missing a penalty in the eighth minute that could've changed the momentum of the game. Personally, I'm so glad that Arsenal have a player like Ozil in the starting XI. He brings creativity and flair but it seems his confidence is a little down right now. I think a game against Sunderland could bring him back up to form by creating goals and maybe even putting one away.
No recent injury news from Arsene Wenger. Thomas Vermaelen is still out with a knee injury but says he is back training and just getting his fitness up now. Aaron Ramsey remains out with a thigh injury. There hasn't been a time-table for return just yet. Kieran Gibbs is also doubtful after limping out of Wednesday's Champions League game. Theo Walcott will remain out for the rest of the season after undergoing knee surgery.
I think Arsenal need a big win on Saturday and I believe they can do that.