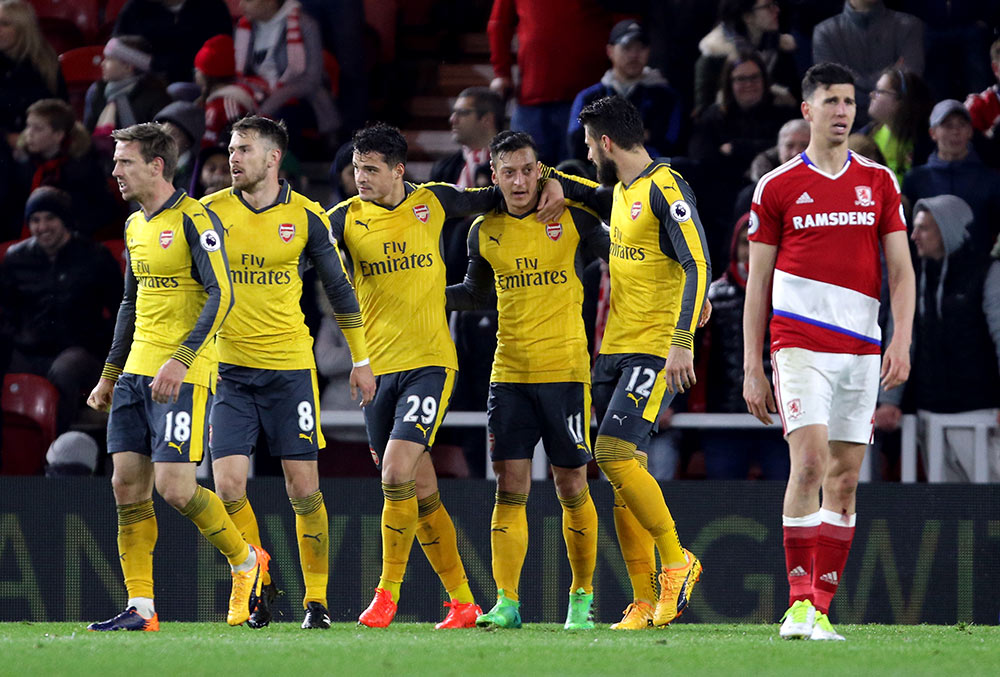 GOALS: Middlesbrough: Negredo (50). Arsenal: Sanchez (42), Ozil (71).
MAN OF THE MATCH: Sanchez, Ozil and the Ox were the three best players on the day, but they all had moments where their concentration dropped. Ozil made the fewest mistakes, played with effort, and scored the winner, so he'll get my vote.
THE WEAK LINK: Nacho Monreal on the left was skinned by Stuart Downing, whose cross set up the equalizer. We desperately need a pacey left back.
THE REFEREE: Anthony Taylor 5. Taylor missed Ayala hauling down Giroud in the first half in the penalty area and he was quick to award the Ox a yellow for an early foul. Generally his calls were a little reasonable, although he has no time for Alexis and probably thinks him a cheat.
THE MANAGER: 7. A major shakeup, playing three central defenders, but the team won and hopefully things are going to turn around.
OVERALL TEAM RATING: 6. At times the team looked vulnerable in the back as players slipped down or balls were not cleared properly. Offensively we could have created more chances, but we managed to convert the key chances.
VERDICT: Next week's match against Manchester City will provide better evidence if this new formation can work for the team. Arsenal were the better team, found a way to win, and maybe are finding a new formation.
PLAYER RATINGS:
Cech 8: Not at fault for the goal, but he made two great saves that allowed us to win. The save off Ayala was critical, as the ball was pinging around the penalty area.
Gabriel 6: He generally played well and made several key interventions, but he was beaten much too easily by Friend in the second half on one occasion.
Holding 6: He made one or two dubious passes, but for the most part he was a safe pair of hands at the back.
Koscielny 6: Negredo got the better of him on the goal, where Laurent should've cleared the ball.
Monreal 6: Offensively he played quite well. Defensively, he looked vulnerable against both Downing and Traore.
Ramsey 7: He had one of his better performances, he worked hard and he played safely in our own half. He assisted on the winning goal, chesting the ball down to Ozil.
Xhaka 7: Avoided a yellow card, which was good. Granit moved the ball effectively and broke up Boro attacks in midfield.
Ozil 7: A well taken goal, thumping home Ramsey's chested ball. He almost scored earlier when Sanchez threaded the ball though to him, but Guzan bravely made the save.
Oxlade-Chamberlain 7: He was Arsenal's best player in the first half, making a nuisance of himself on the right flank. He also made a great defensive play in coming back to stop Gaston Ramirez. Late in the game he became a little selfish and squandered a couple of great chances.
Sanchez 7: He scored a spectacular goal and Boro keeper Guzan didn't even flinch as it flew in. He was also involved in the buildup to the winning goal and he kept the Boro defence busy. He also made a few careless passes as well
Giroud 6: He worked hard, didn't get the best service, but made a great defensive header and threw himself about. He had a couple of efforts on goal, but missed both times (although one just missed).
Substitutes:
Bellerin n/a: Came on for the last few minutes.
Coquelin n/a: Came on for the past few minutes.