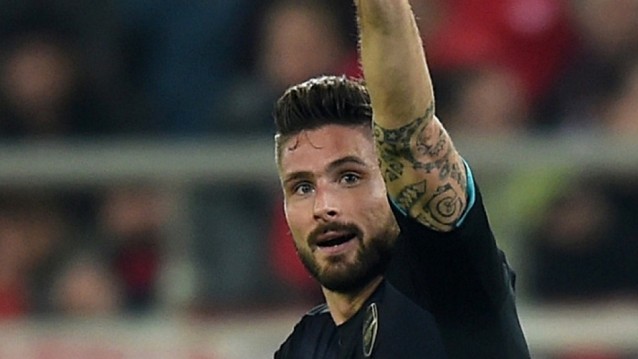 They were tasked to better Olympiakos's 3-2 scoreline at the Emirates Stadium and they delivered.
Victory looked a little dubious in the first twenty minutes as Olympiakos outplayed the Gunners, but created no clear chances.
Arsenal finally got a foothold in the game when Joel Campbell broke free on the right and crossed to Flamini, whose shot glanced off the crossbar.
Minutes later Arsenal took the lead. An Aaron Ramsey cross was beautifully headed by Giroud past the keeper at the near post and Arsenal's confidence grew.
In the second half Arsenal started to become more dominant and they doubled their lead when Joel Campbell, wheeling and dealing in the box, found Giroud with a lovely pass and the Frenchman slid the ball home.
Cech then made a fine save off Fourtounis, Olympiakos's best chance of the match.
The Gunners put the game beyond reach from the penalty spot, when an Olympiakos player handled a shot from Monreal. Giroud stepped up to complete his hat-trick and seal the game.
Player Ratings:
Cech 8: Not that busy, but he delivers when called upon. Great save off Fourtounis. He also had to tip a Koscielny header over the bar.
Bellerin 6: He had a tough first half, courtesy of having Theo Walcott in front of him for the first twenty-five minutes. Olympiakos had some joy on Hector's side of the field as they were going after Per. Hector also made several poor passes. In the second half he played a lot better.
Mertesacker 6. Olympiakos were exploiting his lack of pace whenever they could, but they couldn't fashion a good chance.
Koscielny 6. He had a decent game, but was banged about a bit. He almost scored two own goals, the first cutting out a dangerous cross and the second deflecting a cross with his head, which Cech had to tip over the bar.
Monreal 8. Another solid game from Nacho. He looks very good coming forward these days. His shot on goal drew the handball that got Arsenal a penalty.
Flamini 7. He had a tough first half, although he did have a shot which hit the bar. He looked a lot better in the second half.
Ramsey 7. Like Flamini, he was not a big factor in the first half, although he had a nice assist on the goal. As space opened in the second half, he was able to do more, but he tended to hang back as Arsenal wanted to secure the win. An early yellow card made me nervous, but he managed to avoid a second.
Ozil 7. He started to pull the strings late in the first half and he had a strong second half as well.
Campbell 8. A great run and cross in the first half heralded one of his best displays as a Gunner. His assist on the second goal was pure class. He played some defence as well.
Giroud 9. Man of the match. Three goals. On the first he made a diving header which was not easy. On the second, he was involved in the buildup and made an intelligent run to offer Campbell an option. On the penalty he showed composure.
Walcott 6. Signs of rustiness. He did have a few good runs, but he lost the ball several times carelessly. He should have hit the target on his first half strike and he missed a golden chance in the second.
Substitutes:
Gibbs 6. Helped to shore up the defence for the last twenty minutes.
Oxlade-Chamberlain n/a. Was only on for about five minutes, but did have a shot deflected.
Chambers n/a. Too little time to make an impact.