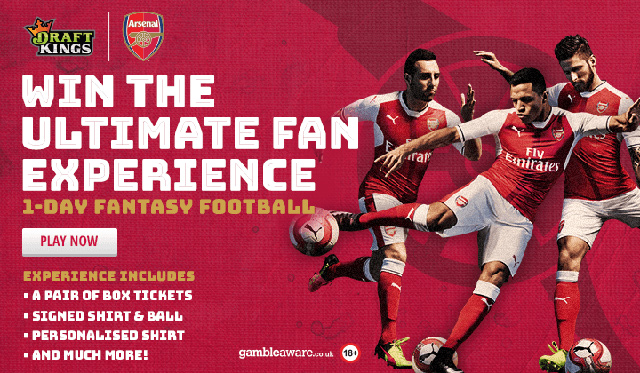 Arsenal's Official 1-day Fantasy Football Partner DraftKings offered contests throughout the weekend and there were plenty of contenders staking a claim to be crowned 'DraftKings' Gunner of the Week'.
In the end the accolade went to forward Theo Walcott, who top scored with 19.5 fantasy points. A large chunk of those came from his goal (+10pts) but he also picked up a load of points elsewhere including 3.75pts for five crosses and a point for each of his four tackles won (+4pts in total). Had he not missed that penalty (-5pts), his total would have been 29.5 fantasy points.
This weekend marks the latest opportunity to WIN an Ultimate Fan Experience from DraftKings. The winner gets a pair of tickets in a box for an Arsenal Premier League match as well as pitchside access before the game. DraftKings are also throwing in a signed Arsenal shirt, signed Arsenal football and a personalised Arsenal shirt.
To win the prize, register for an account HERE and get a free entry with your first deposit. Then pick an 8-man line-up (1 goalie, 2 defenders, 2 midfielder, 2 forwards and 1 utility player).
Come 3pm on Saturday, watch your team score points as the games are played and come that evening find out whether you have won within minutes.
As a bonus check out this video where Theo poses various questions to fellow first teamers Per Mertesacker and Santi Cazorla.