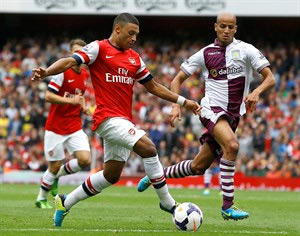 Arsenal fans were up in arms after their sides' first home loss of the season but since that loss, Arsenal have risen to become Premier League title contenders.
The French striker, Olivier Giroud, is back and healthy, according to boss Arsene Wenger. He also recently backed Olivier Giroud, saying that he will not be replaced as Arsenal's front man. With Bendtner sidelined for another few weeks, it would be smart for Arsene Wenger to go out and potentially bring in an in-form striker to back Giroud. Wenger is confident that Giroud will come back hungry for goals.
Germany's Footballer of the Year, Mesut Ozil, is back healthy after a slight shoulder problem. This will be his first meeting against Villa.
Watch for Rosicky to have an impact this game either as a starter, or coming off the bench. There are recent talks that he will re-sign with the club, after getting lucrative offers from MLS teams. Wenger praises his technical skill and energy and is confident he will re-sign.
Injuries will definitely be in effect today for the Gunners, who are without star midfielder, Theo Walcott, who has suffered a cruciate ligament injury after the Tottenham match. This gives Gnabry, Podolski, and Oxlade-Chamberlain (recently back from injury he suffered against Villa) a chance to roam the right hand side. Ramsey and Vermaelen are expected to miss.
Manchester City are top the Premier League table, after their 2-0 win away at Newcastle and Chelsea hold 2nd place after their Hazard-lead, 2-0 win away against Hull. With a win today at Villa, Arsenal could once again regain control of the Premier League. Arsenal are 7-1-2 away from home this season and also have a solid club record against Villa.