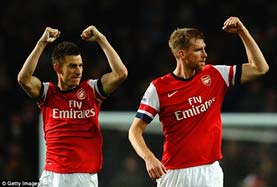 Their first encounter ended with an 2-0 win at the Emirates.
On Saturday, the dynamic strike force of Daniel Sturridge (14 goals) and Luis Suarez (23 goals) will clash with one of the most in-form center back pairing in the Premier League, Koscielny and Mertesacker, who have only allowed four goals in the past 12 league games.
From the first whistle, all eyes will be on Liverpool's strike force and Arsenal's defensive wall. In the first meeting, the Arsenal defense held their ground and blanked the Liverpool attack to remain at the top of the table. Now, three months later, Arsenal are still at the top as Liverpool have dropped to 4th.
Arsenal are coming off a 2-0 win at home against Crystal Palace, a game which helped seal their spot at the top for now (also Chelsea beating Manchester City at the Etihad doesn't hurt). Alex Oxlade-Chamberlain played a brilliant game in the center midfield and a big question coming from all Arsenal fans is will he play there again against Liverpool?
It would be a good call for Wenger to make since Ramsey has had a setback and will miss another 4-6 weeks and Jack Wilshere is still questionable with an ankle injury. Arsenal's new signing, Kim Kallstrom, is also hurt and is expected to miss another few weeks. With the success Oxlade-Chamberlain had against Crystal Palace in the center, Wenger will most certainly need to think about where to play him.
A healthy Giroud will be looking to continue his goal scoring run, and is now in the double digits this season with 10. Mesut Ozil leads the team in assists with 8.
It is crucial for Arsenal to gain points where they can. Another win against Liverpool would boost team morale going forward and set the tone for the rest of the season. Arsenal's next Premier League game comes at the hands of rival, Manchester United, and then will face Liverpool again in the FA Cup 5th Round.
If the back line of Arsenal can shut out the Liverpool attack, it will give Arsenal chances up top to take advantage.