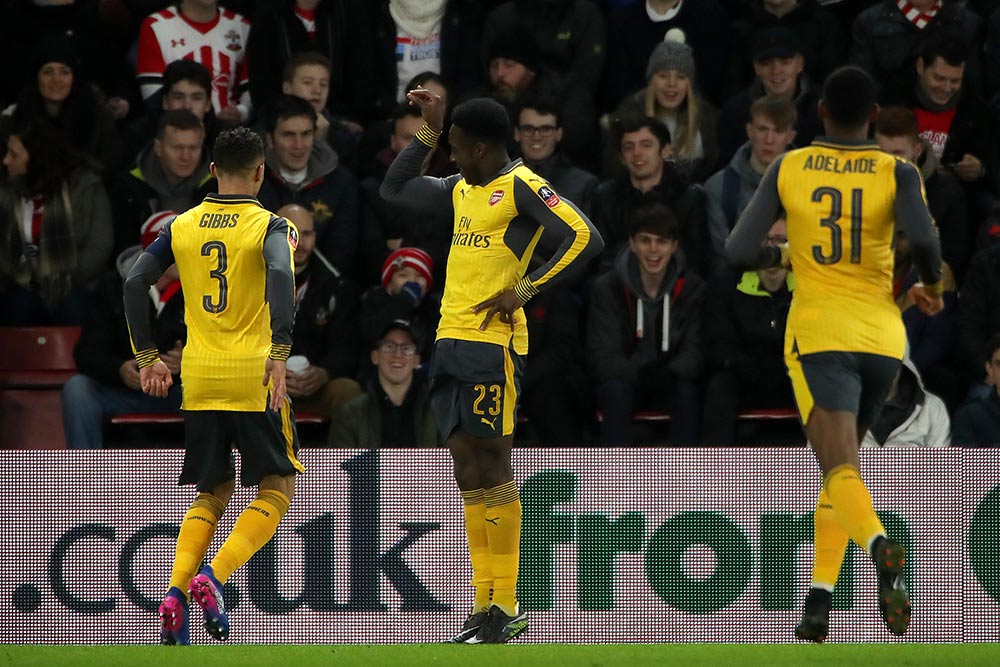 GOALS: Welbeck (15, 22), Walcott (36, 69, 85)
MAN OF THE MATCH: Danny Welbeck. His first start and he scores twice and gets an assist. Sensational.
THE WEAK LINK: David Ospina. Was a little slow coming off his line several times, causing the heart to flutter.
THE REFEREE: Kevin Friend 9. What a shock! Normally a cause for concern, but I never really noticed him out there. Can't ask for much more.

THE MANAGER: 7. I thought the lineup in midfield was a gamble, particularly with Reine-Adelaide, but they all played well. Arsene was up in the stands with Boro Primorac, part of his four game suspension.
OVERALL TEAM RATING: 9. Southampton had made lots of changes following their League Cup success and were playing their sixth game in the last three weeks, whereas Arsenal were playing only their third. However, Arsenal have disappointed their fans many times against weaker opposition, so a solid businesslike performance must be applauded. Southampton rarely threatened, whereas Arsenal almost always looked dangerous despite having a squad largely made up of second string players.
VERDICT: Arsenal move on in the FA Cup and beat Southampton, a team that has usually been a problem. A good result and a good performance.
PLAYER RATINGS:
Ospina 7: A couple of good saves plus he caught a number of crosses in an otherwise easy day. He did look a little slow coming off his line several times.
Bellerin 7: He looked good going forward, took a shot (but it was at the keeper), and was rarely tested defensively.
Mustafi 7: He should have scored on a header in the first half. Was solid defensively throughout.
Holding 7: One or two mistakes, but he had a good game at the back.
Gibbs 7: Was good at both ends of the pitch. He was the man chosen to be captain for the match.
Maitland-Niles 7: A good match for Ainsley. He made a fine early pass to Bellerin which opened up the defence. Was involved in the buildup for the first goal as well. He mopped up on defence, kept the ball moving and made few errors.
Reine-Adelaide 8: Played in central midfield and was not out of place. Shows great ball sense and has excellent control.
Oxlade-Chamberlain 8: Alex had a strong game and was making a number of key passes during the match. He assisted on the second goal.
Walcott 9: His first game in over a month and he scores three. The first saw him beat the defender to a cross, the second saw him place Alexis's pass into the goal, the third saw him run fifty yards to get onto Alexis's cross. He had a chance to score more, but he stumbled on a breakaway following the Ox's pass.
Welbeck 9: The first goal saw him show poise and gently poke the ball over the advancing keeper. The second goal saw him make the adjustment faster than the defender to the Ox's high pass and to tap it between the keeper's legs.
Perez 8: Lucas had an assist on the first goal with a lovely timed pass to Welbeck. He was in the buildup for the fifth, with a great through ball for Alexis.
Substitutes:

Sanchez 8: Alexis seemed happy to come in and he made his presence felt with two fine assists to Theo Walcott.
Iwobi 6: Alex got a few minutes, but didn't make any major contribution.