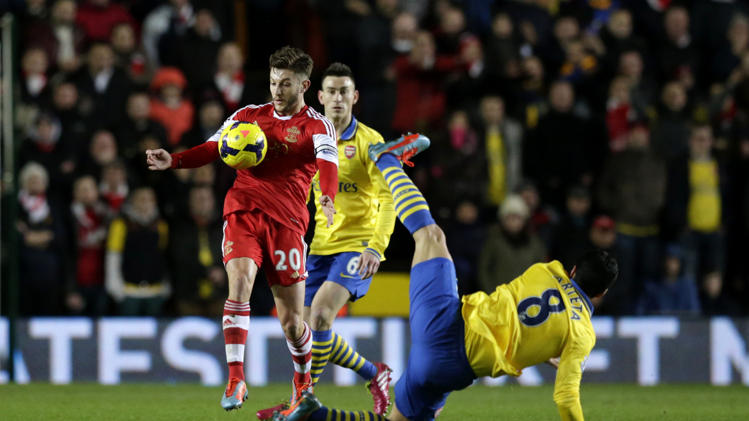 Their play in the first half was appalling, especially considering what they want to achieve this season. They were unable to even threaten the Southampton goal for forty minutes.
Referee Lee Mason was mysteriously absent from the stadium during the Saints first goal, Jose Fonte charging through and over Nacho Monreal to head home a good cross.
Southampton deserved fully deserved their halftime lead. Arsene Wenger must have lost his temper as the Gunners emerged in the second half a different team.
Suddenly they played with more energy and actually started creating chances. Giroud scored with the loveliest of touches off a Sagna cross and Cazorla scored from an Ozil cross.
However Southampton responded immediately and Lallana scored from a Rodriguez cross, Southampton completely opening up the Arsenal defence.
Arsenal had a couple of chances to win the game, Ozil's unlucky deflected shot hitting the crossbar the best of them, but were unable to convert and grab control of the game.
Matthieu Flamini was sent off for a rash two-footed challenge and Arsenal spent the last fifteen minutes protecting their one point. The Saints were unable to really threaten them and the game ended even.
Player Ratings:
Szczesny 8. Wojciech made a number of key saves during the match. However he'll be unhappy at his play during the first goal when he looked indecisive.
Sagna 6. He had a busy night trying to deal with Luke Shaw and was somewhat culpable on Southampton's second goal, unable to stop the pass to Rodriguez and unable to prevent him crossing the ball to the unmarked Lallana. Sagna was key in our first goal, winning the ball and crossing to Giroud. He was fully motivated and committed throughout and also was involved in a nasty collision that injured his head.
Mertesacker 7. Was also somewhat culpable on the Saints second goal, but he was solid for the most part in keeping the Gunners in the game.
Koscielny 7. He had a tough night dealing with Rodriguez, but he made a number of key interventions and he blocked several shots. Unlucky not to score at the end of the first half and was probably hauled down in the area moments later by Fonte, but Lee Mason wasn't interested.
Monreal 5. Should he have done better trying to fend off Fonte's foul? Maybe. He was lucky a little later when he cleared the ball off a Saint's attacker only for the ball to deflect to an open Gallagher who missed a sitter. Monreal also lost the ball to Rodriguez, whose shot was saved by Szczesny. He did play better in the second half and was involved in the buildup for the first goal.
Arteta 5. Mikel was unable to impose himself on the game and looked like a player just returning from an injury. Wenger's plan of putting Arteta and Flamini together didn't work. Mikel was unable to catch Lallana on the Saint's winning goal.
Flamini 6. Flamini made several key interventions during the game, but he was largely unable to make an impact offensively. He was unlucky to get the red card as he got the ball, but he went in with both feet off the ground and Lee Mason is not particularly generous.
Cazorla 6. Despite scoring, the game largely passed Santi by, as he gave the ball away a couple of times and he was bullied off the ball on a number of occasions, never getting any sympathy from referee Lee Mason.
Ozil 7. Arsenal's man of the match. Mesut had a fine second half, almost scoring after an inspired run and setting up the second goal. He looked dangerous on several other occasions, but the rest of the team were not always present to help out.
Gnabry 5. Created one good chance with one of his cross field runs, but was largely ineffective. He had a tough time dealing with Luke Shaw.
Giroud 6. Scored a lovely goal with a subtle deft touch. However, he received little service during the game and seldom trouble the Saints' defence.
Substitutes:
Oxlade-Chamberlain 5. Alex was unable to influence the game at all, frustrating given that he probably wanted to impress his old team.
Gibbs n/a. Brought on to provide some defensive solidity at the end.
Podolski n/a. Brought on at the end to waste time and replace a tired Giroud.