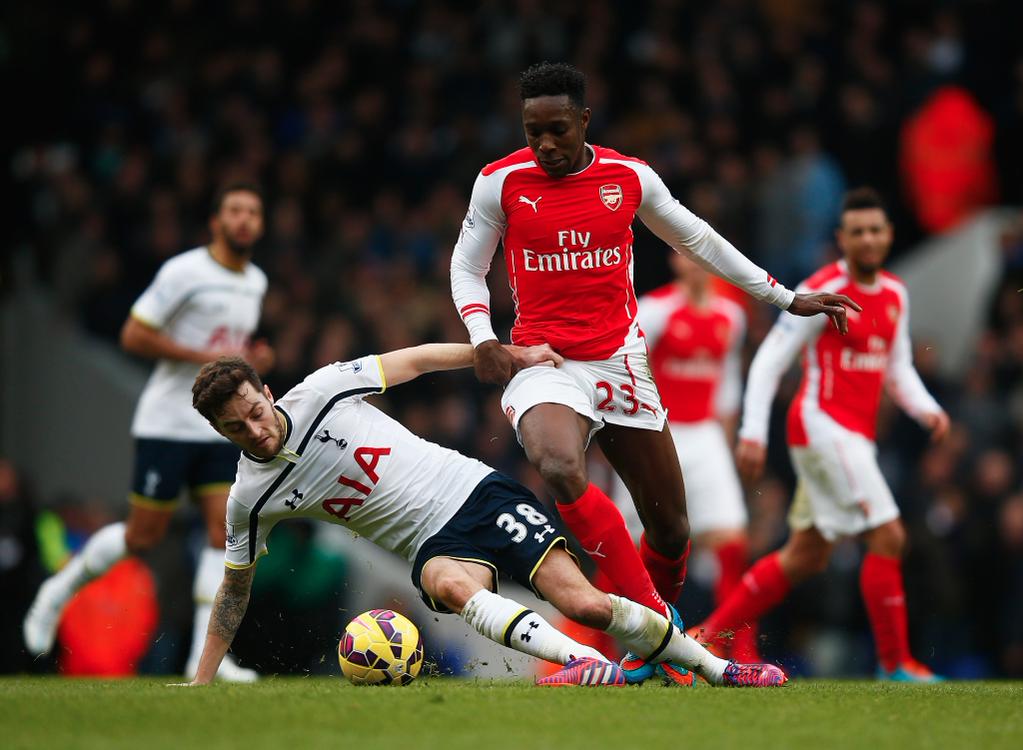 Spurs wore down a defensive Arsenal and were rewarded with a late winner by Harry Kane.
The first half was dominated by Spurs, but it was Arsenal who scored, Mesut Ozil finishing a lovely move started off by a speedy Danny Welbeck.
Spurs had several chances in the first half, but Ospina managed to save everything that came his way and Arsenal seemed in control. However, Arsenal slowly started to unravel as Spurs continued to press forward and Arsenal's constant giveaways meant they were always defending.
Spurs finally unlocked the door from a corner, when the ball was headed across the goal over Ospina to an unmarked Harry Kane, who scored with aplomb.
This awoke Arsenal and they finally created a couple of opportunities of their own. Welbeck's drive was well saved by Lloris and Giroud had a couple of headers with which he might have done better.
The game appeared to be heading for a draw but Kane beat Koscielny to a cross and looped his header into the corner past Ospina.
Arsenal were unable to create anything meaningful in the last five minutes and now see Spurs ahead of them in the Premier League table. The fight for the Champion's League spot has begun.
Player Ratings:
Ospina 6. Is Ospina our man? He made a number of good saves but he has the dangerous habit of not parrying the ball out of bounds or far enough away. On at least three occasions he served up a second chance for Spurs to get another shot away. He made two Almuniaesque sorties from goal as well. Not to blame on the winning goal, but he may want to look carefully at the first.
Bellerin 5. At times he afforded Rose too much room, allowing him to canter forward and take several shots on goal. He was busy on his side for much of the afternoon and Spurs were able to make a number of crosses off that wing. Going forward he looked decent, but will be disappointed with some of his crosses.
Mertesacker 6. Held the fort for most of the afternoon and had to make a number of interventions. Guilty of several giveaways.
Koscielny 5. Will be disappointed that Kane rose up behind him and scored the winner. He too had a busy day.
Monreal 6. Kept Walker quiet most of the afternoon. He had a decent game.
Coquelin 6. He battled hard throughout the match and made a number of key defensive plays to thwart the Spurs attacks.
Ramsey 5. Where is the old Aaron Ramsey? Too many giveaways, too often lingering on the ball and then being crowded out. He worked hard, but maybe Wilshere's return will give us something more.
Cazorla 5. A largely anonymous performance. This game broke his string of impressive displays. Was never able to impose himself. Did have one good shot in the first half. Was subbed off early.
Welbeck 6. He had his moments. He helped create the first goal, he had a great shot in the second half, he had a running battle with Rose … but he also gave the ball away a number of times and looked a little rusty, as he should, having just returned after being out over a month.
Giroud 6. Was his assist on Ozil's goal intentional? Don't know. He had little support but worked hard. Had some half chances with headers that had Lloris on edge, but nothing really dangerous.
Ozil 7. A great goal. He worked hard and created several other chances, but the rest of the midfield squandered possession.
Substitutes:
Rosicky 6. Helped Arsenal to get a little more possession and movement. He had one shot on goal, but offside had been called when he hit it.
Walcott 5. Did not have much of an impact. His best chance saw him lose the ball between his feet when he had a chance to go in one on one with Lloris.
Akpom n/a. Played the last five minutes, but never really got a touch.