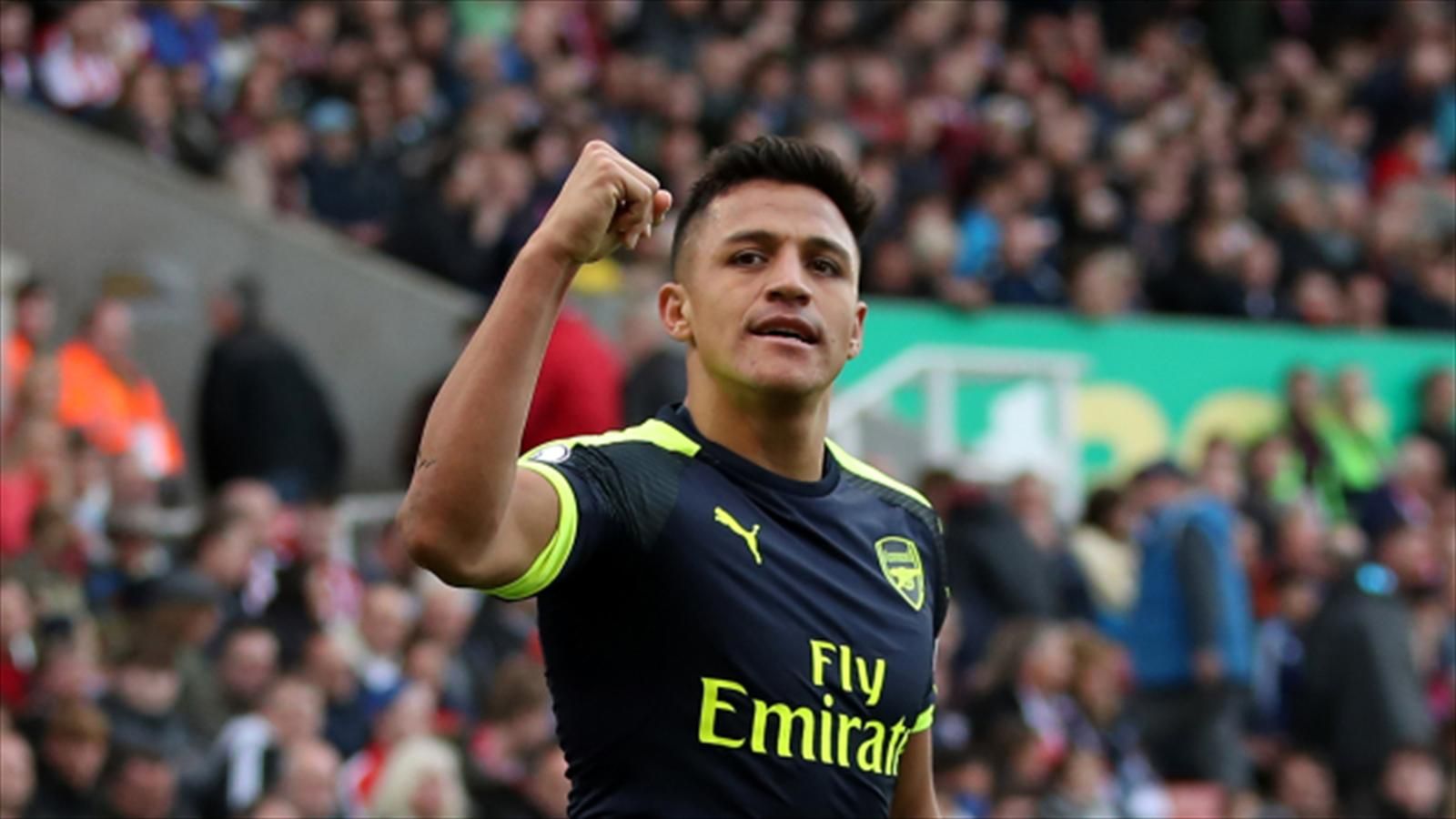 GOALS: Stoke: Crouch (66). Arsenal: Giroud (42), Ozil (55), Sanchez (76), Giroud (80).
MAN OF THE MATCH: Alexis Sanchez. A sublime pass to Ozil for the second goal and then he scored the decisive third goal that finished Stoke off. Not only that, he had a strain in his thigh and he was asking to come off before he scored!
THE REFEREE: Mike Dean 2. A horror show. He had actually done well until the 64th minute, when he decided not to call any fouls. What ensued was a bout of savage tackling. In the midst of this he missed Peter Crouch using his hand to score. Then to hear commentator David Pleat (who was insufferable all match), who on hearing that "experts" had decided Crouch had used his hand, queried whether they could ascertain whether he had meant to do so! Even Jon Champion gasped in the negative.
THE MANAGER: 7. The team choices were spot on and the team responded with an excellent match in a stadium we've traditionally found difficult.
OVERALL TEAM RATING: 8. Defensively we were stretched once or twice and they did fashion several good chances. However, we dominated and created the better chances and took them apart at the end of the match.
VERDICT: Arsenal appear to be growing in confidence and had their best match in Stoke's bet365 Stadium in years. Olivier Giroud responded with two emphatic goals, Alexis and Ozil were dominant, and a new midfield was able to have their way. Arsenal were also not afraid to mix it up and push back against the physical approach from the Potters. Now Arsenal need help from other teams if they are to ascend to the top four.
PLAYER RATINGS:
Cech 7: Another good match from Cech. He never really had a chance to stop Crouch's goal and he was vulnerable on Diouf's miss. However, he made a big save off Cameron.
Holding 7: He had to watch Arnautovic carefully and for the most part he kept him under control. He did deliver a cheap shot to Arnautovic, knocking him out of the game and receiving a yellow card. Payback for the Debuchy cheap shot several years ago?
Mustafi 6: He played well, but made a couple of poor passes and picked up a poor yellow card for fouling Shaqiri. It gave them a free kick in a dangerous position and it meant Mustafi had to be careful for most of the game with Mike Dean looking on.
Koscielny 7: Laurent played on the left side of the back three and he was solid for most of the match.
Monreal 8: Should have scored in the first half when he headed Bellerin's cross at the far post against the post. He looked dangerous early on and was effective at the back and the front.
Bellerin 8: He was a constant thorn in the side for Stoke as he was constantly marauding down the flank. It was Bellerin who assisted on the opening goal with a fine run and cross to Giroud. He also assisted on Sanchez's goal. He almost got a third from Monreal's header. He had his best match in months.
Xhaka 7: He broke up many Stoke moves and his passing was effective for most of the afternoon.
Coquelin 8: He had his best match in ages as well. Broke up Stoke attacks, attacked and won corners, and moved the ball around; just what the Boss probably ordered.
Ozil 8: He made some great passes and he scored one of the best goals of the week, confidently tapping the ball over a sprawling Butland. His combination play with Sanchez is getting better.
Giroud 8: Two goals on the day when he on both occasions got into the right place to finish off what others were creating.
Sanchez 9: Hopefully his thigh will be okay for next week's games. His assist on the Ozil goal was sensational and his goal came just at the right time, when he tucked it in past Butland.
Substitutes:
Ramsey 8: He looked motivated and his first touches saw him force Butland to make a save. Then he assisted on the fourth goal, racing towards the byline and crossing it to Giroud. I wonder why he was so motivated …???
Welbeck n/a: Not long on enough to make a big impact.
Walcott n/a: He had one shot on goal which forced Butland to make a save.