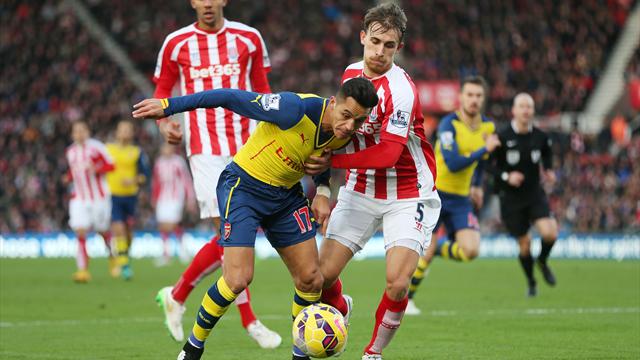 Arsenal had barely taken off their tracksuits and they were a goal down, courtesy of poor defending all round (allowing the cross, missing the header clear, being pushed off the ball, and diving the wrong way).
Giroud missed a golden opportunity to equalize, unable to convert Bellerin's one good contribution on the day.
Arsenal conceded the second when nobody picked up Bojan following an uncontested cross.
The third goal came off some poor defending from a corner, Walters able to pounce on the ball first.
It was a terrible first half and Wenger brought Welbeck on in place of Bellerin to try and liven things up.
Alexis Sanchez missed a golden chance to bring Arsenal back into the game when he hit the upright after getting around Begovic.
Stoke had a fourth goal disallowed when Diouf was seen to be offside and in the way of Bojan's shot which beat Martinez.
Arsenal did continue to pour forward and were rewarded when Diouf brought down Flamini in the box. Cazorla converted the penalty and the game was on.
An Arsenal corner was finally floated into the box and Aaron Ramsey volleyed it home and Arsenal were within one.
Any real opportunity to equalize ended when referee Anthony Taylor, who had a poor match, send off Calum Chambers for a second yellow card offense. Both incidents individually were not really yellow card caliber.
Cazorla had a shot which tested Begovic near the end, but the Gunners couldn't find the cutting edge in the last ten minutes.
Player Ratings:
Martinez 5. Much hype this week about Martinez replacing Szczesny. He was merely average today. I felt he could have done better on the first goal. Almost gifted Stoke a great chance later when a routine but hard shot bounced off his chest. Made a good save later when he was moving in the opposite direction, but adjusted to the ball.
Bellerin 4. Easily shoved aside on the first goal. He had his hands full with Diouf most of the game. He showed some nice touches at times and his speed created Arsenal's best chance of the first half.
Chambers 4. Missed a header on the first goal that might have saved the day. Was sent off for two minor challenges, but probably should have been more careful after he had his first. He tends to hold a lot at times and this time he was harshly punished.
Mertesacker 5. Looked like a fish out of water. He does not like playing on the left and it showed. He was one of those who failed to pick up Bojan on the second goal.
Gibbs 5. Too many crosses came from his flank. He could have challenged on the cross for their second goal. Was okay coming forward.
Flamini 5. Another player who could have picked up Bojan on the second. Flamini didn't have a great match and was moved to right back in the second half. One poor cross in particular showed why this was not a great idea.
Ramsey 5. He created, he wasted, he defended. He was the focus of the crowd's hostility and several times he forced things when easier options were available. He did score a nice goal and perhaps this will jump start his season.
Cazorla 6. He was busy and industrious, but he still failed to score when he had his chances. Also had a number of poor dead ball kicks, particularly the free kick he hoisted over the bar. He insisted on taking the penalty, which he converted (only just, Begovic dived the right way), and one hopes that, like Ramsey, it will jump start his scoring this season. He made a couple of wasteful passes in extra-time though.
Oxlade-Chamberlain 5. Alex played in spurts, but couldn't provide any end-product. He made a nice cross in the first half, but other than that, nothing of any note.
Giroud 4. He had trouble holding the ball up, he couldn't connect with his teammates, he missed a golden chance to equalize … Not a good day.
Sanchez 6. His day could be summed up by the foul called on him against Bardsley in the first half. He looked stunned, but the referee was not to be his friend. He had a number of poor corner kicks as well. He will be dreaming tonight about that missed opportunity early in the second half.
Substitutes:
Welbeck 6. He had an early chance and then a chance later in the second half that Begovic made an excellent save. He provided a lift.
Podolski 5. No real big impact. He had a glancing header that Begovic easily saved.
Campbell n/a. I think he came on …?
Referee Anthony Taylor: F - A performance reminiscent of his opening day game against Aston Villa a year ago. Crouch threw his elbow a number of times and never was carded. Chambers a couple of grabs and he leaves the field. A phantom handball against Sanchez, a very generous foul called on Gibbs, Bardsley should have been carded, and so on. The linesman flagged for our penalty. The only good call was not to award the fourth goal, but the linesman probably had a lot to do with that call.