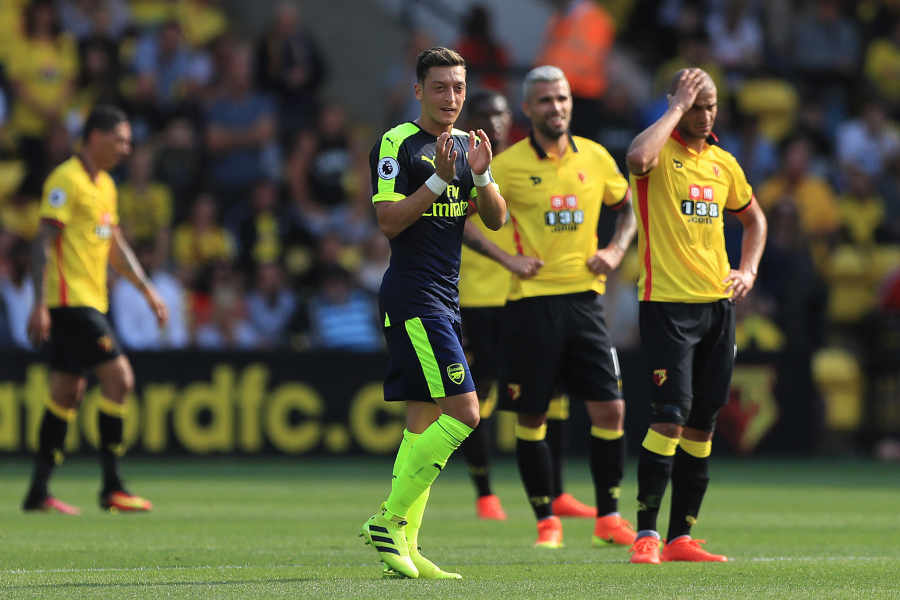 Watford scored midway in the second half and managed to apply pressure to Arsenal, but were not able to convert the few good chances they created.
The first half started slowly, but Arsenal were awarded a penalty after a Watford defender, Amrabat, bundled over Alexis Sanchez as he tried to collect a delicious pass from Ozil. Up stepped Santi Cazorla and he calmly dispatched the penalty, his first goal in ages.
Watford tried to respond, but were punished from a textbook Arsenal counterattack. Alexis Sanchez managed to poke over the line the excellent cross from Walcott.
Near the end of the half the Watford defence fell asleep, not noticing Ozil breaking for goal and Alexis found him with a fabulous cross. He headed home.
The second half featured Arsenal trying to hit Watford on the break and Watford trying to find a way back into the game.
Pereyra managed to score after Xhaka, for some odd reason, back off the ball. This energized Watford and they had Arsenal on the back foot for most of the rest of the game. However they couldn't manufacture another goal.
Player Ratings:
Cech 7: Most difficult save was off Koscielny in the first half where he needed to be awake to save the attempted clearance. He made several good saves in the second half, particularly a double save off Holebas and Ighalo. Most valuable was the way he commanded the area.
Bellerin 7: He played solidly throughout. He had one good marauding run where his cross might have been a touch better.
Holding 8: A fine game. He kept Deeney quiet for most of the match, was excellent in the air and was solid with his distribution. When Ighalo turned him at the halfway line, he stuck with him and helped to win the ball back down the field. In my opinion, he's now ahead of Gabriel in the pecking order.
Koscielny 8: Almost scored one of the best own goals of the year, but he knew he had players behind him and he had to try to poke the ball away. He was excellent most of the day.
Monreal 6: He had a busy day trying to stop Amrabat (perhaps the Ox could've helped a little more). He went off hurt with about twenty minutes to go.
Xhaka 7: He had a very solid game and his long passing was excellent. He could've done better on Watford's goal, as he seemed to hesitate momentarily and they scored.
Cazorla 7: Back to his old role of sitting alongside the holding midfielder and he had a good game. Will be happy to have scored as he'd gone too long without finding the back of the net.
Ozil 8: He had a role in all of the goals and although at times he didn't get on the ball, when he did things happened. His goal, off his head, showed him and Alexis at their combined best.
Walcott 8: Another good game for Theo. He made a fabulous cross on the second goal and he almost scored near halftime forcing a good save from Gomes. In the second half he hoisted a chip over the bar on another good opportunity.
Sanchez 9: Man of the match. He looked lively and was challenging the Watford defence at every turn. He won the penalty, scored off Walcott's cross (although he miskicked the ball), and he assisted on Ozil's goal with a fine cross. A moment of greed saw him take a dubious shot rather than play the ball out to an open Walcott in the second half. We need this performance every week.
Oxlade-Chamberlain 6: A good first half where he looked lively and his pace was bothering the defence. In the second half errors started to creep into his game. He, like Theo, tried an audacious chip, with similar results.
Substitutes:
Wilshere 5: Did nothing of note, but received a yellow card.
Elneny 6: Helped add some energy to our sagging midfield and made some useful interventions. Upset Wilshere when he hung onto the ball too long on a break.
Gibbs 6: Replaced the injured Monreal. Made a nice long pass forward to Theo and helped to keep the flank quiet.