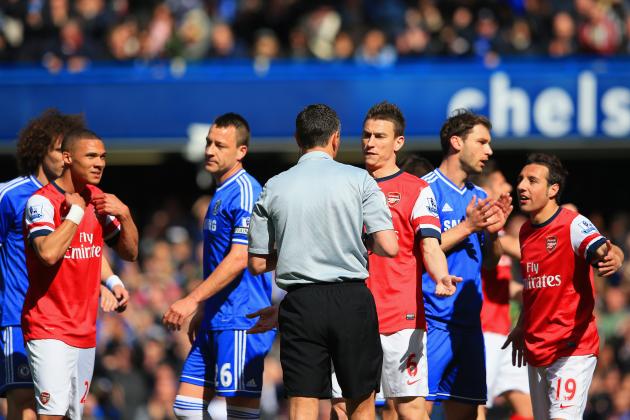 That just about sums up our afternoon in West London.
The 'Mourinho Hoodoo' continues to hang over the head of Arsene Wenger, and on the evidence of today I can't see it ever being vanquished.
We were truly awful.
Our defence was for the most part good enough to keep Chelsea at bay, but class will always out, and Eden Hazard, Cesc Fabregas and Diego Costa have that in spades.
Our midfield were completely ineffective. We have talent, but somehow Wenger contrives to coach it out of the players, either by playing them out of position or simply not motivating them. Put Ozil in the Chelsea side and he'd be deadly, because Mourinho would play to his strengths. At Arsenal he's no better than average most of the time, and today he was clueless.
This is a 40 million pound World Cup winner - it's so bizarre as to almost be laughable.
Welbeck might as well not have been there at all because he had no service whatsoever.
We look unbalanced, unmotivated and unable to play incisive football. Far to much of the same old tippy tappy nonsense when we attack, with the ball being passed backwards or given away.
Chelsea are light years ahead of us, and one wonders whether or not Wenger has the ability to get the best out of a team of players anymore.
We'll have a real fight on our hands this season if we can't get out of this rut.
Report:
Chelsea took the point thanks to an Eden Hazard penalty and another fine Diego Costa effort, while rival managers Arsene Wenger and Jose Mourinho were involved in an unseemly shoving match during the first half.
Wenger refused to take a backwards step in the 20th minute after leaving his technical area following Gary Cahill's tackle from behind on Alexis Sanchez.
Mourinho told the Frenchman to "back off" as their rivalry endured another ugly episode, with the Gunners boss firmly planting two hands on the Portuguese's chest - risking Football Association disciplinary action - and the pair also eye-balling each other in close quarters.
Sanchez had earlier clattered Thibaut Courtois in the head in challenging for the ball, with the goalkeeper playing on for a short time before departing the stadium for precautionary tests.
Petr Cech was on the field when Chelsea took the lead through an Eden Hazard penalty awarded after the Belgian slalomed through two challenges before being felled by Laurent Koscielny as the Arsenal defence failed to follow Wenger's combative example.
Calum Chambers might have been sent off for two bookable offences in the first half and Wojciech Szczesny made a fine save to prevent Mathieu Flamini from turning the ball into his own net as Arsenal survived two scares in a feisty contest.

Cesc Fabregas might have conceded a penalty for handball before the former Arsenal captain played a beautifully flighted pass to allow Diego Costa to net his ninth Premier League goal of the season.
Although Arsenal showed more steel than in March's 6-0 capitulation in Wenger's 1,000th match in charge, it means the Frenchman is still to taste victory over a Chelsea side managed by Mourinho after 12 attempts.
Mourinho on Friday refused to apologise for in February labelling Wenger "a specialist in failure" and their latest contretemps will have soured the relationship further.
The Chelsea boss will barely care as his side took a commanding advantage over second-placed Manchester City into the international break after dropping just two points in the opening seven games.
There was a 15-minute delay to the scheduled 1405BST kick-off between the two remaining unbeaten teams in the top flight after a flare was lit on the approach to the visiting end.
The major flashpoint of the match occurred when Cahill slid in recklessly on Sanchez to the left of the Chelsea dugout.
Wenger, this week celebrating his 18th anniversary at the Arsenal helm, strode towards the incident, walking across the Chelsea technical area as he made his objections.
Mourinho reminded his adversary he was in his territory, telling the Frenchman to retreat to his own designated space, only for the Gunners boss to object and place his hands on Mourinho's chest.
Fourth official Jonathan Moss intervened not once but twice, the second time after the managers had exchanged views almost nose to nose.
Moss explained the events to referee Martin Atkinson, who had booked Cahill, and then left the managers in no doubt that their behaviour would not be tolerated.
There was further cause for alarm on the touchline when Courtois required attention after his head had been caught as Sanchez chased a Jack Wilshere through ball.
The Belgium goalkeeper played on before needing further treatment, with Mourinho encroaching on to the field to alert Atkinson.
Cech came on, determined to seize his chance after being relegated to the substitutes' bench this term following a decade in the first team.
It was Cech's 480th Chelsea appearance, just his second as a replacement.