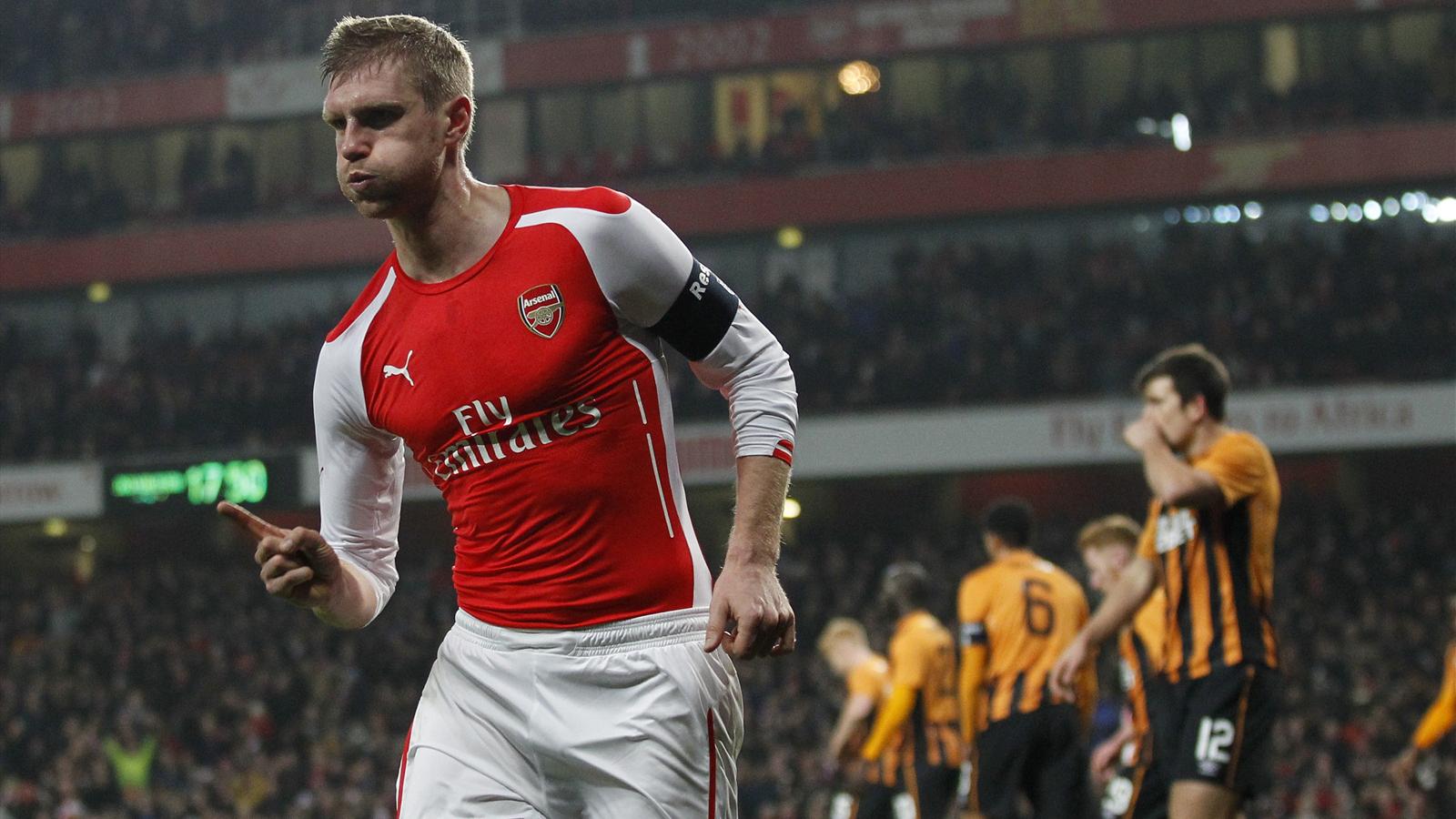 It was a comprehensive performance and it puts Arsenal through to the fourth round of the FA Cup.
Hull offered little threat the entire match and had trouble keeping keeper David Ospina awake, let alone busy.
Arsenal's Joel Campbell couldn't convert a golden opportunity early in the match, hitting the ball at the keeper.
Alexis Sanchez had the next best chance, but chose to try and chip the ball over the keeper. It spun over the bar.
Arsenal did finally score in the twentieth minute, an Alexis corner finding the head of Per Mertesacker, who scored his first goal of the season.
Alexis could have made it two after going past the goalkeeper, but a Hull defender cleared the shot off the line.
The second half saw Arsenal continue to dominate, with the restless crowd wondering if Hull would finally come alive and make us pay for our poor finishing.
Walcott missed a golden opportunity in particular, a sign of his rustiness.
However Hull never really woke up and Arsenal finally scored with about ten minutes to go.
Alexis took a Cazorla pass and pivoted inside, unleashing a gorgeous strike into the corner of the net. It was what Arsenal deserved and it was fitting that the best player on the field took the chance.
Player Ratings:
Ospina 6. He had one save to make in the first half off a slow shot which flew through a crowd and he waited to react in case of a deflection. The only save of note he made in the second half was from Huddlestone.
Bellerin 7. A good outing for Hector. He made a nice cross in the first half, although nobody was there to chase it. Late in the match he showed he needs more shooting practice, when he punted a cross way high and wide.
Chambers 7. A comfortable afternoon for Callum, his best outing in awhile.
Mertesacker 7. Dominated the back and scored his first goal of the season. If only all corners were taken the same way.
Monreal 7. A very good outing for Nacho, who kept his flank safe.
Coquelin 7. Another good match for Francis, who broke up a number of Hull attacks, tackled aggressively, and was strong in the air. He does need to make himself more available for passes when we bring the ball out of defence, though. The other concern is the need to be less aggressive sometimes. He made several two footed challenges and was carded for one.
Cazorla 7. A good match for Santi. He made a number of key passes to create chances, including his assist on Alexis's goal. His energy level was very good.
Rosicky 7. A similar performance to Santi's. He speeds up play when he gets the ball and he pushes the team forward. He also plays defence with a lot of energy.
Campbell 7. Will be lamenting the two chances he didn't take. He should have scored on his first half chance. He made a number of useful touches and he played with good energy.
Sanchez 8. Assisted on the first, scored the second. He had another shot cleared off the line and he was involved in most of the action around the Hull goal. He played energetic defence as well. How can we clone him?
Walcott 6. Didn't get involved as much as I would have liked, but he still had several chances. In the first half he was put in on goal, but he hit the ball at the goalie. In the second half, he had an even better chance, but a poor touch sent the ball wide.
Substitutes:
Oxlade-Chamberlain 7. He came on and played with great energy. He made a number of good runs and had a couple of chances. Left the field limping.
Akpom n/a. Chuba played a few minutes.
Maitland-Niles n/a. He too played just a few minutes.