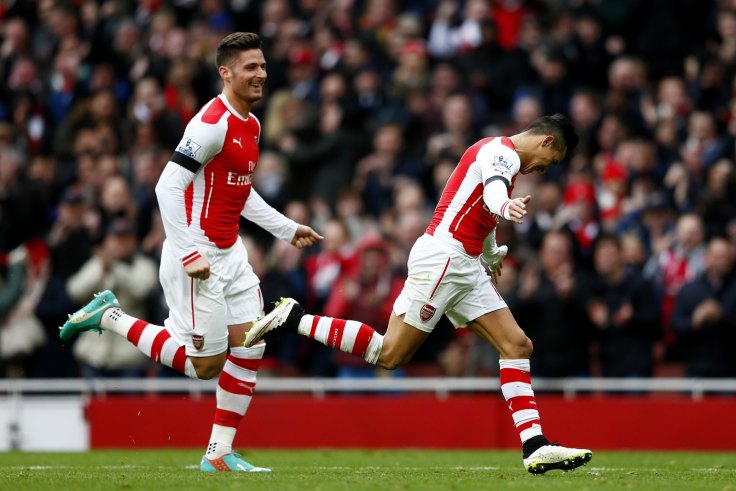 It was the Alexis Sanchez show today, scoring twice and assisting on the other goal, much to the approval of Thierry Henry and Robert Pires, who were watching from the stands.
Early on it was apparent that Arsenal meant business and only three great saves from Begovic denied the Gunners an early lead, saving from Alexis, Giroud, and Rosicky.
Arsenal finally opened the scoring from a corner, when Stoke failed to clear it and Alexis's second chance to cross found the head of Laurent Koscielny, who nodded it home.
The second goal came off an Alexis steal from N'zonzi, a quick one two with Rosicky and a quick strike past Begovic at the near post. It was classic Alexis.
Arsenal continued to dominate in the second half and Stoke failed to create any significant pressure on the Arsenal goal.
The game was sealed for good when Alexis scored from a free kick where the ball found its way through the wall and Begovic could only push the ball over the line.
Arsenal could have had a fourth, but were a little lax in the final third. A solid performance marred by an injury to Debuchy.
Player Ratings:
Ospina 6. Very little to do. A late save from a slow shot from Ireland was his most difficult of the day. Crouch had one opportunity he poked wide, a goal was called back for offsides, but there was little happening about the Arsenal area.
Debuchy 6. Started well but was shoved down by Arnautovic and injured his shoulder. Hopefully there is no fracture.
Mertesacker 7. One good interception of a Stoke cross and a tough battle with Crouch. Made one or two poor passes, but he was solid for most of the game.
Koscielny 7. A great goal from the cross from Alexis. He was solid throughout. Worryingly, he was limping at one point. Arsene, pick up the phone and sign someone now, before we get an injury and the price goes up.
Monreal 7. A very good game for Nacho. Was stitched up after he took a Peter Crouch elbow, but returned and played well.
Coquelin 7. A very good game from Coquelin, who provides a solid physical presence in the middle. No wild tackles today. He did make several poor passes late in the game, but his passing was otherwise excellent.
Cazorla 9. A great game. Lots of lovely turns, some fine passing.Stoke had trouble containing him.
Rosicky 9. Like Cazorla, he was all over and making some fine passes. He assisted on Sanchez's second goal and had several good shots as well.
Oxlade-Chamberlain 8. Some good runs and several shots were among his highlights. His shooting will come good and then he'll be a dominant player.
Giroud 7. Not quite as involved as you would like, but he did battle with Shawcross and keep the Stoke defence busy. Begovic denied him a goal in the first half.
Sanchez 9. Two goals, an assist, constantly was a thorn in the side of Stoke. He put Walcott through as well and linked up well with his teammates, particularly Cazorla. Great game!
Substitutes:
Bellerin 8. Came in for Debuchy and had a solid performance, much better than the last time he played Stoke. His speed allowed him to tidy up a number of times and he also managed to get forward a number of times.
Walcott 6. Put in by Sanchez, but dragged his shot wide. Still looks a little short.
Ozil 6. First game back for Mesut. Got some decent minutes under his belt.