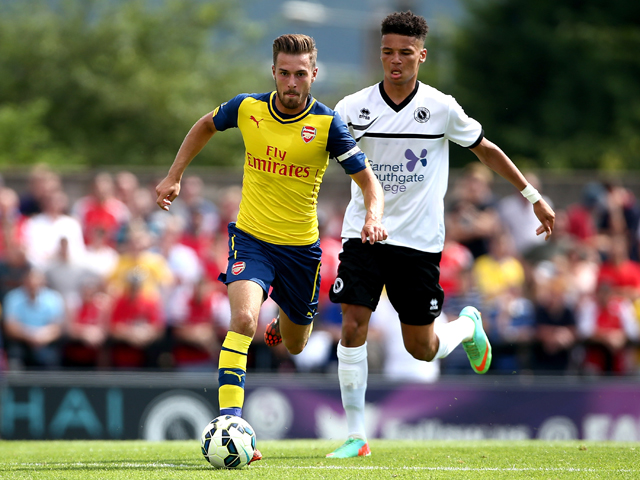 Arsenal injected more pace to the attack in the second half and started to create more meaningful opportunities.
Kris Olsson scored the first, being rewarded for making a good through run by the vision of Rosicky. The second goal resulted from an Akpom cross towards Afobe, who was pulled down.
Afobe calmly put the penalty away and the game was put to bed. Boreham only troubled Arsenal a couple of times in the first half and not at all during the second. Arsenal appeared to end the game with nobody injured and 45 minutes under the player's belts.
Player Ratings:
Wojciech Szczesny 6. Largely uneventful first half. Only incident saw him come out of the box and head a ball away from a Boreham Wood player. He was almost caught in possession.
Carl Jenkinson 6. A couple of crosses, a couple of tackles, but nothing particularly noteworthy from Carl.
Sami Ajayi 6. Was solid at the back, but wasn't tested too often.
Isaac Hayden 6. Same as Ajayi. Looks more confident this year.
Nacho Monreal 6. A quiet game for Nacho. Managed to get in the box once and took a tumble, but it wasn't a penalty.
Francis Coquelin 7. A strong defensive display from Coquelin, who threw himself about and dominated the midfield. Unfortunately, he made several poor passes and wasn't as sharp going forward. However, he was one of the few who appeared really motivated.
Aaron Ramsey 6. Another who dominated the midfield, but his shots lacked conviction and he always looked a little impatient.
Gedion Zelalem 6. Looked assured on the ball and managed to find space, however all the through balls he attempted were overhit and were perhaps overambitious.
Jon Toral 6. Had Arsenal's best chance of the half, which glanced against the upright. Otherwise he struggled to make an impression.
Chris Willock 6. Had no real impact on the wing, so he ended up cutting inside a number of times, to little effect.
Yaya Sanogo 7. Forced two saves from the goalkeeper and played a nice one-two with Toral to create his chance. Yaya wants a goal and you sense once he gets one the others will follow quickly.
Damien Martinez 6. Not a save to make.
Hector Bellerin 7. Was somewhat lively down the right flank. Combined well with Olsson several times as well.
Julio Pleguezuelo 6. A quiet game. He rarely was tested.
Ignasi Miquel 6. Same as Julio. He almost got to one corner kick.
Kieran Gibbs 6. A quiet game for Kieran. He did get forward once and get a shot on goal.
Matthieu Flamini 6. Rarely came forward but helped to keep control in the midfield.
Abou Diaby 7. A decent game for Diaby, who looked motivated. He had one good crack at goal, but the keeper tipped it over.
Tomas Rosicky 7. A nice assist on the first goal of the game. He injected some pace into the attack in the second half.
Kristoffer Olsson 7. One of my two men-of-the-match. He was motivated, he was lively and he made a difference. Scored the first goal of the game.
Benik Afobe 6. Was fouled and a penalty was called which he converted. However he was usually absent when the ball came across the middle and he looked tired at the end of the match. I don't understand why we got rid of Aneke and kept Afobe.
Chuba Akpom 7. My other man-of-the-match. He had several venomous shots on goal and produced the moment of the match, a dazzling run down the left goal line that left several defenders in his wake. He's one we need to keep.