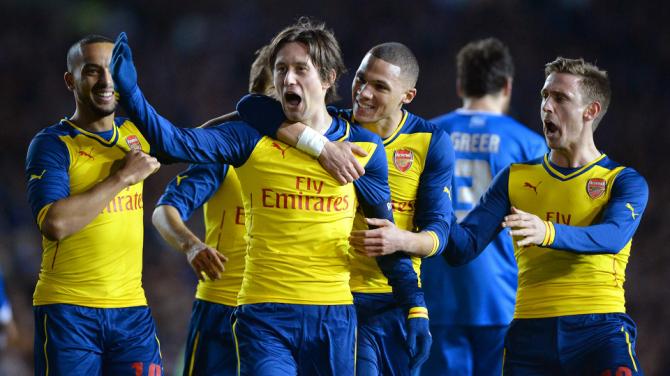 However Arsenal avoided the fate suffered by a number of Premier League giants the day before and advanced to the fifth round of the FA Cup.
Theo Walcott opened the scoring after just two minutes when a Chambers cross found him all alone in the box and he wheeled around and fired home.
It was a dream start to the contest and Arsenal doubled their lead midway in the first half when Rosicky found Ozil in the box and he calmly kicked the ball past the keeper.
Arsenal were in complete control and if there was a fault in their performance it was the inability to score a third and put the game to bed.
Brighton came out and played with more energy in the second half and were quickly rewarded when O'Grady scored after a series of small Arsenal errors.
Ten minutes later Arsenal restored their two goal lead when Tomas Rosicky scored a lovely volley.
Again Brighton responded. Koscielny looked slow trying to keep up with Baldock, who lifted the ball over the advancing Szczesny.
Despite the tension of the last fifteen minutes, it was Arsenal who looked more likely to score, but they were unable to convert and had to nervously finish the remainder of the game.
Player Ratings:
Szczesny 6. He had little to do and couldn't really be faulted for any of the goals. Looked a little shaky dealing with one or two of their crosses, but made no mistakes. However, this was not a game where he wins his place back again as number one.
Chambers 6. A good assist on Theo's opening goal. Partially to blame for their first goal where he tried to draw a foul rather than aggressively clear the high ball. Was lucky not to concede a penalty with his late handball. The referee made a good call (particularly since he'd failed to give us a handball penalty earlier), but we've seen them given against us before (last season's debacle at Stoke for example, where Koscielny was penalized for an identical handball).
Koscielny 5. Looked a little flat-footed for both of their goals. Was having a decent afternoon before these plays happened.
Monreal 6. He had a decent afternoon out there and was surprisingly strong in the air on several occasions.
Gibbs 7. Had a very strong performance coming forward. He looked a little vulnerable defensively in the second half.
Flamini 6. He had a strong first half, but looked less assured in the second half. He won't win back the starting job from Coquelin with that performance.
Ramsey 7. His work rate is excellent. Sometimes he stays on the ball a little too long and he tries a little too hard to get a shot. That said, he fluffed his best chance to score as the game was ending.
Ozil 7. A decent and tidy performance. He scored and did not look out of place out there. His game lacked a little passion and energy.
Walcott 7. Scored his first goal of the season and he definitely looked more comfortable out there. He had several impressive runs, but he ended up making poor decisions, usually by not passing.
Giroud 6. The game largely passed him by. He had few good chances and most of his flicks didn't come off.
Rosicky 9. Man of the match. He scored a beauty, he had a fine assist, he drove the game forward and he was the outstanding player.
Substitutes:
Sanchez 7. Provided energy, but he was careless with the ball on a number of occasions. He did take three fine free-kicks, but they all narrowly missed.
Akpom 7. A decent cameo for Chuba. Forced a good save from Stockdale and he had several fine runs where Brighton had to foul him. On one occasion he missed playing in Sanchez, failing to spot him.
Coquelin 7. When Arsene became nervous he brought in Francis and he delivered a solid last fifteen minutes.