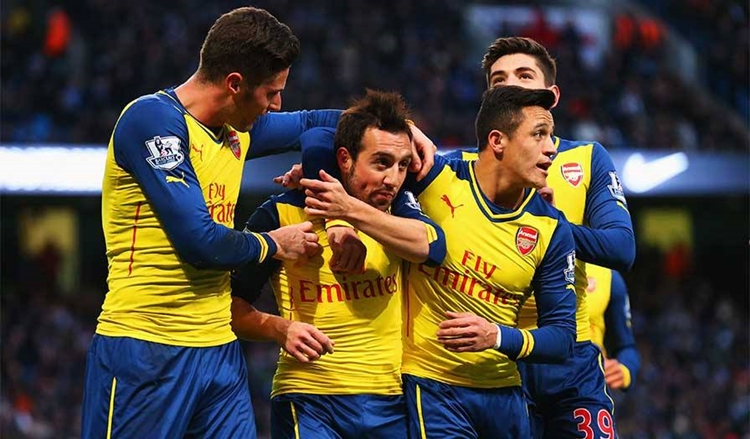 Had Arsenal's passing been a little sharper they could have added to the scoreline. However, their win was a comprehensive one that Gunner's fans have been waiting a long time to see.
The game got off to a nervous start and when Laurent Koscielny was booked in the first five minutes, one started to fear the worst.
Arsenal did manage to settle down and soon they started to launch attacks of their own.
Nacho Monreal won the penalty which put the Gunners ahead. Kompany cynically body checked him in the area and referee Mike Dean (yes, Mike Dean!), awarded a penalty.
Santi Cazorla coolly powered the ball past Joe Hart and Arsenal were now in the driver's seat.
City were unable to create any significant chances for the remainder of the half, whereas the Gunners managed to look more threatening and created half chances.
In the second half, City came out and attacked more and looked more threatening, particularly when Arsenal countered and sent too many men forward.
Despite all of their attacking, it was Arsenal who looked more likely to score, and score they did when Olivier Giroud beat Fernando to Santi Cazorla's free kick.
From that point on, City were beaten and Arsenal just had to see out the remaining minutes and record their best result of the season.
Player Ratings:
Ospina 7. Ospina was largely untroubled and his only "significant" save was a slow rolling shot from Navas. He did punch a cross away, but one still has questions of his worth versus Szczesny. His distribution was good and the crowd have taken to chanting his name as he thumps the ball downfield.
Bellerin 8. A huge match for Hector where he kept Milner quiet and Clichy ineffective. His speed and determination help cover any mistakes he might make. He also made several defensive headers. He was not shy to attack either.
Mertesacker 7. A solid game for Per, who usually has problems with City's pacey forwards.
Koscielny 7. Early yellow card was his worst moment of the day. He made a key deflection of a City cross which was their most menacing moment of the day.
Monreal 8. Won the penalty. He might have embellished it, but he was fouled. Largely kept Navas under control. He had an excellent game.
Coquelin 9. One of my two men of the match. Expectations were high for this game and he delivered. Was committed, determined, and helped the defence keep its shape. We hardly saw Silva and Lampard and Coquelin was the reason why.
Ramsey 7. Worked and ran hard. Was a little rusty and did try and force things a little too much.
Cazorla 9. My other man of the match. Was tireless and creative, a joy to watch. Scored a penalty, assisted on the second goal … He also defended with tenacity.
Oxlade-Chamberlain 7. A good game, but his end product was often poor today.
Giroud 8. Worked hard, held the ball up, and was on hand to head home the second goal.
Sanchez 7. Perhaps was a victim of all the pre-match hype of this being him against Aguero. He was still a thorn in City's side, but he too was guilty of forcing things and of making some bad decisions.
Substitutes:
Rosicky 7. Came in and didn't look out of place. He had one poor shot and had one great through pass to Flamini.
Flamini 6. Came in to shore things up. He had one break off the right wing where Kompany intercepted his pass to Giroud for a certain goal.
Gibbs 6. He also came in and put in a shift to see out the game.