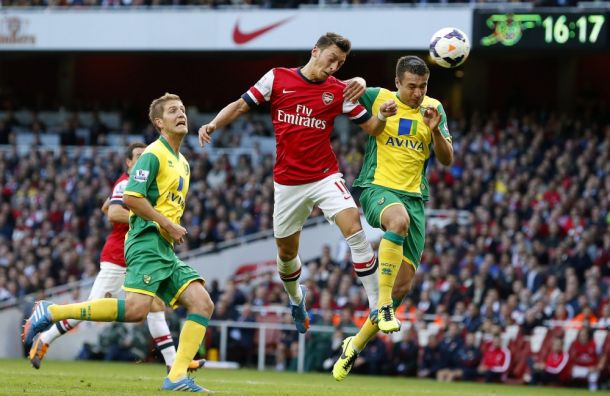 It was a game with no drama, but both teams at least made an effort to entertain and create chances. Norwich seldom threatened the Arsenal goal, whereas the Gunners carved out a number of good chances.
Ruddy, in the Norwich goal, was sharp in the first half, making two excellent saves off Olivier Giroud and one off Lukas Podolski.
Arsenal finally broke through in the 52nd minute. Giroud crossed to an open Ramsey who superbly volleyed into the top corner. It certainly will be goal of the week in the league's highlight packages.
The Gunners doubled their lead when Carl Jenkinson scored his first career goal, nipping in to poke home a miscued shot from Podolski (I believe).
Norwich created a couple of chances late, but the main headline from late in the game was the return to action of Jack Wilshere and Abou Diaby. Both acquitted themselves well in their brief cameos.
Player Ratings:
Fabianski 7. The appearance of Fabianski today probably means Wenger will choose Szczesny for the FA Cup Final. There wasn't much to do, although one or two shots required concentration.
Jenkinson 7. A solid game for Carl, but I still see him choosing the safe back pass more often than the forward or lateral one. He scored his first ever goal and was overjoyed. He put in a couple of decent crosses, but completely punted one at the end of the game.
Sagna 8. A solid outing playing in the middle. Everything that came his way he dealt with. We're going to miss him.
Koscielny 8. Like Sagna, he made the key interventions and kept Norwich from getting any sniff on goal.
Gibbs 7. Had to be careful with Snodgrass, but was largely secure most of the game. This was his first game back in awhile and he played quite well.
Arteta 7. A good game for Mikel, who largely controlled the middle and kept the Gunners moving forwards.
Ramsey 8. Co Man of the Match. In many ways Aaron was not having a good game. His passing was sloppy, he tried to be fancy a couple of times to no effect, but he still ran and made himself available. Thus when his moment arrived, he was ready for once and delivered a stunning volley.
Ozil 6. A quiet game for Mesut. He had his moments, but he drifted in and out of the game and he never made a decisive contribution.
Rosicky 7. A good performance from Tomas. As usual he pushed forward and he pressed high up the field.
Giroud 8. My other Man of the Match. He had two fine efforts in the first half and he probably should have scored the second, but Ruddy did make an excellent save. He assisted on Ramsey's goal with a fine cross to pick him out.
Podolski 7. One chance was saved by Ruddy, another was flagged offside before he hit it wide. In the second half he headed over the bar. He faded a little at the end.
Substitutes:
Wilshere 6. A good thirty or so minutes. He created one or two chances in the time he played.
Diaby 6. His first action of the year. Made a couple of nifty moves and overhit a couple of through passes.
Sanogo 5. Another brief outing for Yaya. We're still waiting for his first goal.