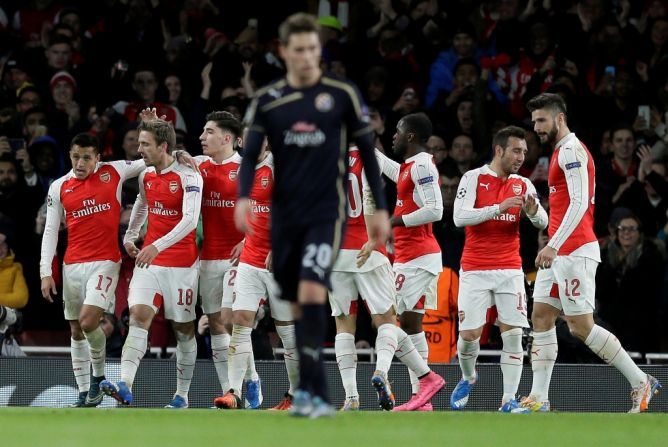 This was a great performance given the decimated squad. From the off we looked dangerous, and well up for it.
A sparsely populated Emirates Stadium came to life when Ozil opended the scoring after some top drawer build up play. Alexis Sanchez was in full Duracell bunny mode tonight - running tirelessly and competing for everything. He was rewarded with a brace of goals which were top quality.
We also appeared to come through the game without incurring further injuries - always a bonus.
We now have to go to Greece and win comfortably - definitely possible if the 'right' Arsenal turn up on the night.
Interesting times.
Report:
Arsene Wenger's men had lost three of their opening four Group F fixtures, including defeat in Zagreb, and looked to be on the verge of failing to make the knock-out stages of the competition for the first time in 16 seasons.
But, knowing they needed Bayern Munich to beat Olympiacos in Germany as well as take care of their own match, the Gunners held up their end of the bargain as Mesut Ozil opened the scoring before an Alexis Sanchez double sealed a comfortable 3-0 win.
Bayern obliged by running riot against their Greek opposition, meaning Arsenal will go to Athens on December 9 needing to avenge the 3-2 defeat they suffered at the hands of Olympiacos at the Emirates Stadium.
More injury woes and continued talk surrounding doping in football would have been seen as headline news were it not for Arsenal's miserable European campaign heading into Tuesday night's must-win encounter.
Wenger's marquee players turned up as Ozil showed just why he became the club's record signing two summers ago, and Sanchez grabbed his first goals since mid-October.
The victory also ensures Arsenal's continued participation in Europe after Christmas as defeat to Olympiacos, or a draw, would see Wenger's side drop into the Europa League.
There were a few nerves early on and Cazorla, who had ballooned a late penalty over the bar in Saturday's defeat at West Brom, sent the first real chance the same way after being picked out by Joel Campbell.
An air-shot from Olivier Giroud summed up Arsenal's tentative start but it was the usual suspects who eventually put the Gunners ahead in the 29th minute and relieved some of the tension in north London.
Sanchez crossed into the danger area and Ozil was on hand to head home past Eduardo for his second Champions League goal of the season.
The lead was doubled four minutes afterwards as Nacho Monreal stole possession after a weak pass out of defence by Leonardo Sigali and squared for Sanchez to sweep in the second.
Arsenal were well on top and Ozil went close to scoring again, only to be thwarted by Eduardo twice in a matter of minutes.
Giroud was next to be kept out by Eduardo who continued the second half where he left off in the first, diving high to his left to claw away a header from the in-form Frenchman.
The fit-again Aaron Ramsey replaced Giroud with a little under 25 minutes remaining. Sanchez, who moved forward to take over from Giroud as the frontman, needed little time to tuck home his second after being found by Campbell in the 69th minute.
Dinamo rarely threatened but Petr Cech made a superb reaction save after Laurent Koscielny's clearance cannoned off Marko Rog.
That was the best the visitors could muster as their Champions League hopes came to an end, but Arsenal's continue for at least another fortnight.