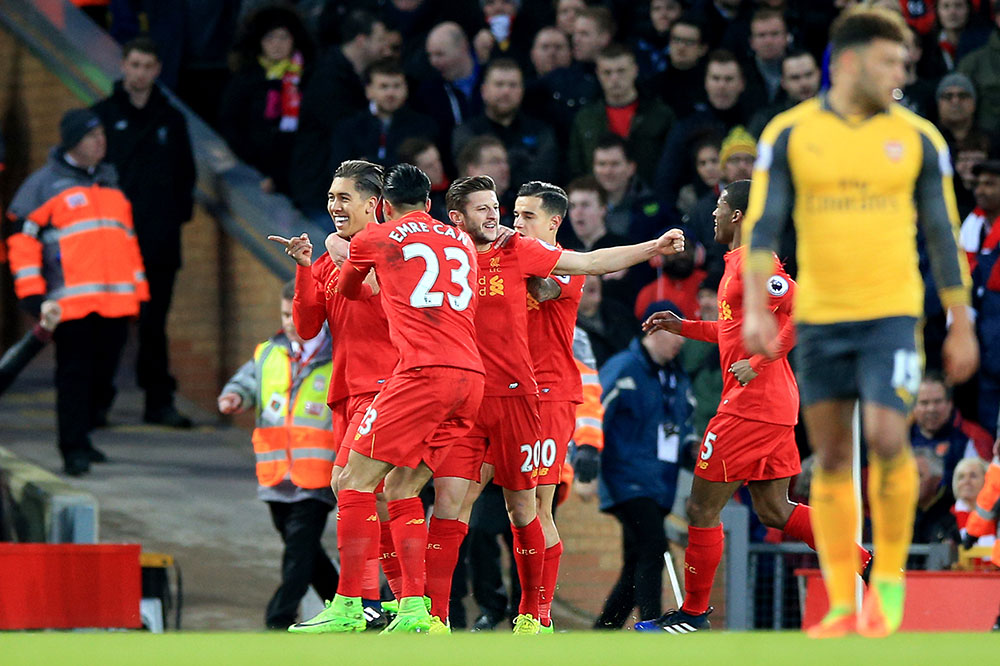 This was yet another capitulation, and to top it off we left all of our goalscoring power on the bench for the first half - Genius.
I'm not a football manager, but had I been given the job of managing Arsenal at 9 o'clock this morning I wouldn't have left Sanchez on the bench. The decision by Wenger to turn our best player into a spectator for 45 minutes was madness, and boy did we pay the price.
Giroud was completely ineffectual, hardly seeing the ball.
before you could blink we were 2-0 down, and the game was effectively lost. these lads no longer have the heart to claw back a defecit like that at a place like Anfield.
Sad, but true.
We need a change of management, and now. It simply isn't good enough that we seem to lack ambition. for a club like Arsenal that's unforgiveable.
Report:
Arsene Wenger was left to rue the gamble of dropping leading scorer Alexis Sanchez as Arsenal lost against Liverpool at Anfield and surrendered their top-four place as a result.
The hosts were already ahead through goals from Roberto Firmino and Sadio Mane by the time Wenger introduced Sanchez for the start of the second half.
Sanchez then compounded the scrutiny on his manager by providing the assist for Danny Welbeck's goal, which helped put Liverpool under pressure Georginio Wijnaldum wrapped things the win in added time.
Liverpool's win lifted them into third place, with the Gunners dropping to fifth only one point above Manchester United.
It was only the Reds' second league win of 2017, the other coming at home to Tottenham, but it extended Jurgen Klopp's record against his top-six rivals to 19 points from nine games this season.
By contrast Wenger has won just three times in their last 24 away games at Anfield, Chelsea, Tottenham, Manchester City and Manchester United and this performance gave him more questions to answer after an insipid first half played directly into Liverpool's hands.
Wenger's decision to drop 20-goal Sanchez in favour of Olivier Giroud because he wanted to be more direct and strong in the air appeared to have an immediate - and detrimental - effect on his side.
Liverpool had been torn apart by Jamie Vardy's pace running in behind in their loss to Leicester on Monday night, but without that threat from the Gunners Klopp's side were more than comfortable.
The game was just 10 minutes old when Mane's low cross evaded both Arsenal centre-halves to allow Firmino to take a touch and fire high into the net for his first goal in seven matches but third in four league matches against the north Londoners.
Coutinho was having more influence than he had previously since his return from an ankle injury in mid-January and could have scored twice before the break, with Petr Cech tipping one shot over and the Brazilian hitting another close-range effort too close to the goalkeeper.
With Arsenal so passive Liverpool were free to attack at will and the move for the second goal was superbly executed - from James Milner's wall-pass off a bemused Alex Oxlade-Chamberlain to Firmino's vision picking out the unmarked Mane to convert an angled drive.
Wenger tried to rectify his mistake at half-time by sending on Sanchez for Francis Coquelin and, after Giroud's header was tipped on to the crossbar by Simon Mignolet, the Chile international made his mark.
Liverpool full-back Nathaniel Clyne retreated when Sanchez picked up the ball, allowing the Arsenal man to run at central defender Joel Matip before sliding in a pass for Welbeck to finish from a narrow angle.
The goal, plus Sanchez, changed the whole complexion of the game as a previously comfortable Liverpool looked rattled.
With 17 minutes to go Wenger abandoned the direct tactic in favour of pace as he sent on Theo Walcott and Lucas Perez for Giroud and Welbeck.
Emre Can escaped a second yellow card for a foul on Walcott, with Granit Xhaka booked for complaining the German should have been sent off.
Liverpool substitute Divock Origi could have sealed it with a header against a post, but did provide the added-time cross for Wijnaldum to sidefoot home and settle the home side's nerves.