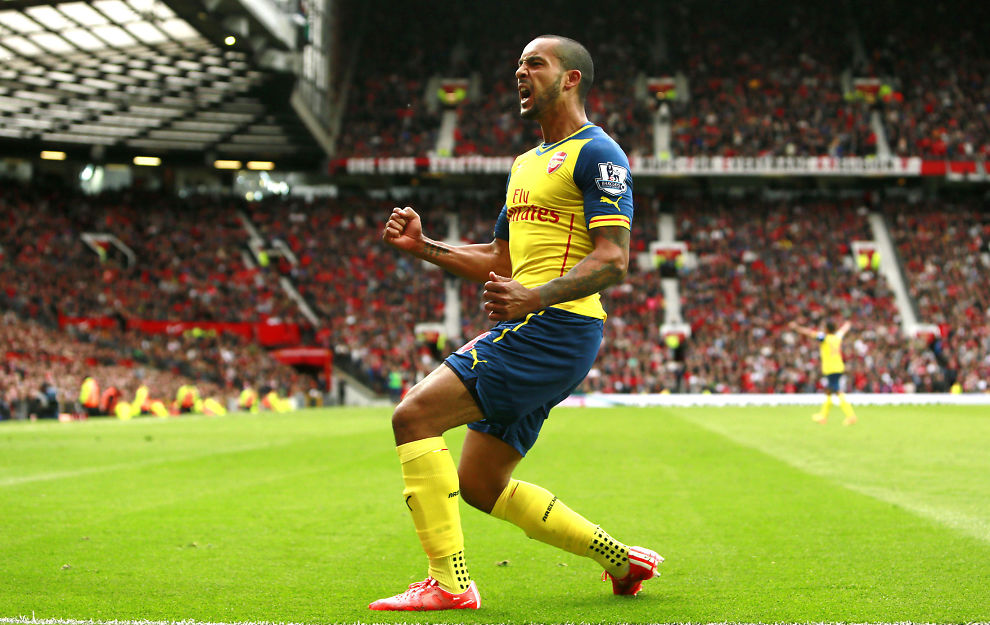 Today was no different, and in the end we only earned a draw thanks to a deflected shot (or was it a cross?) from Theo Walcott.
In truth this was proper end-of-season stuff, despite the fact that both teams were still playing for the vital third place finish.
We could have won it after starting slowly - there were a few good chances in the second half mainly thanks to an industrious display by Aaron Ramsey - my man of the match (but not Gary Neville's - surprise surprise).
Only two more home games left to play now, then the Cup Final of course. Any chance of three straight wins? - I reckon so.
Report:
Arsenal took a big step towards securing third place thanks to a late equaliser in the 1-1 draw against Manchester United at Old Trafford.
Ander Herrera took advantage of some sloppy marking to hand Manchester United the lead but Theo Walcott's cross flew in off Tyler Blackett's leg and the match ended 1-1.
These two teams have engaged in some titanic battles over the years, but this was a very low-key meeting which will perhaps be remembered more for the goodbyes that took place, rather than the action on the pitch.
Radamel Falcao waved to all four corners of the ground when he was replaced in the second half. With a return of just four goals in 28 appearances, it seems unlikely the on-loan Colombian will be back next season.
Real Madrid target David de Gea waved to the United fans as he came off with an injury in the second half and was replaced by Victor Valdes.
For United to snatch third place, they will have to beat Hull next weekend and hope Arsenal lose their final two league games against Sunderland and West Brom.
A fourth-place finish - and the Champions League play-off that comes with it - is almost certain for Louis van Gaal's team.
The match lived up to its low-key billing in the opening stages.
Falcao looked keen to impress - as he has done all season.
But the Colombian spent as much time on the floor as he did on his feet. Francis Coquelin, Laurent Koscielny and Nacho Monreal all muscled the striker off the ball early on.
The one time Falcao gained a yard on Koscielny, the Frenchman recovered to block the striker inside the box.
United's commitment could not be doubted. Ashley Young sprinted 50 yards to dispossess Alexis Sanchez, Antonio Valencia harried Monreal down the right and Herrera forced Santi Cazorla back into his own half.
But there was little for David Ospina to do. The Arsenal stopper's only save of note in the opening 15 minutes came when he collected Juan Mata's simple free-kick.
Arsenal offered precious little at the other end, though. It was only when Phil Jones slipped that they earned a sight at goal, but the centre-half recovered in a comical fashion, crawling on the floor and nodding the ball behind off Olivier Giroud's shin.
It was Arsenal's turn to perform some comical defending and hand United the lead. Monreal and Koscielny both followed Marouane Fellaini from Young's floated cross, which left Herrera free to volley in from close range.
United could have had a second in first-half stoppage-time thanks to more lax marking. Daley Blind, completely unmarked, flashed a curling shot towards goal from Juan Mata's corner, but captain for the day Chris Smalling accidentally blocked his team-mate's effort.
Arsenal continued to struggle immediately after the break. Alexis Sanchez volleyed well over the bar. Olivier Giroud fared much better, spinning Marcos Rojo in the box, but David de Gea rushed off his line to block.
The United fans responded by pleading with their star goalkeeper to stay.
Falcao bade what very much looked like a farewell to the United fans when he was substituted for Robin van Persie, waving to all four corners of the stadium as he walked off the pitch.
Aaron Ramsey beat De Gea for the first time, lifting the ball over the Spaniard after a brilliant ball from Sanchez, but Marcos Rojo put in a covering tackle.
What looked suspiciously like another goodbye came 15 minutes from time when De Gea hobbled off after pulling a muscle. The goalkeeper waved to the crowd as he walked down the tunnel. Valdes came on to make his United debut - 14 months after his last game for Barcelona.
The three-time Champions League winner was picking the ball out of the net eight minutes later.
Substitute Walcott peeled away down the right hand side and fired a low square ball across the box which flew in off Blackett's out-stretched leg.
Van Persie had a chance to snatch all three points, but ploughed his half-volley into the Stretford End.