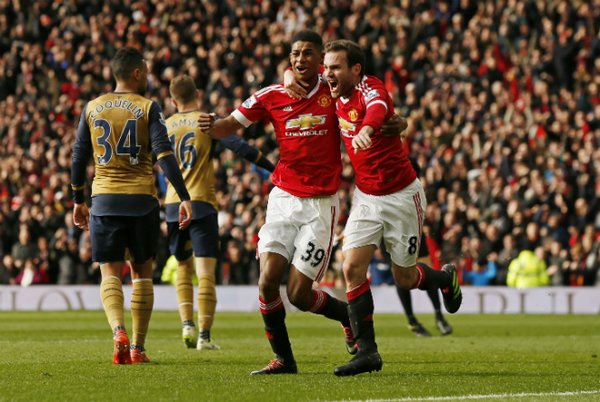 Manchester United were there for the taking today. Injuries forced them to field an inexperienced side, but to a man they showed more committment than our player did - it was a dismal performance.
Once again we go from title favourites to perennial fourth place challengers due to our inability to defend, create and get goals.
Why is Wenger seemingly incapable of motivating the team? - no, actually, why aren't the players able to motivate themselves? - these are highly paid individuals who carry the hopes of tens of thousands of loyal supporters on their shoulders and consistently fail to deliver. Why do they bother?
One can only hope that despite the bollocks spouted by Wenger to the media, he's privately berating the players for what was frankly a bottle job.
OK I know we're only five points off the top, but the omens aren't good with tough games coming up, and the whole bloody team either out of form or not trying.
How many more seasons of this do we have to endure?
Report:
Teenage sensation Marcus Rashford maintained his stunning start to his Manchester United career with two goals on his Barclays Premier League debut to deal a major blow to Arsenal's dwindling title hopes.
Just three days after scoring twice against FC Midtjylland in the Europa League, the 18-year-old grabbed another double in the 3-2 win over the Gunners as well as setting up his side's third for Ander Herrera.
For United fans who have grown steadily used to shocking first-half performances, Rashford's remarkable performance will give justifiable cause for the kind of outrageous optimism that this most trying of campaigns has so sadly lacked.
The product of south Manchester's Fletcher Moss Rangers slammed home United's opener in the 29th minute and added a powerful header three minutes later before Danny Welbeck, yet another player from the Fletcher Moss production line, replied for Arsenal.
Rashford's day was not done - he held the ball up superbly for Herrera to sweep home a deflected third for United - before Mesut Ozil's effort gave the lightweight Gunners hope of a point their performance would have scarcely merited.
The relentless excitement - Ramsey and Herrera sparked a mass shoving match almost reminiscent of the storied pizza-gate era - was too much for Louis Van Gaal, who got so animated during a spat with fourth official Mike Dean that he toppled to the ground on the touchline as he tried to recreate an unpunished foul.
But the rich entertainment was no solace for Arsenal, who looked anything but title contenders, despite a bright enough start in which Welbeck exploited attractive amounts of space down his former club's flanks, and began the move which ought to have given the Gunners the lead on eight minutes.
Welbeck played in Ozil who neat lofted pass sent Nacho Monreal through into the right side of the box, but he bustled over his shot which was blocked at point-blank range by the advancing David De Gea.
Memphis Depay zipped a low shot straight at Petr Cech in United's first chance five minutes later, then Monreal - impressive but for his finishing - sent in a cross from which Alexis Sanchez should have done better.
Rashford broke the deadlock with virtually his first touch in the 29th minute, firing home a slightly deflected shot from the centre of the box after Guillermo Varela's cross from the right was not dealt with by Gabriel.
So used to grim first-half deadlocks, Old Trafford hardly seemed to know how to celebrate such a rare ray of early optimism - and it got even brighter three minutes later.
This time Rashford summoned the sort of powerful header of which top strikers the world over would have been proud, slamming the ball past the helpless Cech from Jesse Lingard's right-wing cross.
United's two-goal advantage did not last long as the other product of Fletcher Moss narrowed the deficit when he out-jumped the static Morgan Schneiderlin to head home an Ozil free-kick.
The goal gave Arsene Wenger's men hope but they were guilty of constantly squandering possession in a low-key start to the second period, Van Gaal's men always looking more likely to extend their advantage.
Their third came in the 65th minute and Rashford was once again prominent, teasing Gabriel on the right before crossing for Herrera to sweep home, albeit with a sizeable deflection off Laurent Koscielny's chest.
Arsenal produced a determined response, pulling back to within one four minutes later after De Gea could only flap Welbeck's effort into the path of Ozil, who bundled the ball home.
A subsequent mass pushing match following a clash between Ramsey and Herrera, and the unrelated incident which saw Van Gaal berate Dean before falling to the turf to the loud cheers of fans from both sides.
Rashford's amazing Premier League debut came to an end 10 minutes from time when was replaced by Adnan Januzaj, a player who also scored two goals on his full United debut at Sunderland three years ago.
Januzaj's star may have subsequently dwindled, but for now at least, there is no brighter cause for optimism at Old Trafford than Rashford, seemingly hell-bent on single-handedly rescuing his side's season.