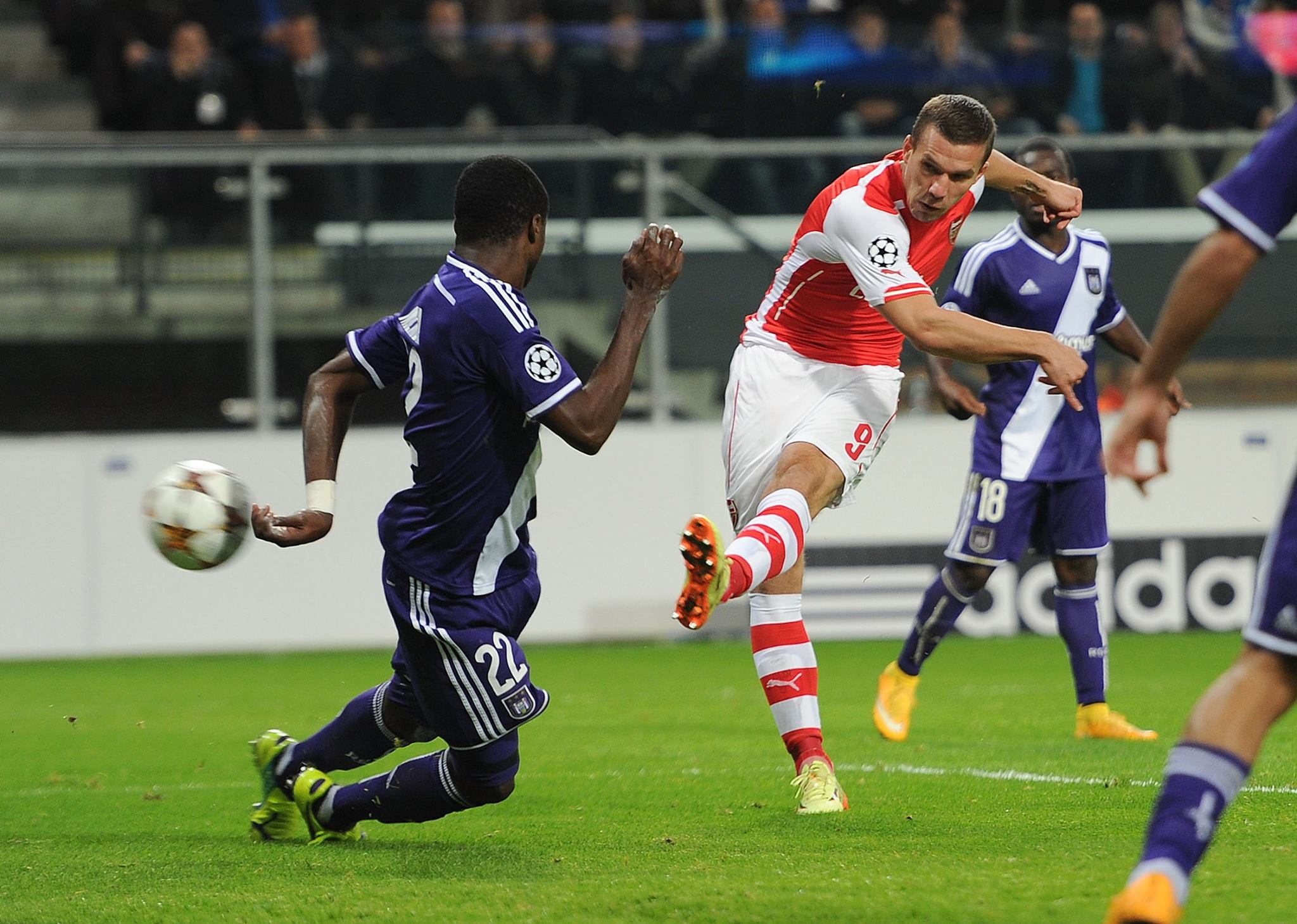 Kieran Gibbs's equalizer could well turn out to be the most important goal for Arsenal this season.
Anderlecht were supposed to be easy to beat. However, Arsenal labored and struggled to break them down and only a late surge managed to save the day.
The first half was fairly even, but Arsenal looked the more likely team to score. Santi Cazorla squandered a volley, later he wasted a free kick, and a last gasp lunge from an Anderlecht defender prevented Welbeck from getting a shot away in a promising situation.
The second half began much the same way. Alexis Sanchez narrowly missed a free kick, Aaron Ramsey pulled a good chance wide, and Cazorla broke through but couldn't beat the keeper.
Then Anderlecht started to take control. Arsenal's midfield visibly tired and gaps started to appear.
Najar headed home a cross for Anderlecht to take the lead. They could easily have doubled their lead, but one shot hit the upright and the other produced a fine save from Martinez.
Wenger threw on all the offensive substitutes he had, but the goal came from his two fullbacks. Chambers whipped in an excellent cross that found Kieran Gibbs at the far post who drove home a super volley.
So far this season Arsenal have failed to complete their comebacks, but this time Anderlecht visibly were deflated and Arsenal went in search of an equalizer.
The Ox found Gibbs free on the left, his cross was a little long, but Sanchez managed to gather it in and force a cross into the middle. The ball caromed to Podolski who did what he does best.
It was classic smash and grab and it was a win Arsenal desperately needed. Perhaps this will turn their fortunes around.
Player Ratings:
Martinez 7. His first ever Champions League game. He wasn't at fault on the goal, was lucky the next shot hit the post, but he made a key save from Defour.
Chambers 6. He still pushes and shoves too often … he's not subtle enough when he fouls. He didn't notice Najar sneaking in behind him on Anderlecht's goal. However he delivered a huge assist on the equalizer.
Mertesacker 6. Looked solid most of the night and then the defence collapsed. He was all over the place.
Monreal 5. Picked up an early yellow card. This is not his position and he was brutally exposed for about ten minutes. It has to be said that the midfielders provided little support at this time.
Gibbs 8. I thought he was not having a particularly great game for most of the night until he delivered a great goal that he could easily have flubbed and then played a key part in the next goal.
Flamini 6. He did his best to rally the troops and cover the defence, but it wasn't quite good enough.
Wilshere 5. His worst game of the season. He appeared tired and wasn't able to get free most of the night. He might need some time off.
Ramsey 5. He appeared rusty and hasn't managed to ascend back to that place he was at last season. Missed a good chance in the second half.
Cazorla 6. The good thing about Santi is that he was heavily involved. However he missed a great chance in both halves and his set piece deliveries continue to need work. At times he appears a little slow as well.
Welbeck 6. He worked hard but nothing came off for him tonight. He wasn't able to establish a presence in the middle and he often went out to the wings to find some room.
Sanchez 7. If only every player had his work ethic. Very little was working for him but he continued to persevere. A free kick almost scored, he put Cazorla through on goal, and he assisted on the winner.
Substitutes:
Oxlade-Chamberlain 6. Gave the Gunners a little more physicality. He played a part in the buildup of the winning goal.
Campbell 6. Added a little pace. A couple of his passes lacked enough pace.
Podolski 8. Did what he does best …score! A decisive finish from Poldi.