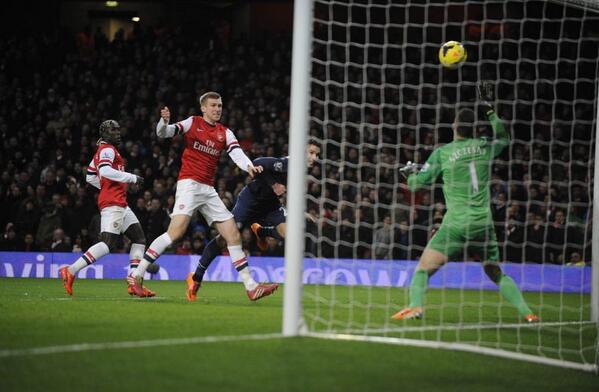 Early on an Arteta giveaway to van Persie saw the former Gunner with a great chance to score, but a weak shot was saved by Szczesny.
Arsenal gradually grew into the game, but failed to create even one gilt edged chance during the first half.
The second half saw Arsenal gradually increase the pressure and by the end of the game Arsenal were parked on the front door step of United.
Giroud failed to make contact with a Sagna cross, Cazorla had a couple of shots saved by De Gea and Koscielny's header was cleared off the line by Valencia. But United created the best chance, a Rooney cross to Van Persie, which was brilliantly saved by Szczesny.
In the end the game ended tied and Arsenal will see this as two points squandered, rather than one gained.
Player Ratings:
Szczesny 8. He made the great save off van Persie's header in the second half. Was solid throughout and kept his concentration. Man of the match.
Sagna 7. One very good cross in the second half, several others were not as good. Sagna was solid defensively and got forward on a number of occasions.
Mertesacker 7. Back to his best. He dominated the air, made several good interceptions, and kept the line steady.
Koscielny 8. He redeemed himself with an excellent game. He mopped up a number of difficult situations. Unlucky not to score with a fine header as well.
Gibbs 8. His defence was okay, but it was his attacking which made him noticeable. Got forward a number of times and put a few good crosses into the middle.
Arteta 6. He lost the ball early to van Persie, but the Dutchman fired straight at Szczesny. Gradually played better as the game wore on, but his lack of physicality is a worry.
Wilshere 7. Floated forward and on a number of occasions was a good touch away from getting a shot away. The physical nature of the game is always apparent around Wilshere with the abuse he takes. A sloppy giveaway near the end almost gave United a great chance to score.
Ozil 7. Mesut had a good game and often seemed close to threading the needle and opening up the United defence. His set pieces were disappointing though.
Cazorla 7. He had a rough first half where he was often bundled off the ball, but he became more and more influential as the game wore on. Unlucky not to score near the end. He had a number of shots charged down as well.
Rosicky 6. Tomas looked rusty out there, making a number of poor passes, a couple of which ended promising moves. He was a positive force out there, always looking to move the ball forward.
Giroud 5. Olivier battled and battled and held the ball up well at times. At other times his flicks and passes didn't come off or were executed clumsily. He had several good chances to score, but none of his headers came off, and his shots were little better. Somehow he didn't make contact with Sagna's cross.
Substitutes:
Oxlade-Chamberlain 5. The Ox was poor today, a number of his dribbles and his decisions not coming off and he was unable to make an impact.