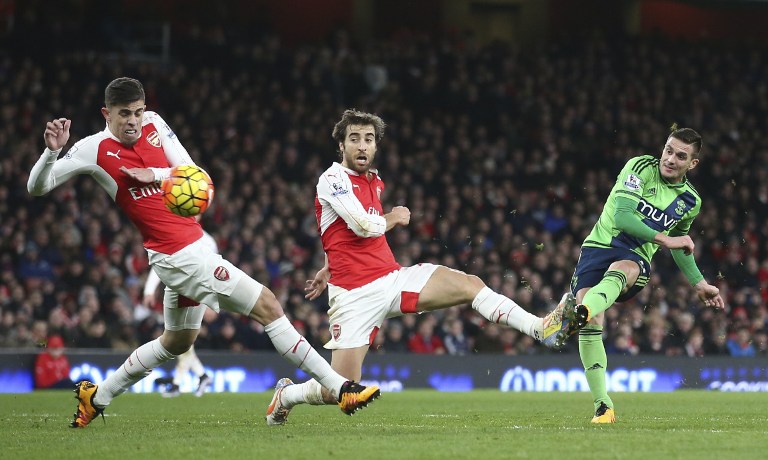 Not only that, but the Gunners failed to score for the third game in a row. Yes, they ran into a hot Fraser Forster, but they lacked the killer instinct up front.
Why Francis Coquelin didn't start is something I'd dearly like to know. Our midfield, with Flamini, was already looking stale in recent games and the prospect that Coquelin was back seemed an answer to our prayers. Alas!
For two halves we peppered the Southampton goal, but couldn't find the breakthrough. Sanchez and Ozil were magical at times, but couldn't score. It was all one big disappointment. Wenger seems unable to beat Ronald Koeman teams.
Player Ratings:
Cech 6: He had to make the odd easy save, but never seriously looked like conceding a goal. His positioning was always perfect.
Bellerin 6: Of the five or six crosses into the box, only two were on target. He has to do better. He was reluctant to take on Tadic early on and only attacked more openly in the second half.
Gabriel 5: He was lucky Mane didn't fall down when he lunged at him in the box. Gabriel's passing was poor, particularly one howler in the second half that set Mane free.
Koscielny 6: Missed a golden chance when he headed over the bar. Otherwise he played quite well.
Monreal 6: A decent game offensively and defensively.
Flamini 4: Again Arsenal failed to dominate in midfield and attacks were too slow in building. Flamini's passing was poor at times. I was surprised Wenger included him.
Ramsey 5: Also to blame for our poor midfield display. He had just one effort on goal, but he hit the ball straight at Forster.
Ozil 8: He had a number of chances to score, but Forster made some big saves and the defence made several blocks. His passing was good, but he couldn't find a way to unlock the Saint's defence. He was fouled repeatedly, but referee Lee Mason wasn't interested.
Campbell 6: He had a couple of moments, but he couldn't exploit them. He made a nice run onto a through ball, but then took too long to play the ball across in the first half. In the second half he failed to get on the end of a cross, but he hustled and won the ball back in the box, only to rush the shot and miss badly. I've a feeling that he may not be back for a while.
Giroud 6: He had a couple of headers, but none seriously threatened going in. He also took a quick swipe with his right foot early in the second half, but Forster made the save. Service to him was poor at times.
Sanchez 8: Dominant display creating chances and taking shots. Unfortunately, most of the shots were headers and Forster made the saves. My man of the match.
Substitutes:
Coquelin 6: One very robust challenge earned a yellow card from Mason.
Walcott 6: A good cross found Sanchez's head was the best he provided. Had two good shots at Forster in a row, but couldn't score. His first chance he should have done better.