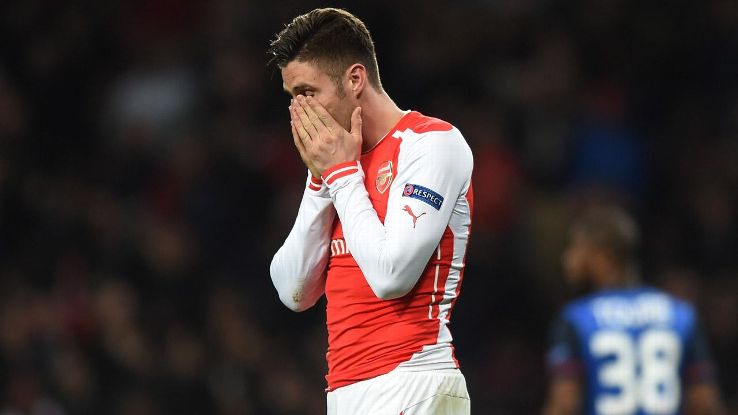 For the first five or ten minutes it looked as if it would be Arsenal's night, the Gunners moving the ball with pace and looking dangerous.
Monaco weathered the early Arsenal "storm" and gradually started to dominate the match.
They were rewarded when Kondogbia was allowed to dribble forward and shoot from range, his shot deflecting past the stranded Ospina.
Arsenal tried to respond, but Giroud could only head over the bar when he had Arsenal's best chance of the half.
The Gunners started strongly in the second half with Giroud again missing a good chance set up by Alexis.
Arsenal's throwing men forward was eventually punished when Per Mertesacker made the fateful decision to commit to a tackle, which he didn't make, leaving just one man behind him to stop the Monaco attack.
The ball ended up with Dimitar Berbatov and he scored to double the lead.
Arsenal were desperate and Giroud's missing a glorious chance made things worse. The threw on the substitutes and pressed for a goal.
Walcott came close a couple of times, Welbeck just missed with his shot striking Walcott. Nothing was going the Gunner's way.
Then a lifeline near the end. The Ox sidestepped around Kondogbia and fired a glorious thunderbolt home.
Arsenal then made the mistake they'd made against Dortmund earlier this season, pushing men forward in search of an equalizer.
Oxlade-Chamberlain then went from hero to villain in the space of five minutes when he gave the ball away and Carrasco raced away to fire a third past Ospina.
Arsenal's Euro history has been a litany of poor displays and strange endings and this game will join the group of horror displays fans will want to forget.
Now Arsenal need to score three in Monaco and concede no goals if they are to go through. A tall order and based on tonight's display, one they will not be able to produce.
Player Ratings:
Ospina 5. On the first goal he probably couldn't have made the save, although he barely flinched or made an effort to throw himself at the ball. He made a great save midway in the second half to keep the game close, but will want to forget the last goal, which he almost saved.
Bellerin 6. He had a tough night marking Martial, but did a respectable job. Had a couple of forays forward but wasn't able to make a decisive offensive contribution.
Mertesacker 4. Why oh why did he choose to try and make a challenge instead of retreating? Exposed for a lack of pace a number of times. A night he'll want to forget.
Koscielny 6. Left exposed a number of times. Made a number of key interceptions.
Gibbs 6. Was generally safe most of the match and made a number of overlapping moves, especially early on. Had a good chance in the second half, but his second touch was poor.
Coquelin 5. Generally played quite well, but Moutinho and Kondogbia were allowed to dictate play too much. He made several rash challenges.
Cazorla 6. Was effective when he got the ball and he added a directness to Arsenal's play. Had a couple of decent set pieces as well. I would've taken Ozil off instead of Cazorla near the end.
Ozil 5. He had a few good passes and moments, but he failed to impose himself on the proceedings. We needed more from him than we got.
Welbeck 6. An early chance he blazed high over the bar. He often makes things happen, but a touch or two lets him down.
Giroud 4. All the recent good publicity squandered on a single night. He had two good heading chances and two good kicking chances that he didn't take. One, in particular, was absolutely sinful. Shades of Bendtner against Blackburn several years ago.
Sanchez 6. He worked hard and set up several great chances for others. Probably our best player on the night, although he won't be happy with his performance.
Substitutes:
Walcott 6. He had two chances, one of which the goalie got to first, the other was well saved by the keeper.
Oxlade-Chamberlain 6. Looked quite rusty tonight and was not playing in his preferred position. Scored a fabulous goal, but he was guilty of a number of giveaways, the last of which was fatal.
Rosicky n/a. Didn't have enough time to get a score, but he was solid in the time he was out there.