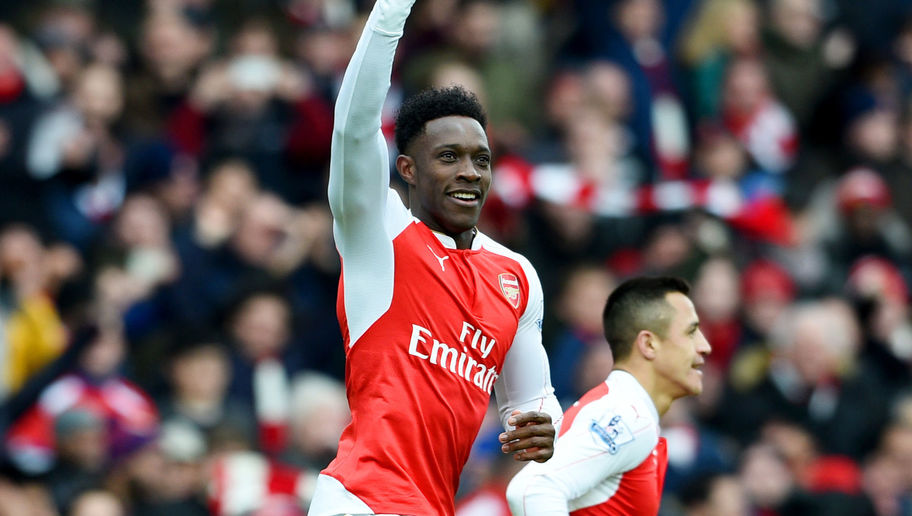 It was a match that had the whiff of importance about it, meaning every touch had drama and import.
The first half was largely even, with both teams probing for openings and the game only really opened up about midway through when Schmeichel came out of his box and beat Ramsey to a dangerous through ball.
The resulting clearance ended up in the Arsenal half and a teasing cross found Vardy's head, only for Cech to deny a goal with a great save.
Cech would be called on again, this time to deny Kante, whose cross suddenly swerved towards the top corner.
The half would end dramatically and controversially when referee Martin Atkinson denied Arsenal an obvious foul from Morgan, would wave play on after a Koscielny foul, and then call a penalty when Vardy went down from a challenge from Monreal.
Was it a penalty? Not really, but Vardy sold it well and referee's don't have the benefit of replays. Vardy calmly put the spot kick past Cech and Leicester had the lead at halftime.
Arsenal came out more determined in the second half and soon the yellow cards began to pile up.
Mahrez tried to sucker the referee again after another Monreal challenge, but Atkinson wasn't biting. What he did do was give a second yellow card to Simpson, who'd carelessly grabbed Giroud's shirt. It was the chance Arsenal would now need to take advantage.
Arsenal finally evened the score when Giroud headed into the path of Walcott, who volleyed home. Then began a period of dominant Arsenal pressure and chances, but the Gunners contrived to miss chance after chance.
Sanchez miscued a number of times, Giroud headed wide a couple of times, Giroud's goal bound shot was saved by Schmeichel, Ramsey miscued, Welbeck (on for the first time in over 10 months) flubbed a good chance, Walcott deflected the ball wide, and Mertesacker headed just wide. It seemed the goal would never come.
In the last minute of extra time, Arsenal finally earned a corner, which came out to Monreal. He was fouled by Wasilewsky and a free kick was awarded. Mesut Ozil's cross was magnificent and Welbeck rose above the pack and got the gentlest of touches and guided it into the corner of the net. Victory!
Player Ratings:
Cech 8: Two great saves in the first half, little to do in the second half. Showed some fancy footwork in dealing with Vardy. Went the wrong way on the penalty kick.
Bellerin 6: Was beaten by Vardy in the first half on the high ball, but Cech made the save. Might have crossed the ball a little better a couple of times, he was not as influential going forward.
Mertesacker 7: A good game for Per, who was not really tested too often. If we hadn't won, he'd be having nightmares over that missed header that almost scored.
Koscielny 7: Only played in the first half and he did well. Arsenal fans will be concerned that he might have picked up an injury.
Monreal 7: In the thick of the action today. Was it a penalty? You live dangerously when you put your foot in like that. He was heavily involved in Arsenal's attacks down the left, particularly in the second half.
Coquelin 6: Decent game from Francis, who is still not back to his best. He picked up a yellow card in the first half for a rash challenge. Came off early when Walcott was brought in.
Ramsey 7: Was decent and worked hard, but didn't have his shooting boots on today as his shots were wide of the mark.
Ozil 8: Hard working and inventive, but Leicester kept a crowd nearby to limit his effectiveness. Still managed to deliver the assist on the winning goal.
Oxlade-Chamberlain 7: Good in the first half, particularly when he broke through a couple of times and put the ball across. Moved centrally when Walcott came in.
Giroud 8: Hard working and at the centre of a lot of the action. He drew Simpson's yellow card, he had a number of headers he should have put away, a great shot that Schmeichel saved, an assist on Walcott's goal, a little header that Welbeck should've put away, as well as managing to win several corners.
Sanchez 7: At times effective, at other times he tried too hard or lacked the sharpness. Alexis had two good chances to score in the second half, but he flubbed both opportunities. He's lacking a little confidence in front of the goal.
Substitutes:
Chambers 7: Replaced Koscielny at halftime and produced a solid game.
Walcott 8: Scored a huge goal which brought Arsenal back into the game. A good outing which will boost his confidence.
Welbeck 8: My man of the match. He'd been out for so long and to score the winning goal with the last touch of the game. Fabulous! He'd had a decent chance to score earlier, but had made poor contact. Now, he'll just remember the header.