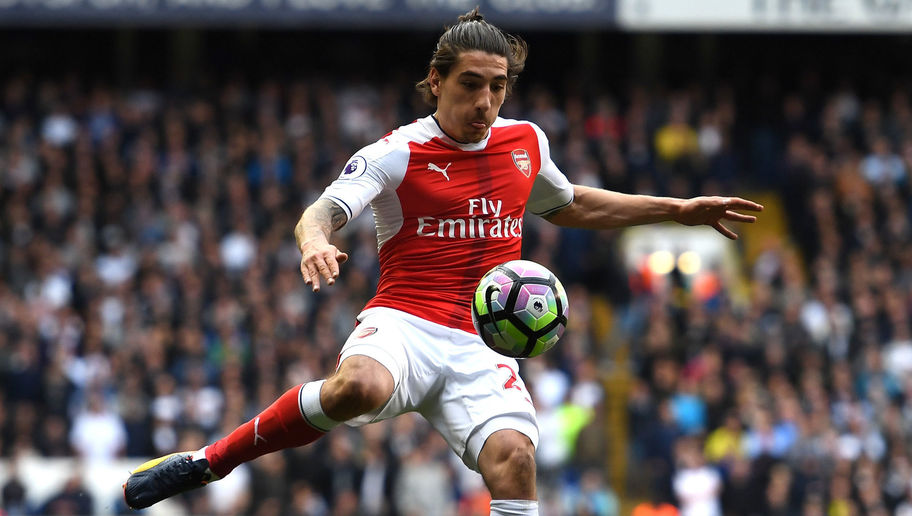 GOALS: Arsenal: Bellerin (8), Sanchez (27), Ramsey (90). Everton: Lukaku (58 pen).
MAN OF THE MATCH: Hector Bellerin. A fine first goal which bailed out Welbeck, who had missed a sitter followed by a number of fine runs, some decent crosses, and a few poor ones.
THE REFEREE: Michael Oliver 6. I felt Koscielny's foul was potentially a red card offence, so I didn't have a problem with it. I did have a problem with Oliver's reluctance to give a second yellow card to Ashley Williams and Morgan Schneiderlin. Both of their second fouls were worse than their initial fouls which gave them yellow cards. With that in mind, the red card of Koscielny appears harsh.
THE MANAGER: 7. The team started well and fought to the end and Wenger's substitutions did well.
OVERALL TEAM RATING: 8. The first fifteen minutes were terrific and Arsenal appeared headed for a massive win. Losing Koscielny, the team rallied and hung on, particularly just before halftime when Everton came close to scoring a number of times. In the second half they continued to battle and Everton lost more steam as the game proceeded, with Arsenal scoring at the end, capping off a strong effort.
VERDICT: No Champions League next year. Neither Manchester City or Liverpool flinched, although Martin Atkinson's failure to award Middlesbrough a penalty against Liverpool raises a number of questions and what ifs.
Arsenal got the job done against Everton, Koscielny making the job a lot harder with his reckless challenge. In the end they battled and defeated Everton and now have to prepare for the FA Cup Final, which they will have to do without Koscielny and Gabriel on defence, with a limping Alexis and with the Ox and Gibbs trying to recover from injuries. Antonio Conte, laughably, appointed us favorites, but we'll need to dig deep again to beat Chelsea and stop them from winning the double.
PLAYER RATINGS:
Cech 8: Another fine performance from Cech. He made several good saves, was strong coming off his line, strong at cutting out crosses. He guessed correctly on the penalty, but Lukaku hit it too strongly.
Holding 7: Rob Holding continues to do well, although there were dodgy moments, such as when his pocket was picked and he had to foul Valencia.
Koscielny 2: A reckless and dangerous tackle from Laurent. This moment of madness put the match in jeopardy and will result in him missing the FA Cup Final.
Gabriel 8: A fine match with several key tackles and interventions. Then he stopped Valencia and did in the ligaments in his knee. Will certainly miss the FA Cup Final and will probably miss much of the summer preseason. A sad day for him.
Monreal 6: He was having a strong day attacking when the red card meant he had to move back and play more defence. His handball conceded the penalty which brought Everton back into the match.
Bellerin 9: A fine first goal and some great attacking runs. The crosses were not always the best, although Welbeck might have done better on one. He played the ball through Barkley's legs, but the cross couldn't find anyone. Another cross was just behind an open Iwobi … he could've had a number of assists. Defensively, he might've done better stopping Baines from crossing several times.
Xhaka 7: He had a solid match, but Wenger took him out. Why? Did Arsene fear Granit's temper or was he carrying a knock and needed protecting?
Ramsey 8: He had a good match throughout and finished it off with a stunning goal, curling the ball past Robles.
Ozil 8: It was Ozil's cross that set up the first goal of Bellerin. Throughout the game he looked dangerous, forcing Robles to make a save or two. His intricate play came just before the third goal as well. He generally worked hard, but a couple of times he looked gassed and could barely move.
Welbeck 7: Early on he couldn't direct Bellerin's cross in and then he missed an easy chance to score on Ozil's cross. A couple of his other shots were saved by Robles, although Welbeck hit them right at him. He assisted on Sanchez's goal.
Sanchez 8: Scored what would turn out to be the winning goal. He looked dangerous throughout the match and tended to wander into midfield as a creator. Limped off the field.
Substitutes:
Iwobi 7: A good outing, but he had two great chances to score and Robles managed to stop them.
Mertesacker 7: A good showing, making some timely challenges and several good defensive headers. Almost scored as well.
Coquelin 6: He had a good match coming on for Xhaka and adding some energy.