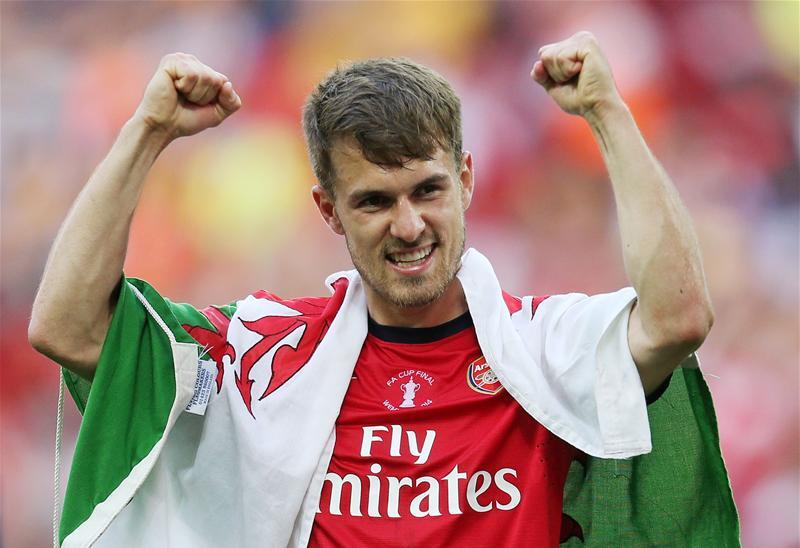 This time Arsenal triumphed in the end, deservedly so, against a plucky Hull squad who pushed the Gunners all the way to the end.
The first fifteen minutes of the game were a disaster. Defensively Arsenal looked sleepy and were made to pay for their lax play.
Hull's first goal was a lucky goal, Chester deflecting a Huddlestone drive perfectly into the corner. That was after 3 minutes.
In the ninth minute Hull's Alex Bruce rose above the Gunners on a corner, headed into the corner forcing a diving attempt from Fabianski with the ball bouncing off the post, only for Curtis Davies to pounce and fire home into the now empty net.
Minutes later Alex Bruce almost scored Hull's third, again off a corner. This time Kieran Gibbs saved the day with a key defensive header.
Arsenal retaliated a few minutes later. Santi Cazorla scored from a free kick with a sensational strike into the roof of the goal.
Then Arsenal took control of the game and created several chances, but they couldn't convert them, and by halftime they appeared to have lost their momentum.
The second half saw Arsenal fail to grab the upper hand and pressure the Hull goal, so Arsene Wenger brought on Yaya Sanogo for Lukas Podolski.
Suddenly, playing 4-4-2, Arsenal came to life and started to apply more pressure. In the 72nd minute Laurent Koscielny scored the equalizer, responding quickly to a deflection of an Arsenal corner.
Arsenal had several chances to win the game before the final whistle. Kieran Gibbs squandered the best chance of all, sending his shot over the bar with nobody in front of him.
Extra time finally produced the go-ahead goal, a cheeky back heel from Giroud was prodded home by Aaron Ramsey.
Just when it seemed that victory was ours, Per Mertesacker stumbled and fell, and Sone Aluko beat a rash Lukas Fabianski to the ball but he couldn't score into the empty net from such a tight angle.
The final whistle produced an incredible outpouring of emotional celebration, courtesy of nine barren years of silverware. Hopefully it will be the first of many to come.
Player Ratings:
Fabianski 6. Not really at fault on any of the goals. Lukas had little to do for long stretches in the game, yet he did have to make a key late save from Aluko. Also came off his line rashly when Per fell and was lucky Aluko couldn't hit the goal.
Sagna 6. Sagna's last game? Not his best game, but not his worst. He kept his wing largely quiet, but was not able to be as effective attacking as we needed.
Mertesacker 6. Per seemed absent from the field for the first 20 minutes as Hull bossed us around in our area. He then came alive and looked solid, until he stumbled five minutes from the end, allowing Aluko to round Fabianski, but luckily he missed.
Koscielny 8. Another excellent game from Laurent. He has a penchant for scoring important goals and today's was as important as they come.
Gibbs 8. He would have been man of the match if he'd scored the chance he had late to win the game. As it was, his header off the line was just as important. Kieran had a good game and was often attacking effectively.
Arteta 7. A good game for Mikel. He worked hard throughout and pushed forwards a lot in the second half.
Ramsey 8. Man of the match. He was getting into good scoring positions all afternoon, but was constantly missing until he scored. Twice I screamed at the television at him. He could have been the goat of the game had we lost, but in the end he won it. His passing was excellent at times.
Ozil 6. A quiet game from Mesut. He had several moments, but he wasn't able to deliver the killer pass today.
Cazorla 7. Scored a sensational freekick. Had a great chance late, but the pass was inches out his reach and the counterattack came to nothing. He also had a good shout for a penalty, but the ref wasn't interested.
Giroud 8. He was a little isolated at times, but once Sanogo came on he was more influential. He had a couple of good chances, none better than his header against the crossbar in overtime. His audacious little backheel set up the winning goal.
Podolski 5. His cross to Ozil (who missed the ball) was one of the few good contributions from Podolski.
Substitutes:
Sanogo 8. He has yet to score, but Yaya is fast becoming a favorite. He brought an energy to the game and he fashioned several chances and narrowly flubbed a couple of others.
Wilshere 7. Jack brought an infusion of energy into the game and he quickly settled in.
Rosicky 6. Like Jack he quickly settled in. He twice managed to dribble in on goal and both times he opted to pass rather than shoot. Too bad!