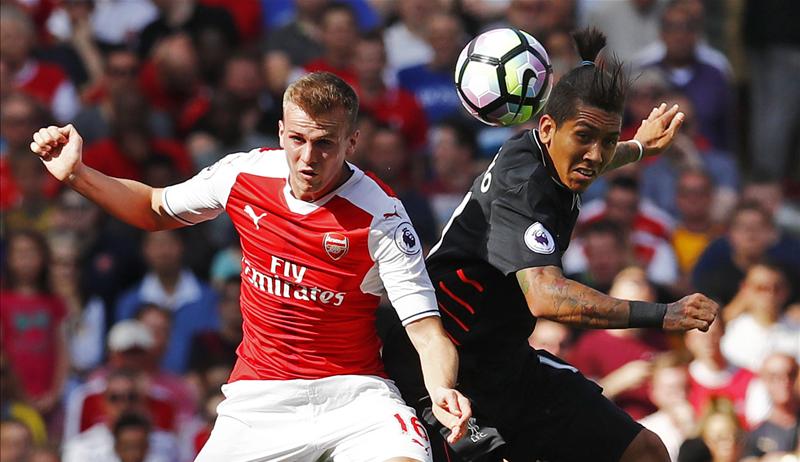 It was in marked contrast to what had been a good first half, but a warning of potential problems lying ahead.
Arsenal bossed the match for the first 43 minutes, scored the opening goal and looked as if they would take the points.
Theo Walcott scored the opening goal, less than a minute after he had his penalty kick saved by the Liverpool keeper.
However, on the stroke of halftime, Coutinho smashed a sensational free-kick into the top corner, sending the teams even into the locker room.
The second half then saw a massacre as Liverpool dominated possession and scored three sensational goals. Lallana converted a Wijnaldum cross, Coutinho poked Clyne's cross home with his shin, and Mane just plain blew through the defence and scored the fourth.
Despite all of this Arsenal managed to make a comeback. The Ox entered the fray, bullied his way past three defenders and scored at the near post.
Cazorla then hit a fabulous free-kick which Chambers headed into the corner of the Liverpool goal.
Unfortunately they couldn't complete the comeback, despite having about twenty minutes to do so.
Making matters worse, Alex Iwobi and Aaron Ramsey left the field injured. There'll be no perfect season this year. Arsene Wenger needs to buy a defender fast.
Player Ratings:

Cech 7: All four goals were unstoppable. Cech did make several other saves, one of which saved a fifth from being conceded.
Bellerin 6: Made a good intervention in the first half which prevented a goal. He was a little quiet most of the afternoon and wasn't able to have a big offensive impact.
Holding 6: His debut match and when on the ball he looked assured. He might have done better on one of the goals, but was not the weak link.
Chambers 4: His second half goal put a little gloss on a horror show of epic proportions. His passing was awful at times, often passing to players who were largely covered. Firmino made him twist and turn and look like he was the one having the debut.
Monreal 5: He squandered a couple of attacks with poor crosses and was not terribly effective upfield. He was unable to stop Clyne's cross on the third goal and he wasn't quick enough to stop Mane on the subsequent goal.
Coquelin 6: A fine challenge set up Arsenal's opening goal. He was carded before halftime and skirted collecting a second.
Elneny 6: He had a good first half, but went AWOL in the second, unable to slow Liverpool down. Was substituted.
Ramsey 6: Playing in his preferred role, he was effective in the first half. In the second half he disappeared like so many others and then injured his hamstring.
Walcott 6: Drew the penalty but failed to convert with an anemic effort. He atoned less than a minute later with a well placed shot to the corner. He disappeared in the second half. He had a late chance, but he stumbled on the ball.
Sanchez 6: Played out of position and it showed. He played valiantly, pressing defensively and challenging for the high balls, all to no avail. I cannot remember him having a chance on goal.
Iwobi 6: He had a good first half and assisted on Theo's goal. He also played well defensively. He faded noticeably in the second half and then hurt his thigh.
Substitutes:

Oxlade-Chamberlain 7: Sparked the comeback with a fine run and goal. He also helped set up several other chances. Unfortunately, he had several miscues as well.
Cazorla 7: A great assist on Chamber's goal. His corner kicks were also good. He had a good chance, but he punted it high and over the bar.
Xhaka 5: Surprised he didn't start. He was pressing hard and was over aggressive on a number of occasions, earning him a yellow card.