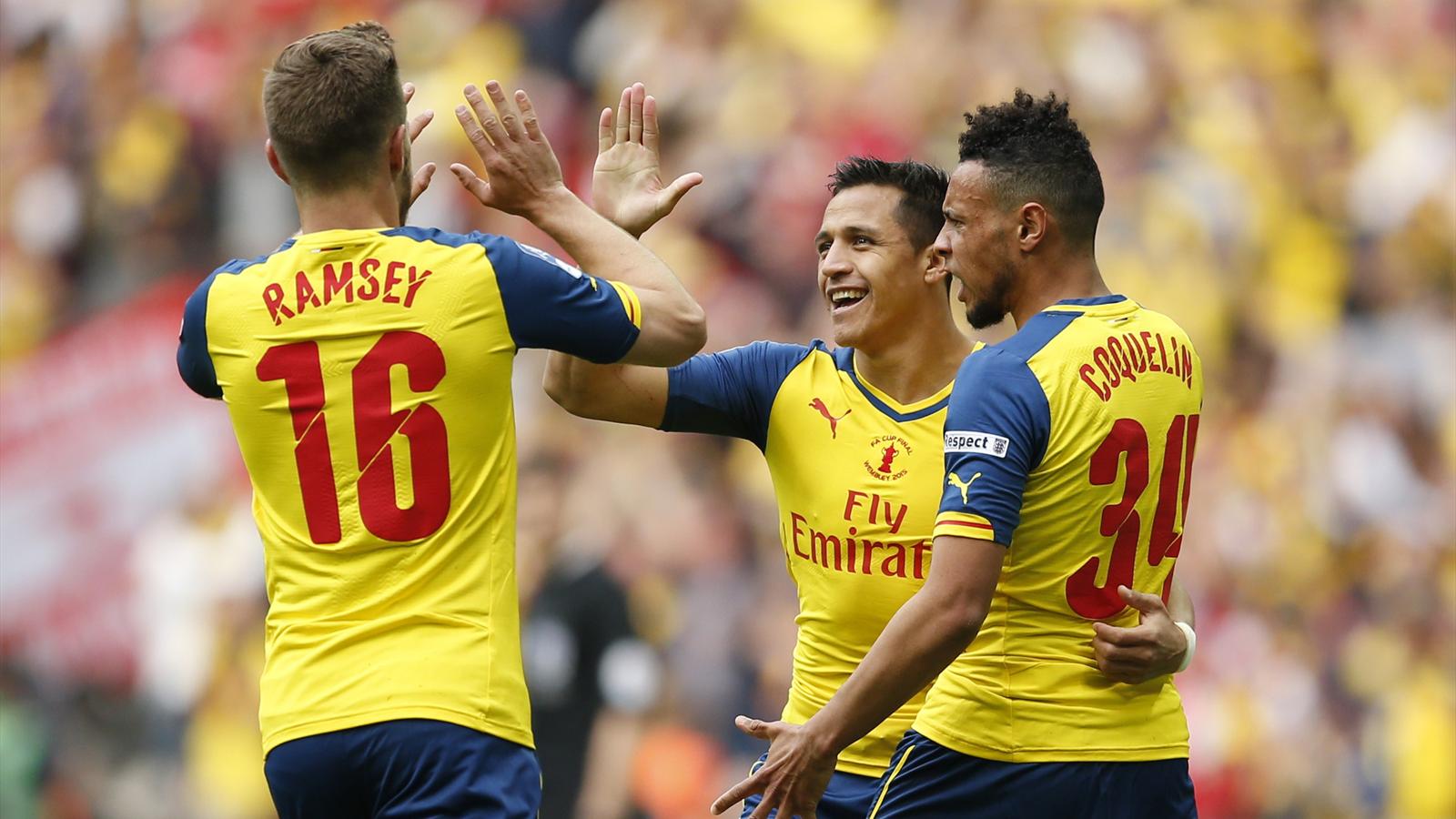 They completely dominated and destroyed Villa, providing a day of celebration for Arsenal fans.
Right from the start Arsenal dominated, creating chances and near chances. Shay Given was busy and the question was when Arsenal would pierce the Villa resistance.
That came in the 40th minute, courtesy of a cross from Monreal. Sanchez rose up high and nodded it back across the goal into empty space. Theo Walcott would get to the ball first, smashing it into the net.
Villa never really managed to threaten the Arsenal goal and it was just time before Arsenal doubled the lead.
Alexis Sanchez would do just that, hitting a thunderbolt of a shot which had height and swerve and which blew by Shay Given.
The game would be put out of reach by Per Mertesacker, who eluded Benteke to head home a corner. It was symbolic of his entire day where he dominated the high balls and Benteke.
The fourth goal came in extra time, created by the substitutes, who had been chomping on the bit for most of the match. Wilshere fed Chamberlain who crossed for Giroud, who scored with one of his fabulous flicks.
The celebration was memorable and more robust than last year, when we'd put the fans through the wringer. Now was a day to celebrate excellence and a team which played to its potential.
Player Ratings:
Szczesny 7. It was only just that he started, given what happened last season and Fabianski getting the nod. I cannot really remember Wojciech making a save … well, he did dive down and smother a cross which was dangerously coming in at the near post. What he was very good at handling were the crosses that Villa threw his way. He was excellent in the first half in particular, coming out and gathering or punching every ball which came into the box. He was a little sloppy on a couple of crosses in the second half, but never did I feel we were in danger of conceding.
Bellerin 8. Hector made some fine plays offensively, particularly in the first half. His best moment came when he shrugged off a Richardson challenge and crossed the ball to Ramsey who hit it wide. He did a good job on Agbonlahor, who never really did much when he came on. He was lucky he didn't concede a penalty when he pulled at Grealish in the box.
Mertesacker 8. Excellent game from Per. Benteke was no real factor as Per dominated the air. Per also scored Arsenal's third goal from a Cazorla corner.
Koscielny 8. Laurent was dominant on defence and he too almost scored. He had two headers in the box, the first a flick but nobody was there, the second a fine effort denied by a great save by Given.
Monreal 8. He had a role to play in the first two goals. The first goal came after a fine cross that Sanchez won in the air, the second goal came after Nacho's run drew a defender and opened more space for Alexis. He was solid on defence and put in several good crosses.
Coquelin 8. Dominant. Francis was excellent in thwarting any Villa moves. He had a fine game offensively as well.
Cazorla 9. Man of the match. He was everywhere and he was dominant. Assisted on the third goal.
Ozil 8. Some of his turns and moves forward were exquisite. He too nearly assisted on a number of good moves. One in particular set up Walcott in front of the goal, but the shot was blocked at the last instant.
Ramsey 8. He had a couple of efforts go wide in the first half. Worked hard throughout the match.
Walcott 8. His first goal was great, showing poise not to punt the ball over the bar. He was denied a second by Richardson's block, and another by Given in the second half.
Sanchez 9. He assisted on the first with a fine header where he showed his determination. But it was his wonder goal that took one's breath away, a strike that left poor Shay Given grasping at thin air. All day long Alexis was a thorn in the side of the Villa defence.
Substitutes:
Wilshere 7. He made a number of impressive runs, always looking to spur the attack forward.
Giroud 7. Scored in extra time with one of his specialties, a little flick past Given. Otherwise didn't do too much.
Oxlade-Chamberlain 6. Played long enough to get an assist on the final goal.