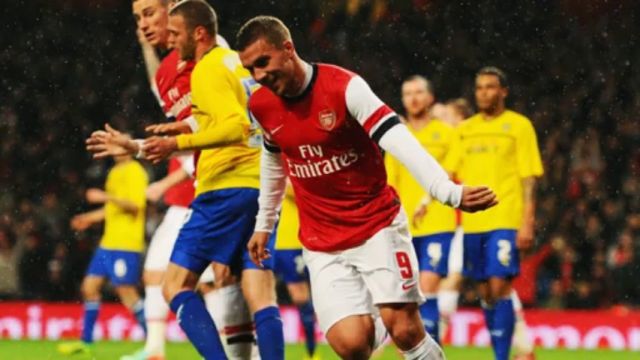 Wenger made a number of changes to his starting lineup and inserted Oxlade-Chamberlain into midfield and brought Bendtner back into the lineup, the first time since he was injured against Cardiff.
Arsenal dominated early and scored off an intercepted pass, Ozil setting Podolski free and he rounded the keeper and shot into the empty net. Not long after, Podolski scored his second, heading home Mertesacker's header at the far post.
Coventry had one glorious chance in the first half, but Fabianski made a superb save and kept the Gunners in front by two at the break.
Coventry's Leon Clarke will have nightmares about the second half. He had three chances to score, the first smothered by Fabianski, and his best chance hitting the upright.
Arsenal took their foot off the pedal and allowed Coventry too much space and gave them several chances to come back into the game.
Offensively Arsenal continued to create half chances and continued to dominate possession. They only sealed the victory when substitutes Giroud and Cazorla each scored, adding a little gloss onto a solid victory.
Player Ratings:
Fabianski 8. Lukasz was solid throughout and made an excellent first half save. He had a couple of easier saves to make in the second half and looked assured throughout.
Jenkinson 8. Carl's best game of the year. He was eager to take on the Coventry full-back and he whipped in a number of good crosses. He was unlucky not to score late in the game as well. Was guilty of a rather poor back pass to Fabianski, though.
Mertesacker 7. He had one uncomfortable moment in the first half when Baker beat him and forced Fabianski to save. For the rest of the time he played solidly. Assisted on Podolski's second goal.
Koscielny 7. A good game for Laurent, but he had a fair bit of work to do in the second half as Coventry managed to find gaps in the Arsenal defence.
Gibbs 8. Coventry managed to find some space on Gibb's side, so he was fairly busy on defence (especially as Podolski wasn't inclined to do much defending). He did manage to get forward on a number of occasions, however his crosses were unconverted prior to Giroud's pouncing on one of them.
Wilshere 8. Wilshere got forward fairly often, took a few shots, and seemed in the mood to attack. Shared the holding duties with the Ox.
Oxlade-Chamberlain 7. Alex was played in the middle and had a good outing. It was his first start since returning from injury and he acquitted himself well. He was strong in his challenges, took a few shots, and looked eager to get forward.
Ozil 8. Mesut's best game in 2014 so far. He looked dangerous, more importantly he looked interested and his partnership with Cazorla started to percolate. Assisted on the first goal.
Gnabry 7. Serge had his moments, but he was a little careless at times and his shooting could be better. He drifts inside a little too much at times, which negates the speed he offers on the overlap.
Bendtner 6. Niklas will want to forget this game. His shooting was woeful and he'll need to be sharper in front of goal. That said, his play away from goal was quite good.
Podolski 8. My man of the match. Poldi could have easily scored four goals, but he ended up scoring twice. He poked a cross from Jenkinson over the bar, and right footed another over the top with his right foot. However, his first goal was taken well and his second highlighted his predatory instincts.
Substitutes:
Zelalem 6. A debut for Zelalem, who passed tidily around, but made little impact beyond that.
Cazorla 8. Scored Arsenal's best team goal of the night. Cazorla was in excellent form, perhaps the sign of a man destined to have a great season.
Giroud 7. Came on and scored off a Gibbs cross. Hopefully this will give him a boost in the coming weeks and months.