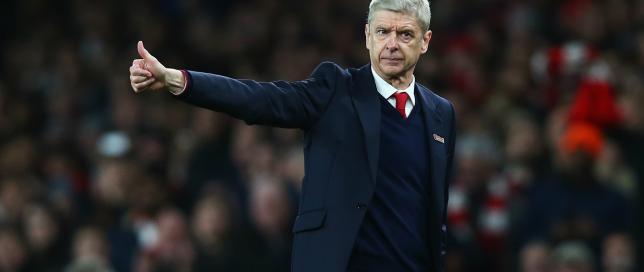 The Gunners were outplayed by a side looking to move out of the relegation zone but secured what could yet prove to be a vital 1-0 win when Laurent Koscielny turned home from close-range with a little more than 15 minutes remaining.
Before then, Arsenal had been reliant on Petr Cech with the new Premier League clean sheets record-holder denying Newcastle on a number of occasions - most notably when Georginio Wijnaldum was freed in the box early in the second half.
The scrappy win, coupled with Leicester's goalless stalemate against Bournemouth, means Wenger's side are now two points clear at the summit - and he was quick to praise the work ethic of his squad on a tough afternoon.
"It was a difficult game against a good Newcastle side," he said.
"Our legs were a little bit heavy today, overall we were tested against a team that has a lot of technical quality.
"You have to say "let's stick together and try and win the game if we can, the mental aspect of our game was tested today.
"Not to drop points when you play like we did today is important

It helps the team as well, we will go through the season with moments where we don't play well and memories of doing that before helps you hang on some times."
"I know that when you are capable of winning when you don't play well, that shows a mental aspect of your team that will be very important in moments that will be difficult."
Cech, who broke the record for clean sheets in Monday's win at Bournemouth was yet again singled out for special praise from his manager on an afternoon where flair players like Mesut Ozil were largely on the periphery.
"He made two big saves," Wenger added

"One in the first half and one at the beginning of the second, on top of that he gives calm and never panics and today we needed that."
The defeat leaves Newcastle in the bottom three but manager Steve McClaren was at a loss to explain how his side had managed to leave the Emirates Stadium empty-handed.
"I'm scratching my head as to how we got nothing from the game," he said.
"Not many teams will do that to Arsenal and not come away with anything

But it's about putting the ball in the back of the net.
"Cech was the difference, that why he's been such a great goalkeeper

Goalkeepers can win matches and he certainly won that game."
It was the third game in succession in which the Magpies have drawn a blank but McClaren believes that will be addressed - adding that the club were likely to do some business in the transfer window.
"We need to work hard in training and be more ruthless in front of goal," he said.
"The goals will come

January has come and we will have a discussion about that - we are working hard behind the scenes."
Source : PA
Source: PA