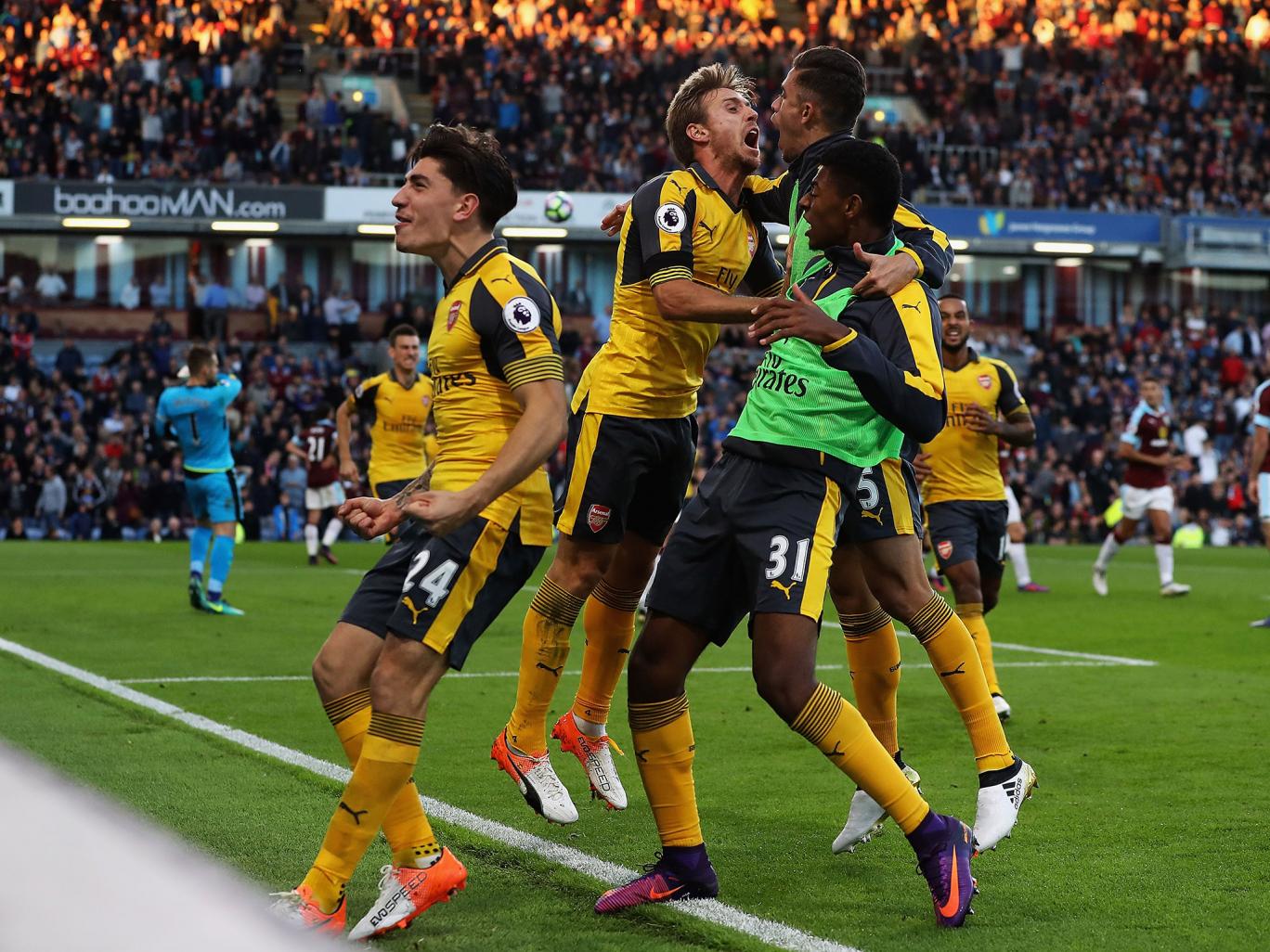 Arsenal won with the last "touch" of the ball, courtesy of an unintentional handball from Laurent Koscielny off a drive from Alex Oxlade-Chamberlain.
All of the talk prior to the game was about Arsene Wenger's twentieth anniversary, but this match lacked the offensive flair typical of Wenger's many teams, as Burnley defended resolutely and provided little space for Arsenal to operate.
In the first half Arsenal dominated, but had few opportunities, mainly due to Burnley and some poor passing in the final third.
Burnley had the best opportunity to score in the half when a wide open Sam Vokes headed wide.
In the second half Arsenal became much more dominant but had trouble finding a way through. Sanchez forced a good save and then had a volley graze the upright. Walcott just missed a good chance as well, bending his shot just wide.
Burnley came close to stealing the match. Cech made a fine save off a header from Gudmundsson and then a header by Keane from a corner struck the crossbar.
The match appeared to be headed for a draw when Arsenal won a last corner with just seconds left in extra-time. A short corner was worked to Alexis, who crossed to Walcott, who headed across goal to the Ox, who smashed his shot off Koscielny and into the goal. Burnley's defence allowed Walcott to win a header and nobody was defending the far post.
Coupled with Manchester City's loss to Spurs and United's dropping two more points, it was a good weekend for the Gunners.
Player Ratings:

Cech 7: Very little to do, but he made a key save off Gudmundsson.
Bellerin 6: He looked dangerous, but his delivery into the box was poor today, which made him reluctant to pull the trigger on other opportunities in the second half.
Mustafi 7: He had a tough battle with Vokes today, but he largely came out on top. Was lucky to avoid a yellow card and probably should not grab the referee to demonstrate how Vokes was holding him.
Koscielny 8: Another key goal for Laurent, but he was largely unaware of what happened. Defensively, he was excellent, but I think he was the one who lost Vokes in the first half and was lucky the header was wide.
Monreal 6: Mainly played well, but was outjumped by Gudmundsson in the second half and was lucky we didn't concede.
Xhaka 6: Generally played well and kept the ball moving.
Cazorla 7: Heavily involved, but he couldn't pick the lock that was Burnley's defence.
Ozil 6: He had a good shot charged down by Burnley in the second half. Tended to drift out to the wings and couldn't find a way to open the defence.
Walcott 7: A decent match for Theo, who had a couple of efforts, but they were all off target. He made a key defensive block off a Burnley corner in the second half. I was surprised to see him head Alexis's cross and set up the winning goal. Burnley will not be happy.
Sanchez 7: Our most dangerous player again, but most of the game he had trouble making things happen in their box. A volley hit the upright, another shot produced a fine save. Was involved in the buildup to the winning goal.
Iwobi 6: Our best player in the first half, but his final ball was lacking.
Substitutes:

Elneny n/a: A typical Elneny display of hard running and lots of passes. He had a shot charged down from a corner.
Oxlade-Chamberlain n/a: Hopefully his involvement in the winning goal will give him some much needed confidence.