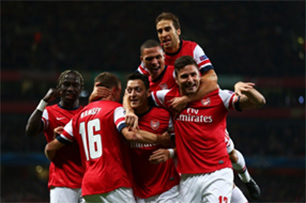 Big news from the Premier League this week is Gus Poyet and Sunderland will see out another season in the Premier League next year. A 2-0 win, which saw a brilliant goal from Borini, against West Brom helped them escape relegation. Liverpool lost control of the Premier League as well, with a devastating draw at Crystal Palace after being 3-0 up with 11 minutes to go. Crystal Palace came back to draw 3-3, with a brace from substitute Dwight Gayle. Manchester City went on to demolish Aston Villa 4-0 and took the reins at the top of the Premier League. A win or draw for Manchester City on Sunday gives them the title.
On to our Gunners…
Arsenal visit Norwich City on Sunday, a Norwich team that already knows they are on their way out of the Premier League next season (unless, maybe by some miracle, they can score 18 goals against Arsenal and also win the game). There is nothing much to play for in each of the teams' final games so we could definitely see some different rotations.
For Arsenal, I think it's safe to say that Arsene Wenger will make some rotations in the squad, especially since we have the FA Cup final next weekend. Keeping Ramsey and Ozil out is a safe bet and Wenger would likely give Kallstrom a last run out, as well as Diaby, who has missed this whole season and more due to a knee injury. Giroud deserves a much needed rest and the likes of Sanogo could replace him. It would be nice to see him bang one home before the season comes to a close. According to Wenger, Wilshere and Gibbs are both fit and in the squad so we could potentially see both of them get a bit of a run, as well as Jenkinson, who could replace Sagna. We haven't talked much about him this season because, well, he hasn't actually played in a game but I'd like to see Emiliano Viviano start in goal for Arsenal. It would be a shame to send him back without even seeing the field in an Arsenal uniform.
Anyway you put it, Arsenal will have a very different team out there on Sunday and personally I'm looking forward to seeing some of the other guys play and hopefully end our season with another win, our fifth in a row.
With all that being said, I wanted to take some time to thank Arsenal World for giving me the opportunity to write on their site this season about a club that I hold very close to my heart. It's been a dream come true to be able to write match previews, post-match reports, and other pieces for the readers of Arsenal World. And another big thanks to all of my readers who took the time out of their day to read my articles every week. It was always very pleasing to see the view counts at the top of the page and knowing that people all around the world were reading my articles.
I hope to be back writing for the Gunners again next season. Thanks again everyone!