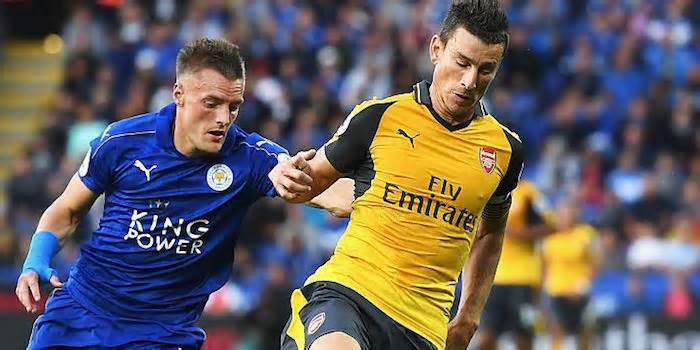 It was a dramatically different match to last year's seven goal extravaganza. Both teams were cagey, not wanting to start the season with two losses.
That said, the game did open up late and both teams came close to scoring, but the defences managed to hold together. Arsenal looked vulnerable at the end as player's tired and didn't track back.
Leicester were denied a penalty when Hector Bellerin tangled legs with Musa, although referee Mark Clattenburg had an excellent view of the encounter. Let's call that evening up the account that Vardy exploited last season.
Player Ratings:
Cech 7: He made no wonder saves, but made an important stop off a drive from Mahrez. He also made a fancy move on Vardy, perhaps the best move by an Arsenal player all day.
Bellerin 6: He had a wonderful overlapping run in the first half, but put in a woeful pass at the end. He doesn't always combine well with Walcott. He was lucky to get away without conceding a penalty on Musa.
Holding 7: A fine match for the youngster. He made several poor passes upfield, but he was steady at the back. Wenger needs to be given credit for buying this kid.
Koscielny 8: Man of the match. He made a number of key interventions during the match. He might have drawn a penalty in the first half, but his lunge appeared well timed. He blocked shots, dominated in the air, and made no mistakes. We've missed him.
Monreal 7: A couple of early crosses made him realize what we knew when the lineups were announced … we had nobody tall for him to target. He made two important defensive headers late in the game.
Coquelin 7: Lots of effort and work. Was the only midfielder who hung back late in the game when the defence needed support. A first half yellow card left him vulnerable for the rest of the match. A crappy ref (and there are many in this league) would've given him another yellow for one of his second half fouls.
Xhaka 6: A much better performance than last weeks cameo. For the most part he was steady and worked hard. Made a couple of poor passes and was caught in possession before he was substituted.
Cazorla 6: He was involved in much of our possession, but was unable to carve open the Leicester defence. I expected a little more. He overhit a pass to Sanchez that showed his rustiness.
Walcott 6: I actually didn't mind his performance, but it could've been more. He was determined and involved and played decent defence, even forcing a couple of turnovers. He should've passed to Giroud late (although it wasn't an easy pass) instead of taking a weak shot. He had a chance to chip Schmeichel as well, but he overhit it.
Sanchez 6: Wenger suggested he could be another Suarez in the middle. I haven't seen it yet. He vacates the middle a lot in order to get the ball, which doesn't always help. A number of moves came close to coming off, but in the end they didn't.
Oxlade-Chamberlain 6: In the first half he made a strong move to the middle but slammed the ball wide. Leicester were quick to gang up on him to keep him under wraps. Faded a little in the second half.
Substitutes:
Ozil 7: A solid outing where he came on and created a couple of chances, had a shot charged down (it was from a tight angle), and gave a hint of more to come.
Wilshere 6: He had an encouraging outing, although nothing significant came off for him.
Giroud n/a: Did not get on the ball enough to be assessed.