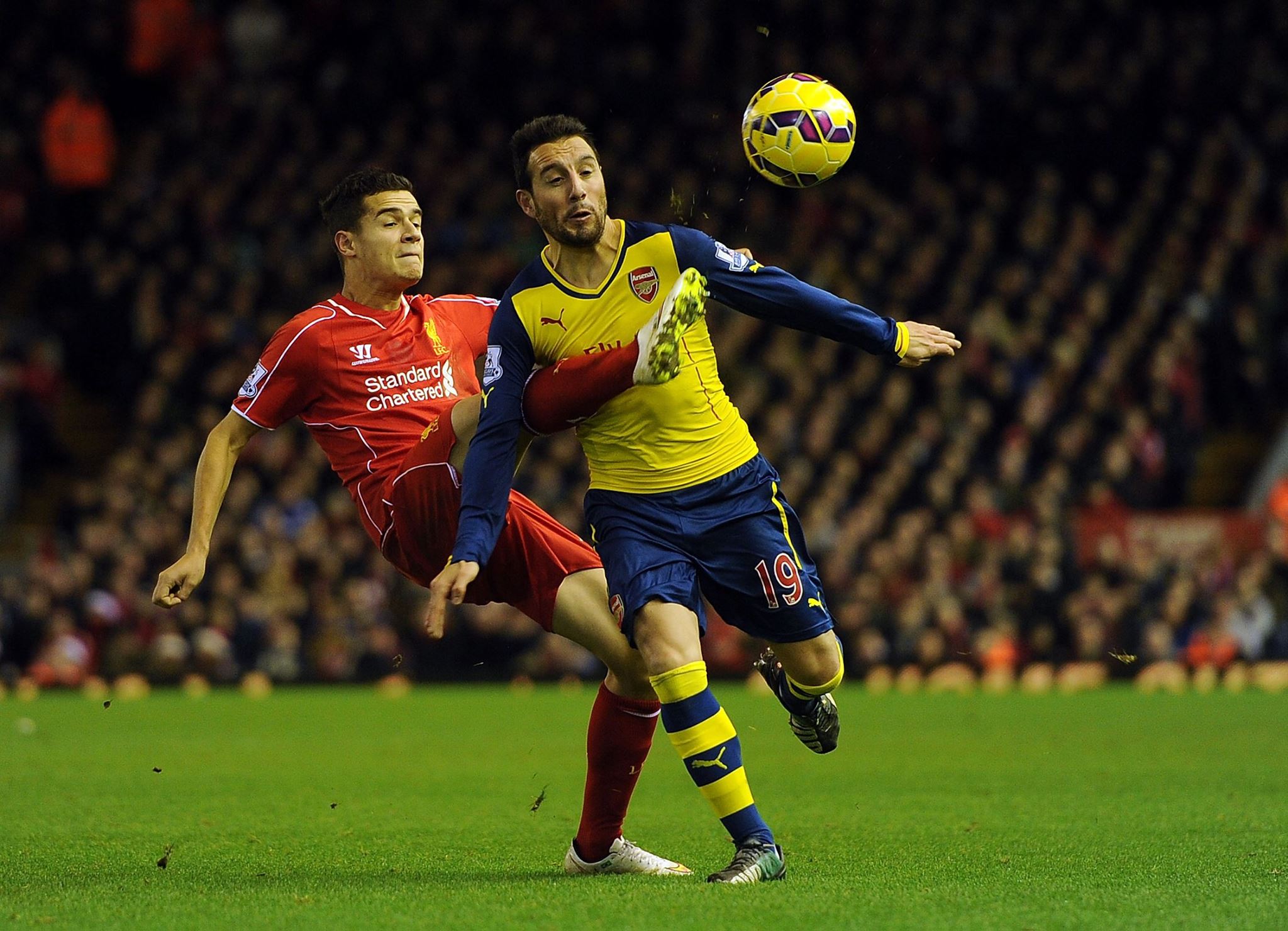 What makes it more galling was the fact that Liverpool had just been reduced to ten men.
Arsenal were again guilty of poor marking on a set piece and failure to have anyone on the post, although Skrtel's header had the power to overwhelm anyone standing there.
A poor first half where Arsenal played nervously and constantly gave away possession, saw Liverpool dominate the play, but create few good opportunities.
When they finally scored, it was from an Arsenal giveaway, Giroud making a sloppy back pass, the ball ended up with Coutinho, who made space to fire home past Szczesny.
Arsenal replied almost right away. Debuchy scored his first Arsenal goal, heading home a header from Flamini during a penalty area scramble after a freekick wasn't cleared.
The second half continued in much the same vein as the first, Liverpool dominating possession, Arsenal looking to counter.
Arsenal would strike first. Cazorla received a nice touch pass from Giroud and returned it to him in the box. Giroud put the ball through Jones's legs.
Liverpool surged forward to get an equalizer and Arsenal started to sag back and not retain possession.
Szczesny made a number of routine saves and one very good one from a header by Borini. Borini would be sent off for a high challenge on Cazorla and it appeared as if the Gunners would hang on the slim lead.
But a late corner changed everything and Skrtel, who was largely unmarked, was able to beat Chambers to the cross and even things up.
Arsenal almost stole all the points in the last minute, but Jones made a good save from Cazorla.
Needless to say I was angry. Somewhere inside of me a fantasy plays in my mind of the Gunners coming back from 15 points to win the title with an amazing winning streak. It'll be hard to stoke that dream much longer.
Player Ratings:
Szczesny 7. Made one good first half save from Markovic, where he came out and challenged the shot. Couldn't really do much to stop Coutinho's goal. He had a strong match in the second half and made a fine save off Borini.
Debuchy 7. Preferred to Chambers in the middle. His first Arsenal goal showed a tenacious side to challenge Skrtel. Was pretty solid, throughout, but shouldn't be playing in the middle.
Chambers 5. A tough day at the office. Wasn't able to get forward much, he had his hands full with Markovic in the first half and Sterling at the end. Skrtel got to the definitive cross before he did.
Mertesacker 6. Arsenal's defence was living dangerously, but they largely kept Liverpool from getting good chances. Per was okay and was not exposed by Sterling for pace for most of the game.
Gibbs 6. Was solid defensively and got forward on the odd occasion.
Flamini 5. His early yellow card became a quick concern. Liverpool's players tried to get him sent off later in the first half. Flamini did not have a great game and he struggled at times, but battled on.
Oxlade-Chamberlain 6. A tough day at the office for Alex. Arsenal were unable to hold the ball and gave it away too often, Alex being one of the main culprits. Worryingly, he limped off at the end.
Cazorla 7. Our man of the match. A great assist on the second goal and almost won the game at the end with a good shot. Santi and Alexis need to work on their corners though. Every poor corner inevitably leads to a dangerous counterattack.
Welbeck 6. Isolated and frustrated. Service was almost non-existent. He did work hard defensively.
Giroud 7. Another good goal, but he too was isolated and had a tough time dealing with their central defenders. Guilty of poor giveaways in the defensive zone in both halves.
Sanchez 6. Alexis just didn't have it today. He received little service, he gave the ball away a number of times, and his corner kicks were poor. He did work hard on defence.
Substitutes:
Coquelin 6. Made a few useful interceptions.
Monreal n/a. He had one chance, which he crossed rather than try the bold shot at goal. He was off to the side of the goal, though.
Campbell n/a. He came on and then he disappeared.