Goals: Manchester City: De Bruyne (19), Aguero (50 pen), Jesus (74). Arsenal: Lacazette (65).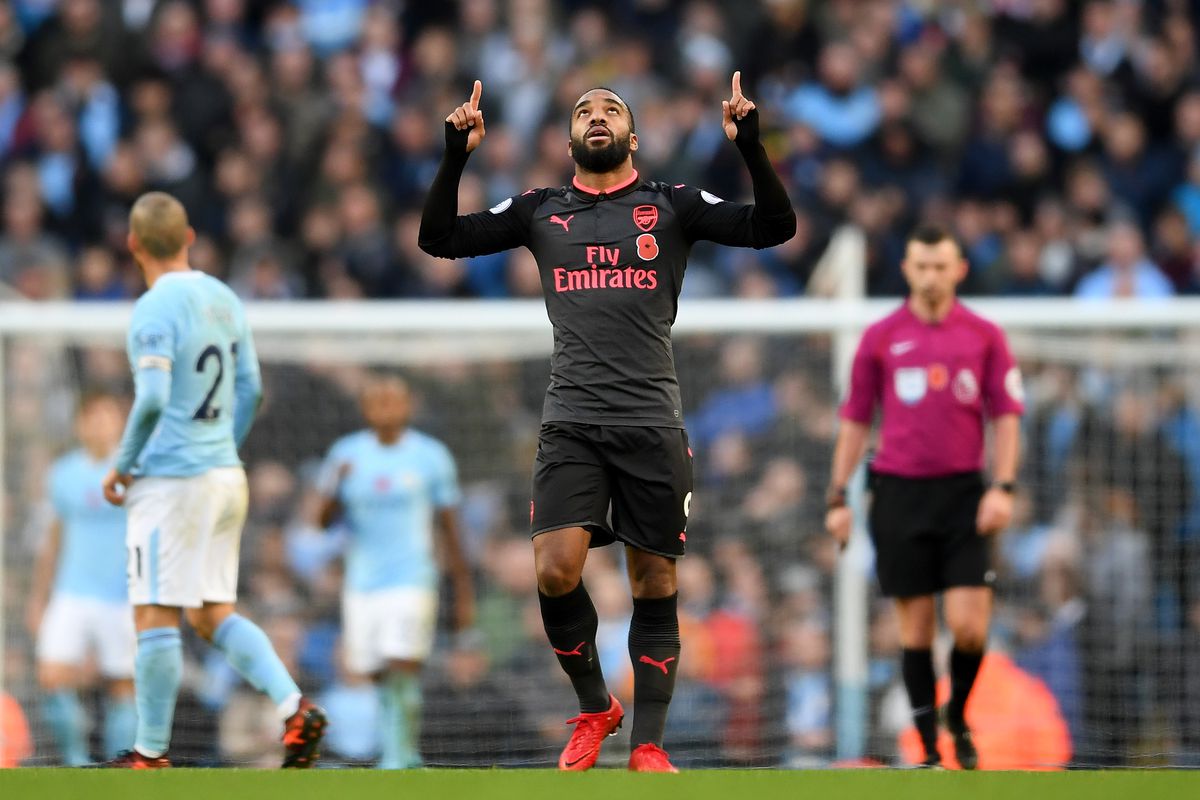 Man of the Match/Goat of the Game: Our best player on the day? Probably Aaron Ramsey, possibly Koscielny. Our goat of the game? Giroud … the body language is not good, but then he only played about ten minutes. Ozil wasn't poor, but he wasn't as good as I'd hoped.
Referee Rating: Michael Oliver and crew 2. Fouls were even, but we got five yellow cards to their one. The penalty call? Wenger will be sanctioned for claiming Sterling dived, but from the replay he didn't fall at the moment of contact, but a little later, suggesting to me he decided to make the most of the situation. The linesman missed the offside call that would have negated the third goal, an error that ended the game.
Manager Rating: Wenger 5. Should he have chosen Coquelin to replace Mertesacker? What about Elneny, who has been playing this position the past two weeks? Coquelin wasn't poor, so this was not the reason we lost. And what about dropping Lacazette? Iwobi had some good touches and was more involved in the buildup than Lacazette would have been. However, Lacazette delivered the goal when he arrived.
Arsenal performance: Arsenal played quite well at times, although City pried them open on more than one occasion but couldn't finish off their many chances. In the end the referee and the linesmen came to their aid and they finished with a two goal cushion. Arsenal created few direct chances, yet up to the 73rd minute they were in the match and a draw looked a distinct possibility. What had been a compelling clash ended with a whimper.
Conclusion: Twelve points down to City with the one-third of the season marker just ahead means that a title challenge looks unlikely this season. Arsenal need this international break to get their act together and prepare for some key matchups ahead …Tottenham and Manchester United. If they don't rally they won't be top four contenders this season.
Player Ratings:
Cech 6: I felt Petr could've done better on the opening goal, where he managed to get his fingertips to de Bruyne's drive. Once again he wasn't close to saving the penalty kick, something that needs to be addressed. He did make one stunning save from Jesus.
Koscielny 7: On the opening goal he gave de Bruyne too much space and his shot whizzed between Laurent's legs. He made a number of key interventions during the rest of the match, but like the rest of the defenders, he stopped playing when he thought Silva was offside.
Coquelin 6: Yes, he was out of position several times and yes, he did have trouble dealing with City, but things actually were better than I thought they'd be.
Monreal 6: He was caught upfield a number of times and luckily City counter-attacks were not able to punish him. He was punished for his contact on Sterling, which was suspicious to say the least.
Bellerin 6: He helped Koscielny deal with the quick Sane. He was generally quiet going forward, but he failed to deliver a good cross on the one time he had time.
Xhaka 6: He had a steady match, nothing really spectacular and not any poor giveaways which have been a problem this season.
Ramsey 8: He had our best chance before halftime, but the shot was well saved. He was key in moving the team forward and he assisted on the Arsenal goal.
Kolasinac 6: He had a few good moments and had a few giveaways as well. He got away with a slight shove in the back of Sterling.
Ozil 6: He was unable to influence the match, although he involved. He needs to work on his corners, which were pathetic.
Iwobi 6: A surprise inclusion. He had one shot, which he blasted over the top. His giveaway led to the first goal, but he was involved in the buildup for the Lacazette goal. His decision making lets him down, just when you think he's making an impact.
Sanchez 7: He worked hard, was fouled often, but never really had a moment when he looked dangerous. Some of his corners were pathetic as well.
Substitutes:
Lacazette 6: Came on and scored an emphatic goal. Should have started.
Giroud n/a: No real impact. He looks out of sorts.
Wilshere 6: A decent cameo. Wasn't able to push the Arsenal back into the game.