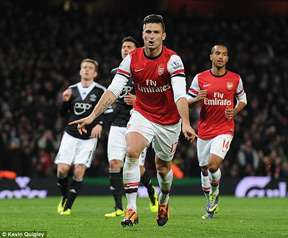 Now, Arsenal are back in Premier League action against Southampton.
When Southampton visited Arsenal back in late November, the Gunners, lead by Olivier Giroud, grabbed an important win in front of the home crowd. Now Arsenal visit St. Mary's Stadium where Southampton will look to avenge their loss in the first meeting between these two sides. Jay Rodriguez (9 goals) and fellow Englishman Adam Lallana (5 goals, 5 assists) will look to lead 9th place Southampton to a win against first place Arsenal (51 points on 22 games).
Arsene Wenger finally has a relatively healthy squad now that Vermaelen, Ramsey, and Arteta are back from injury after missing the Coventry game. According to Wenger, all three of those players are available as well as Oxlade-Chamberlain, who is nearly 100% fit and might find a spot in the starting XI. There is doubt that Wenger will be without Wilshere, who injured his ankle during the Coventry game on Friday evening.
Southampton have been relatively busy during the January transfer window, having two of their players go on loan to other clubs. Now, as the transfer market comes to a close, Manchester United have found interest in the Saint's defender, Luke Shaw. Late last week, Southampton striker Dani Osvaldo got in a scuffle with fellow teammate Jose Fonte at the club's training ground and has now received a two-week ban. There are talks that the Southampton striker could leave the club near the end of the week, as the market comes to a close.
Arsenal won the last meeting 2-0, with two goals from Olivier Giroud.
The game itself was pretty even, as both Southampton and Arsenal each had 4 shots on goal. Southampton owned about 51% of possession through the game but overall an even game, that Arsenal capitalized on when they had chances.
Arsenal's backline have played great defensively with the center-back duo of Koscielny and Mertesacker. They are going to be kept busy throughout the game, while the Gunners need to capitalize offensively whenever they get chances.