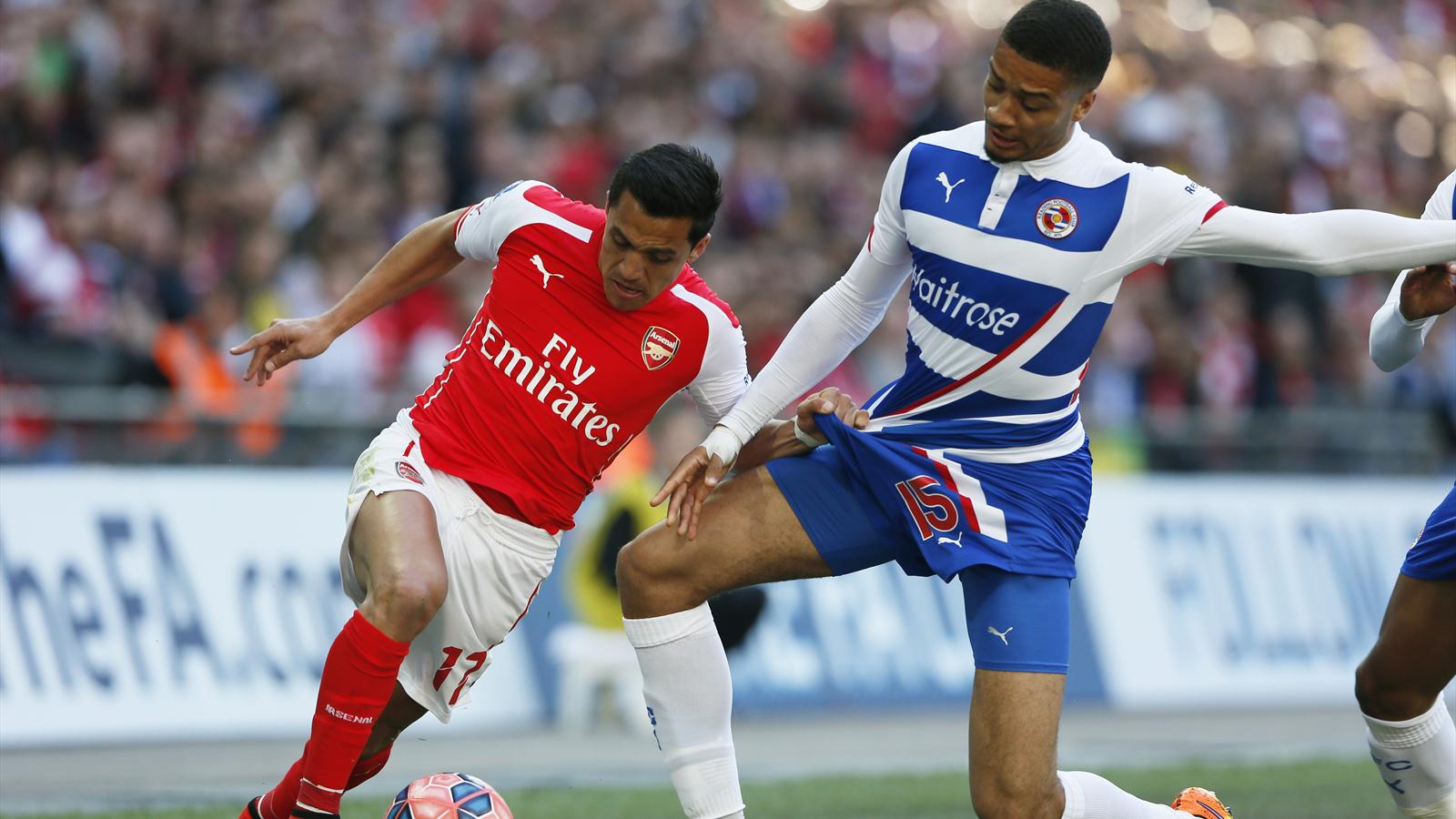 Arsenal's performance was uneven, especially in the second half when Reading came back and put Arsenal under pressure a number of times.
Aided by referee Martin Atkinson, who allowed them to play a physical game, Reading came close to stealing the match.
The first half was largely dominated by Arsenal, although they didn't create many chances until Mertesacker's header from a corner almost sneaked by Federici at the near post.
Mesut Ozil then went to work, first narrowly missing from a free kick and secondly making a lovely pass to Alexis which opened the scoring.
Arsenal seemed well on their way to the final, but they came out for the second half a step slower and within minutes they were punished.
Pogrebknyak got to the byline and crossed to McCleary, whose shot took a slight deflection off Gibbs and crossed the line before Szczesny could try and push it back.
The remainder of the half featured chances from both teams, the best being Gabriel's header off a corner, which produced a fantastic reflex save from Federici.
Gabriel had an even easier header from an Ozil free kick which he completely flubbed.
Aaron Ramsey had a moment to be the game's hero when he had two chances to score at the end, courtesy of Giroud, the first saved by Federici, the second rebounded to him and he slammed it against the upright when he had an open goal in front of him.
Reading had their moment as well, when Pogrebknyak broke free from Gabriel and had a chance to shoot or pass. Neither really happened and Arsenal dodged a bullet.
Extra-time saw Arsenal gradually take control and they started to create chances. Ramsey hit a powerful shot which ricocheted over the bar after the initial Federici save.
Then came the winning goal, Alexis weaved his way open for a moment and hit a shot at Federici, who somehow let it slither beneath his body and cross the line.
Arsenal still managed to look a little vulnerable, but they saw out the remainder of the match and now go to Wembley in May.
Player Ratings:
Szczesny 6. He was not terribly busy and he made several routine saves and he punched away several crosses. Could he have done better on the goal? Maybe, although to be fair the ball changed direction when it glanced off Gibbs.
Debuchy 7. His first game back from his shoulder injury and he looked comfortable out there and was fully involved. Perhaps could have done better to stop the cross on the Reading goal, but he had a solid game.
Mertesacker 7. Stretched and hurt his ankle in the second half and had to come off. Was very good for the most part and he was unlucky not to score in the first half.
Koscielny 8. Took a nasty smack in the face which drew no whistle from the referee. It was his excellent positioning which slowed down Pogrebnknyak's break and prevented a goal.
Gibbs 6. Looked rusty and gave the ball away on a number of occasions. He became more influential as the game wore on and his attacking kept Gunter quiet and out of our side of the field.
Coquelin 6. Not his best day. Out muscled a number of times and he looked a little clumsy a couple of times. He was more influential with the ball and looked to move the ball forward.
Cazorla 6. Worked hard and had his moments, but not able to shoot on target or make the decisive pass.
Ozil 8. My second choice for man of the match. Was creative and dangerous and he played a part in most of Arsenal's best moves. He assisted on both of the goals. The referee ignored a nasty foul on Mesut.
Ramsey 7. He had his moments when he was dangerous and he should've won the game at the end, but he hit the post. His powerful drive in overtime almost scored as well. Has a habit of being in the right place to score. I was a little frustrated by his twisting and turning, usually running into trouble.
Welbeck 5. He had a couple of moments in the first half where his pace created problems for Reading, but he wasn't always in the middle and Arsenal missed Giroud's presence in the middle. Came out in the middle of the second half.
Sanchez 8. Two goals, both scored by a poacher who is back in form. Not everything came off for Alexis, but he kept Reading busy and he always entertains.
Substitutes:
Gabriel 6. Should have scored twice. His first header produced an excellent save, but the second should've been on target. Late in the game he went down and Reading had a two on one. Luckily they didn't score. Other than that, he was solid.
Giroud 7. He gave Arsenal a presence up front and he was effective combining with those around him.
Walcott 6. His pace helped to keep the Reading defence on edge, but he had no real signature moments.