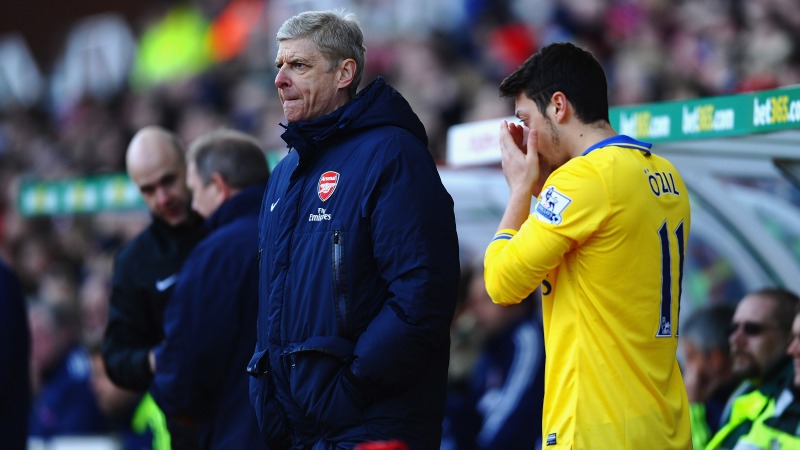 Stoke City was the easiest fixture in the coming month, a month full of daunting matches against the best teams in the Premier League and Arsenal couldn't deliver a top class performance.
The first half was dull with neither team managing to create a great chance. Arsenal's opportunities were half-chances, Cazorla and Podolski both missing the target.
The action barely improved in the second half, although Peter Crouch had a couple of half chances for Stoke.
Then referee Mike Jones delivered the coup de grace, awarding Stoke a penalty for a Koscielny handball.
It was a harsh penalty, but it was a handball. Jones had spent the day ignoring a number of studs up challenges by the Stoke players, so Arsenal will feel he wasn't playing fair.
Jonathan Walters converted the penalty and Arsenal woke up. However, they still had trouble creating good chances.
Ozil narrowly missed a good chance, Giroud barely made contact with an Oxlade-Chamberlain cross, and Sanogo slammed another cross from the Ox over the bar, the best chance of the match.
Arsenal now fall to third behind Liverpool and they now need to pretty much win all their remaining games if they are to win the title, a big task indeed.
Player Ratings:
Szczesny 6. He made me nervous a couple of times today. Barely punched the ball away on one cross, one poor kick clear, and one cute move in the box that came off. When the penalty was awarded I had no confidence that he'd save it and he didn't. He isn't the kind of goalie who generally saves penalty kicks. I worry about him should we ever have a penalty shootout.
Sagna 6. He put a number of crosses into the box, but they were either too close to Begovic or only one player was there. His side was reasonably safe today.
Mertesacker 6. I felt the coverage on Crouch on the second half freekick was not that great. Otherwise, he had a pretty solid match.
Koscielny 6. Unlucky handball. He was about a meter away when the ball came at him and he couldn't pull his hand away. On another day a referee may have ignored it.
Gibbs 6. Surprised to see Kieran back, but he played well and got forward a number of times. His crosses could have been better though.
Arteta 6. A typical Arteta game, lots of passes, but no fireworks. Suffered a nasty studs up challenge that drew no sympathy from the ref.
Wilshere 6. Wasn't able to impose himself on the game. Also the recipient of a number of physical challenges during the match.
Rosicky 6. Moved the ball forward, pressed, tried to make things happen, but all to no avail.
Cazorla 6. Wasn't able to impose himself on the match. Took a greedy shot in the first half when a pass to Giroud or Cazorla would have been better. Struggled to make any impact.
Podolski 6. In the first half he thumped our best chance wide of the goal. Otherwise he drifted in and out of the game and made no impact. Lukas wants to start regularly, but based on the last two matches you can see why Wenger doesn't rate him.
Giroud 6. Recipient of a number of physical challenges during the match, some of them worthy of fines. For most of the game he was isolated and lacked support. That said, when the Ox set him up he barely made contact with the ball.
Substitutes:
Ozil 6. Came on, had one good chance which he shot wide. The gamble to give him some rest on the bench didn't pay off.
Oxlade-Chamberlain 7. Man of the match. His pace makes a difference and he quickly created a number of chances. He should have started and just maybe we might have won.
Sanogo 4. Came on and squandered the best chance of the match, sending it up over the bar. If he'd converted he would have rescued just a point and made the bus trip home more bearable for the team.