1. The purchase of Granit Xhaka. Arsenal got out the transfer gate quicker than anyone else and announced the purchase of Granit Xhaka. This was no surprise as the rumours had started to gather pace in March. Fans who watched him during the Euro 2016 tournament were impressed. He cost in excess of 30 million, but he will provide more steel in midfield.
2. The activation of Jamie Vardy's buyout clause. Fans and journalists were stunned when on a slow Friday morning Arsenal activated the buyout clause of Jamie Vardy. Suddenly, Arsenal were the talk of the town. Nobody in living memory could remember such a bold early move from Wenger. A physical was booked and then … it all fizzled out.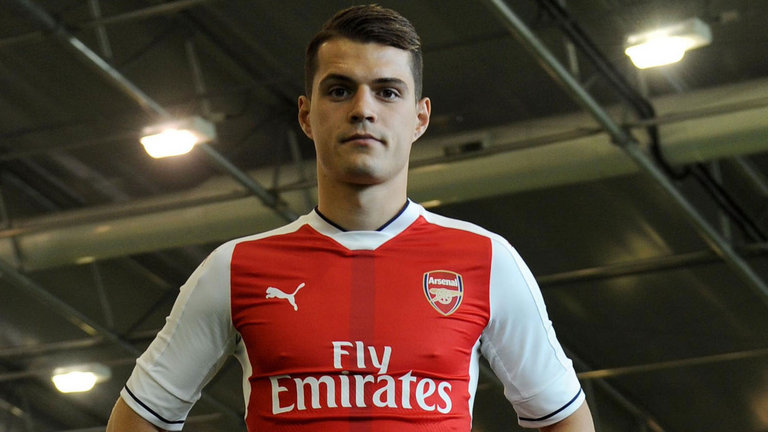 Jamie Vardy chose not to become a Gunner. What an insult! What an idiot! On the other hand, many (including myself) wondered if he would have been a good player here. Yes, he's pacy and a poacher, but Leicester play a different style and he's 29.
Did Vardy's agent leak details of his contract to get a new contract? Maybe. I suspect he wanted to move to Liverpool, but his agent had to dangle the information to a number of teams and to their surprise Arsenal took the bait.
Later we saw a picture of Vardy carrying chewing tobacco and a caffeine soda to practice, both no no's at Arsenal. With all of the extensive scouting that goes on, why was nobody aware of this? I'm just asking.
3. The Henrikh Mikhtaryan Feint. For a good part of the summer we were favored to buy Mikhtaryan from Borussia Dortmund. What seemed to clinch the deal in our favour was when his sister added Arsenal to her Facebook/Twitter (I forget which one) account. It all appeared imminent. And then his agent ruined everything by saying that he only wanted to move to Manchester United.
4. The Rob Holding Saga. We were supposed to buy him at the start of the summer. We were told that Bolton kept him out of their starting lineup at the end of last season as a sale was imminent. Two and a half months later, after a number of false reports of sales and physicals, the deal was finally clinched. Holding is a decent young centre back with a good future. He played reasonably well in pre-season.
5. A new left back? We were told (not sure by whom) that Kieran Gibbs wanted out, wanted a place where he could play every week. Thus we've been linked with left backs since April.
Guerrero the Portuguese kid, Chilwell at Leicester, Tierney at Celtic … we even put a bid in on Djibril Sidibe at the last minute, attempting to hijack his move to Monaco.
Most often of all we were linked with Ricardo Rodriguez of Wolfsburg. Yes, he looked good at the Euros, but were we ever going to spend over 20 million pounds on a left back? Now it looks as if Gibbs will stay.
6. A surprise from the east. Arsene Wenger can still surprise even the most sophisticated of experts and he did it again when he purchased Takuma Asano from Japan. Nobody saw this coming. Will he be our only striker purchased this summer?
Asano looks to be a fast poacher, something we need, but how long will it take for him to be ready for the Premier League? That he played for Hiroshima will provide endless opportunities for off colour jokes, but we're hoping he does better than Ju Young Park and Ryo Miyaichi.
7. Higuain again? Apparently, if the papers are to be believed, we spent some time trying to lure Gonzalo Higuain over to north London. Once again we failed, beaten by another team with deeper pockets. This time Juventus. Buying Higuain meant they had to sell Pogba. According to Jose Mourinho, we are not in the league of big spenders, so we'll have to find someone else.
8. Tabloid Crap. Every summer the tabloids produce bogus stories of us being linked to the most unlikely of players. Some of this summer's howlers: Daley Blind, Thomas Vermaelen, Robin van Persie, to name but a few.
9. Thierry Henry and the Youth Coach Job. Much ado was made when Arsenal asked Thierry to choose between his job with Skysports and his job coaching Arsenal youth. Was it fair to ask him to choose. Probably.
Then we gave the job to Tony Adams and the ink was still wet when he chose to accept a more lucrative position in China. Now we're leaning towards Freddie Ljungberg. We'll see how that goes.
10. The Centre Forward Saga. All summer long the soap opera has lumbered on. Alvaro Morata? He's left Juventus to head back to Real Madrid, but he looks like he might stay there. Romelu Lukaku? Everton want too much money. Gonzalo Higuain? See above. Vincent Janssen? Spurs got him. Michy Batshuayi? Chelsea got him. Carlos Bacca? Don't think we're interested. Mauro Icardi? Not sure if he is leaving. One moment he is, the next moment he's staying. His stunning wife, who is his agent, is always jetting into London to discuss his future. I suspect she's just shopping.
Which brings me to Alexander Lacazette. Arsenal are interested, have submitted a lowball offer, but are still monitoring the situation. Lyon's president Jean-Michel Aulas is a notoriously hard man to negotiate with. There seems to be some rivalry between himself and Wenger and it's been ages since we've ever done a deal with him. It's as if he doesn't want Wenger to get the better of him and so nobody leaves Lyons for Arsenal, unless Arsenal pay over the asking price. I wouldn't hold my breath on this one.
11. Defensive Injury Crisis. What would be an Arsenal season without an injury crisis? This time it's hit early and there still might be time to deal with it.
Per Mertesacker went down injured after our first pre-season match against Rennes and he is expected to be out for at least four months. Gabriel went down in the last minute of injury time in our last pre-season match against Manchester City and is expected to be out for six to eight weeks. That leaves Laurent Koscielny (who has just returned from vacation), Callum Chambers and Rob Holding and our opening game is in a few days time.
The man mooted for the job (unlike all of the other many candidates rumoured during the summer) is Valencia's Shkodran Mustafi, a German international. Will the deal be soon enough for the weekend. Probably not.
12.Who will stay and who will go.
Cech – stay
Ospina – stay (although there were rumours about Besiktas)
Martinez – stay or loan (to Hull)
Bellerin – stay
Debuchy – probably go, probably on loan
Jenkinson – stay (he's injured)
Monreal – stay
Gibbs – stay (although West Ham wanted him)
Mertesacker – stay
Gabriel – stay
Koscielny – stay
Holding – stay
Chambers – probably stay (many rumours about a loan)
Coquelin – stay
Cazorla – stay
Xhaka – stay
Elneny – stay
Wilshere – stay
Ozil – stay
Ramsey – stay
Oxlade-Chamberlain – stay
Campbell – probably go, but there haven't been many rumours
Walcott – stay
Gnabry – might stay, playing well in the Olympics
Sanchez –stay
Reine-Adelaide – maybe a loan
Iwobi – stay
Giroud – stay
Akpom – maybe a loan
Sanogo – go
Asano – probably a loan